There can be between 1 and 3 ferries a week sailing the Naxos Sikinos ferry route depending on the time of year. This travel guide has all the information you need to get to Sikinos after spending time on Naxos in Greece.
Sikinos island in Greece
The Cycladic island of Sikinos is at stark contrast to the more famous, cosmopolitan islands of Santorini and Mykonos. It's a serene island where you can completely chill and soak up the great energy from more peaceful surroundings.
Sikinos is the type of Greek island where you take a few books you've been meaning to read for a few years, turn off the phone, and get some quality you time.
At first glance, the three beaches accessible by car and handful of places to eat and drink may seem limiting, but in reality it just adds to the simplicity of time spent on the island.
If you're looking to get away from it all, and leave the stresses of the world far behind, you could do a lot worse than traveling to Sikinos! Check out my guide here: Best things to do in Sikinos Island
How to get from Naxos to Sikinos
If you've decided to island hop to Sikinos straight after Naxos, you may find that there is only one direct ferry per week, although in some months there may be 3 ferries.
These ferries to Sikinos from Naxos are operated by Blue Star Ferries and SeaJets, and have a relatively quick travel time of 2 hours and 25 minutes.
That's great if the day the ferry sails from Naxos to Sikinos lines up with your general travel plans, but not so good if your schedule doesn't quite fit.
There is another alternative though, and that is to take an indirect route which would involve swapping ferries at Ios island.
Travel from Naxos to Sikinos via Ios
By traveling from Naxos to Ios first, swapping ferries and then continuing on another ferry from Ios to Sikinos, you can travel on any day of the week.
This is perfect if you want more flexibility in what days you can sail, but keep in mind that it will most likely take longer (perhaps up to 6 hours), and is likely to be more expensive.
Check out my guides here:
Pro tip: The easiest way to book ferry tickets online is by using Ferryhopper.
Sikinos Island Travel Tips
A few travel tips for visiting the Greek island of Sikinos:
Ferries sail from the port in Naxos Town (Chora) in Naxos. Arriving ferries dock at Alopronia port in Sikinos.
---
For rooms to rent in Sikinos, I recommend using Booking. They have a great selection of where to stay in Sikinos and areas to consider staying include Alopronia, and Chora. If you are traveling to Sikinos in the tourist season, I advise reserving accommodation in Sikinos a month or so in advance.
---
For some quality beach time, head to these beaches in Sikinos: Agios Georgios, Dialiskari, and Alopronia.
---
I find that the Ferryhopper website is the best place to book ferry tickets online. I think it's better that you book your Naxos to Sikinos ferry tickets in advance, especially during the the months of July, August, and September.
---
---
---
How to make a journey from Naxos to Sikinos FAQ
A few of the frequently asked questions about traveling to Sikinos from Naxos include:
How do you get to Sikinos from Naxos?
There is one direct ferry per week sailing to the Cyclades island of Sikinos from Naxos. You can also travel indirectly every day of the week by first sailing from Naxos to Ios, and then taking another ferry from Ios to Sikinos.
Is there an airport in Sikinos?
There is no airport on Sikinos island. The closest islands with airports to Sikinos are Milos and Santorini.
How many hours is the ferry from Naxos to Sikinos?
The direct ferries to the island of Sikinos from Naxos take 2 hours and 25 minutes. Ferry operators on the Naxos Sikinos route may include Blue Star Ferries.
How can I buy tickets for the ferry to Sikinos?
Ferryhopper is perhaps the easiest site to use when it comes to booking Ferry tickets online. I think it's better that you book your Naxos to Sikinos ferry tickets in advance, you might also go to a travel agency in Greece after you arrive.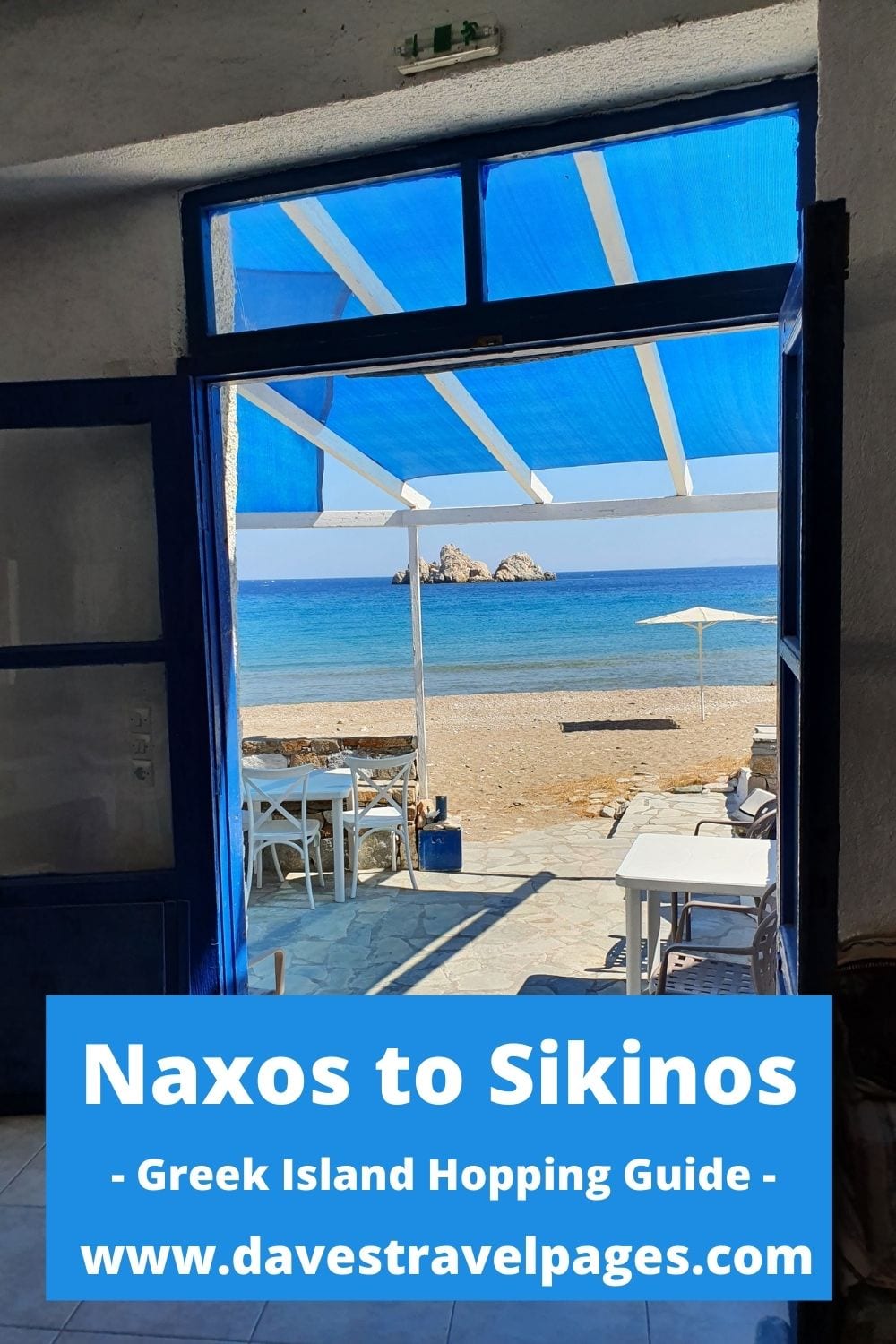 ---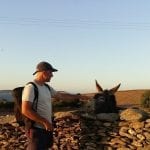 –
Dave Briggs
Dave is a
travel writer
currently based in Greece In addition to writing this travel blog post about ferries from Naxos to Sikinos, he's written many more travel blog posts about destinations in Greece. Follow Dave on social media for travel inspiration from Greece and beyond: