The Ilias Lalaounis Jewelry Museum is the only modern jewelry museum in Athens, and one of just a few in the world. Here's all about it.
About the Jewelry Museum in Athens, Greece
The Lalaounis museum on Kallisperi Street in Athens has permanent exhibitions which showcase the designs of Ilias Lalaounis covering a 60 year career. Inspired by the jewelry and art works of ancient Greek civilisations, there are over 4000 pieces in the collection.
Run as a non-profit museum by a private foundation, a visit to the Ilias Lalaounis Jewelry Museum in Athens enables one to marvel at just how dedicated this man must have been to have designed such vast, varied, and beautiful collections.
Visiting the Ilias Lalaounis Jewelry Museum in Athens
Whilst the museum's mission statement says that it wishes to act as a centre for the study of decorative arts, one thing becomes apparent to the visitor. It is a building dedicated to showcasing the life of one unique and extraordinary man – Ilias Lalaounis.
Reading his biography, it becomes apparent that this man could really have become anything he wanted to be. With a family history based around jewelry making, and an unbridled passion for creating new designs though, he too became a jeweller.
During his 60 year career, he is thought to have designed over 18,000 separate pieces. The majority of these are themed into 50 different collections.
Most of these are displayed on the first floor of the Ilias Lalaounis jewelry museum in Athens. The collections take their inspiration from ancient civilisations, particularly the ancient Greek civilisations.
As he developed his skills and his interests widened, other themes were also followed such as DNA (the photo at the top of this page).
Exploring the Ilias Lalaounis museum
Walking around this floor of the jewelry museum in Athens is fascinating. Not only are the items on display amazing to look at, but you get a deeper appreciation as to just how dedicated he must have been.
In fact, this was one of those times when you look at your own life and think "Ok, what exactly have I done with it then!".
The top floor of the Ilias Lalaounis Jewelry Museum in Athens houses temporary collections. When I visited, it was an exhibition entitled FROM ZEUS TO EARTH AND FROM CHILE TO NEAPOLIS.
This was a private collection on loan from Kostas Manakoswas, featuring many fossils and minerals. Here I also saw my oldest 'thing' ever. A 4.5 billion year old meteorite. What is the oldest thing you have ever seen?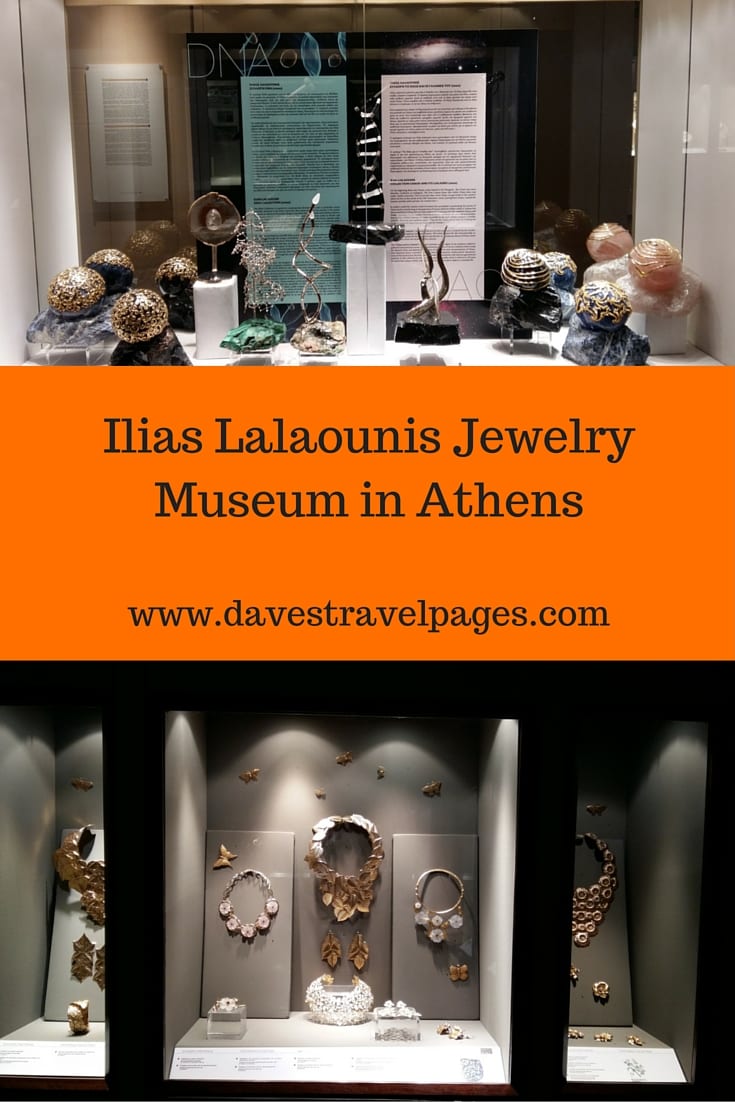 All in all, the museum is an interesting place to visit, especially if you are of an artistic nature. You should allow up to an hour there if you are planning on adding it into your sight-seeing itinerary in Athens.
Useful Information About The Jewelry Museum in Athens
The Ilias Lalaounis Jewelry Museum is open Tuesdays, Wednesday, Thursday, Friday, Saturday: 9.00 a.m. – 3.00 p.m, and Sunday: 11.00 a.m. – 4.00 p.m. It is closed on Mondays and National holidays.
On my visit, there was a sign outside saying that the museum was free entry on Saturdays. It is 5 euro entry otherwise.
If you are on a tight schedule, you might like to call the museum to make sure they are open before you visit – 210 9221044.
The address of the Ilias Lalaounis Jewelry Museum in Athens is 12 Kallisperi Street, Acropolis. The closest metro station is Acropolis.
Athens Museums
You might also be interested in these other museums in Athens: