A step by step guide on how to make a travel budget for trip – whether a weekend break or around the world adventure!
What is the most cost effective way to plan a vacation that includes lodging, food, transportation, and activities?
There are a few things you can do to plan a vacation and keep your costs under control at the same time. Firstly, identify your big-ticket items. These are things like airfare and accommodation. Secondly, estimate your expenses for things like meals and activities. Finally, look for ways to save money on transportation and activities.
This guide to how to plan a travel budget step by step will help you create a vacation fund and manage your spending while on vacation:
Budgeting for Travelling
– It all starts with a plan
The first step in putting together a travel budget is understanding what kind of traveller you are.
Are you the type of person who enjoys roughing it and spending as little as possible? Or do you prefer comfort and convenience even if it means spending a bit more?
Once you know your travel style, you will find that creating a travel budget becomes much easier.
Personally, when I'm not traveling by bicycle, I consider myself to be a value for money traveler.
Next, you need to ask yourself some tough questions about your spending habits. How much do you normally spend in a day? A week? A month?
Knowing your regular expenses will help you to understand what kind of budget you will need for your trip.
Related: How to afford world travel
What are your major travel expenses?
Once you have an idea of your spending habits, you can begin to research the cost of travel in your chosen destination. Websites like Rome2rio and Budget Your Trip are great resources for finding out the average costs of food, accommodation, transportation and activities in destinations around the world.
The biggest expenses when it comes to traveling are in transportation and accommodation. Other expenses that mount up are eating out and entertainment costs.
– Flights can be expensive, but there are ways to save
If you are planning on flying to your destination, consider using a flight aggregator like Google Flights or Skyscanner to find the best deals. It is also worth signing up for airline newsletters as they often offer exclusive deals and discounts to subscribers.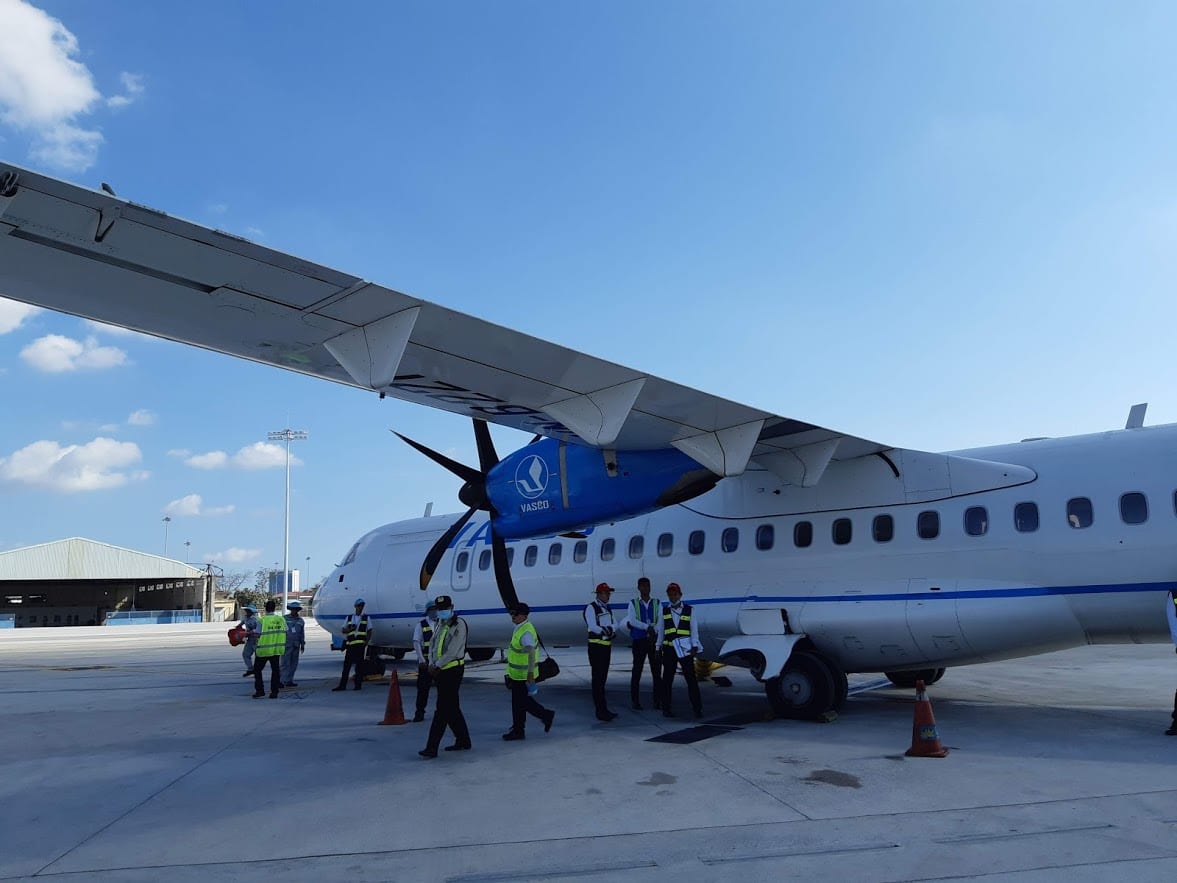 You might also need to allow for internal flights, such as this old plane I took to Con Dao in Vietnam!
– Save on accommodation by staying in hostels or Couchsurfing
For budget travelers, hostels are often the best option for accommodation. They are typically much cheaper than hotels and offer a great way to meet other travelers. If you are willing to sacrifice some privacy and comfort, Couchsurfing is a great way to save on accommodation costs while also getting to know locals in your destination.
Related: Where do you usually stay when you go on holiday?
– Traveling by bus or train can be cheaper than flying
If you are traveling within a country or region, consider taking the bus or train instead of flying. Not only is this usually much cheaper, but it also gives you a chance to see more of the countryside and meet some interesting people along the way.
Related: Pros and cons of plane travel
Set a realistic budget
Once you have an idea of your travel expenses, it is time to start setting a budget. Begin by estimating the cost of your flights, accommodation, food and activities for your trip. Then, add in some extra money for souvenirs, unexpected expenses and currency conversion fees.
If you are worried about overspending, consider using a prepaid travel card or setting up a separate bank account for your trip. This will help you to stick to your budget and avoid any nasty surprises when you return home.
Top tip – When you have come up with an initial budget (say 100 dollars a day), add on another 20% especially if it is your first trip. I speak from experience!
Related: Checklist for the trip of a lifetime
Save for that dream trip!
Now that you know how much things will cost, it's time to start saving! Begin by setting aside a specific amount of money each week or month that you will put towards your travel fund. If possible, try to put away more than you think you will need – that way, if unexpected expenses come up, you will still be covered.
Finally, it's important to remember that a travel budget is not set in stone. Be flexible and willing to adjust your spending as needed. If you find yourself going over budget in one area, try to cut back in another. And most importantly, don't let your travel budget stress you out – after all, part of the reason for taking a trip is to relax and have fun!
Related: Tips for stress free travel
Potential Travel Expenses
One thing that people often don't take into account is potential travel expenses. These are the costs that can come up unexpectedly and can throw off your entire budget if you're not prepared for them.
To avoid being caught off guard, it's a good idea to set aside some extra money in your travel fund for potential expenses. That way, if something does come up, you won't have to worry about it too much.
Some potential travel expenses include:
– Missed flights or other transportation delays
– Lost or stolen belongings
– Unexpected medical bills
– Emergency room visits
– Visas and vaccinations
While these expenses may seem unexpected, they are actually quite common. Even if you are covered by travel insurance, you may have to pay out of your own pocket to begin with before you put a claim in.
By setting aside some extra money for them, you can rest assured knowing that you will be covered if anything does come up.
Also read: Reasons long term travel is cheaper than you think
Saving Money While Travelling
Once you have your travel budget all sorted out, it's time to start thinking about ways to save money on travel costs while you're on the road. This will help your daily budget go further!
As you can imagine, hiring this guy for a day was way cheaper than taking a tour of the Bagan temples in Myanmar!
There are a few simple tips that can help you to stretch your budget further and get the most from your big adventure:
– Stay in hostels or guesthouses instead of hotels
– Cook your own meals instead of eating out all the time
– Use public transport instead of taxis or rental cars
– Walk or ride a bicycle instead of taking buses or trains
– Visit free attractions instead of paid ones
By following these tips, you can save a lot on the daily expenses that add up quickly when you're travelling.
Related: How to plan a Workation
Car Rental – Do or Don't
Deciding to rent a car or not is a bit of a tricky question. On the one hand, it can be a great way to see a destination, as you have the freedom to come and go as you please. On the other hand, it can be quite expensive – especially if you're planning to travel to multiple destinations.
Of course in Rhodes Greece, there's very affordable car rental prices, but I can't say the same for everywhere!
If you do decide to rent a car during your next vacation, there are a few things you can do to save money. First, try to book your rental car in advance. This will usually get you a better rate than if you wait until you arrive at your destination.
Second, look for discounts and coupons that can help lower the cost of your rental. Many car rental companies offer discounts for AAA members, seniors, students and more.
And finally, be sure to compare rates from different rental companies before you book. Just because one company is cheaper doesn't mean they are the best option – be sure to read the fine print and compare all of the terms and conditions before you make your decision.
Related: Advantages and disadvantages of traveling by car
Related: International Travel Packing Checklist
FAQ About Planning A Trip Budget
Some of the most frequently asked questions about sorting out a realistic travel budget include:
How do you create a budget for a trip?
Start by figuring out how much money you have to spend on your trip. This will help you to determine what is and isn't possible. Plan ahead and be realistic about what you can afford. Don't overspend just because you're on vacation!
How much should you budget for travel?
How much you budget for travel really depends on your personal preferences and how much you're willing to spend. If you're on a tight budget, try to stick to the tips mentioned above to save money. If you have a little more flexibility, you can afford to be a bit more generous with your budget.
How can I keep my money safe when traveling?
When traveling, it's important to keep your money safe. Keep your money in a safe place, like in money belts or hidden inside pocket. Avoid carrying too much cash with you at any one time, and if you're using a debit or credit card, be sure to keep track of your spending and avoid going over your limit.
What ways are there to cut costs when traveling?
There are a few simple ways to cut costs when traveling, including:- Staying in hostels or guesthouses instead of hotels, cooking your own meals instead of eating out all the time, and using public transportation instead of taxis or rental cars or going on tours.
Planning a travel budget may seem like a daunting task, but it doesn't have to be. By starting with a goal in mind and creating a savings plan, you can make your travel dreams a reality without breaking the bank.
I hope this short guide to creating travel budgets comes in useful before your next big adventure! Do you have any top tips for saving money on the road? Let us know in the comments below! Happy travels!
Next read: Cheapest Greek islands to visit