Trying to travel directly from Ios to Kea island in Greece is possibly one of the most awkward Greek island hopping trips you could plan! If you're determined though, here's how to go about it.
Can you travel from Ios to Kea by direct ferry?
There are very few ferries that sail directly from Ios to Kea, and the ones that do sail are really infrequent. Some months there may be no direct ferries, other months there may be one ferry per week.
This can make planning to get between these two Cyclades islands a difficult task for anyone looking for an island hopping trip from Ios to Kea.
If your journey happens to coincide with the extremely rare once a week ferries (normally late September and October) you're lucky. So lucky in fact, I think you should try a lottery ticket as well!
To check if your travel times match up with a direct ferry, take a look at Ferryhopper.
What do you do if there is no direct Ios to Kea ferry though?
Working out an indirect Kea ferry route
Ferry routes within the Cyclades group of islands do change from year to year. This happens as ferry companies respond to anticipated demand, especially during high season.
The best indirect ferry route that I can suggest, is to first take a ferry from Ios to Syros, and then take a ferry from Syros to Kea.
Even using these crossings, you might find that it's only possible to make the trip twice a week.
The easiest way to book ferry tickets for Kea ferries and to check journey times is by using Ferryhopper.
Kea Island Travel Tips
A few travel tips for visiting Kea island:
Ferries depart from the main port, called Gialos in Ios. Try to be at the ferry port at least a half hour before the departure time.
---
Arriving ferries dock at Korissia port in Kea. Passengers are informed over loud speaker as the ferry pulls into port.
---
For hotels in Kea, I recommend looking at Booking. They have a great choice of rooms to rent in Kea and areas to consider staying include Otzias, Korrisia, and Ioulida. If you are traveling to Kea in the the months of July, August, and September, I advise reserving apartments in Kea a month or so in advance.
---
Readers recommend visiting the following beaches in Kea: Spathi, Kampi, Koundouros, Xila, Kaliskia, Pisses, and Sikamia. Enjoy those crystal clear waters!
---
I find that the Ferryhopper website is the best place to book ferry tickets online. Although I think it's better to book your Ios to Kea ferry tickets in advance, especially during the busiest time of summer.
---
---
---
How to make a trip from Ios to Kea FAQ
Questions that visitors ask about sailing to Kea from Ios include:
How do you get to Kea from Ios?
The best way to take a trip from Ios to Kea the best way is to take a ferry. There are not really many direct ferries, so consider going via other islands and making connections. One route suggestion is to go Ios – Syros – Kea.
Is there an airport on Kea?
There isn't an airport in Kea, so the only way to go to from Ios to Kea is by taking a ferry. The nearest airport to Kea is at Athens.
How long is the ferry crossing from Ios to Kea?
The infrequent direct ferries to the Cyclades island of Kea from Ios take around 6 hours and 35 minutes. Ferry operators on the Ios Kea route may include SeaJets and Hellenci Seaways.
Where do you get ferry tickets to Kea?
The easiest way to get hold of ferry tickets in Greece is by using Ferryhopper. As well as being a simple place to make the booking online, you can also check timetables, the travel time for the journey to your destination, and find the cheapest tickets.
Wrapping up:
The only way for tourists to travel between Ios and Kea is by ferry but the ferries are very infrequent and it can be difficult to plan a specific route that will work for your schedule between these two Cyclades islands. However, there are some indirect routes with more frequent service if you find yourself in need of an alternative itinerary- one suggestion being taking a ferry from Ios to Syros island before heading southward again over Korissia port at Kea Island.
---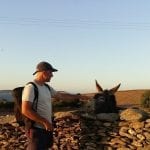 –
Dave Briggs
Dave is a
travel writer
who loves to spend his time traveling around and writing about Greece. In addition to writing this guide about ferries from Ios to Kea, he's also written many more travel blogs about destinations in Greece.If you're planning to visit and explore the Greek islands, follow Dave on social media for travel inspiration from Greece and beyond: