There are no direct ferries going from Ios to Iraklia island in Greece. The only way to travel between Ios and Iraklia is to go via Naxos or Paros first.
Visit Iraklia after Ios
If you've decided that you want to go to the small island of Iraklia directly after Ios, there's a couple of things you need to know first.
The most important, is that although when you look on a map Ios and Iraklia are next to one another, in reality it's going to take you a lot longer than usual to travel between these two islands.
The reason for this is because there are no direct ferry trips sailing from Ios to Iraklia. Instead, you're going to have to stop off at another island first, and change boat there.
Typically, the best island to do this at is Naxos, but you might find that Paros is also an option on some days of the week.
Ios – Naxos – Iraklia
As mentioned, the best way to get between the Cyclades islands of Ios and Iraklia is to go via Naxos, where you will need to swap ferries.
Whether you can do this on the same day or not is really going to depend on how the ferry timetables line up for you.
On some days you can complete the journey from Ios to Iraklia in under 4 hours, and this includes swapping ships at Naxos.
On other days, the schedules might not line up so great and you may have to spend time on Naxos in between ferry trips. Occasionally, you might need to spend the night in Naxos.
Greek Islands Ferry Routes and Timetables
I've found that the best place to check out the latest timetables for ferry services is at Ferryhopper. In particular for this Ios to Iraklia trip, it will show you deatails of the best combination of ferries you can take.
If you are using Naxos as the port where you will swap ferries, you'll find it very easy to do. Naxos port is small and compact nothing like the huge Piraeus Port of Athens!
Tip: Try to leave at least an hour between your Ios to Naxos and Naxos to Iraklia ferries to allow for potential delays due to weather conditions.
More here:
Ferry companies
A number of different ferry companies offer transport options on these routes. Some of the operators include: SeaJets, Small Cyclades Lines, Golden Star Ferries, and Blue Star Ferries.
These companies also have a variety of vessels. You can expect a larger conventional ferry to have slightly cheaper prices than a smaller high speed vessel.
Each of these companies have their own websites, which is why I recommend Ferryhopper as being the easiest place to organize this trip.
Iraklia Island Travel Tips
A few travel tips for visiting the Cyclades island of Iraklia:
Passengers should aim to be at departure ports an hour before the ferry is due to sail. Try to leave an hour between any connections you may need to make.
---
Ferries arrive at the main port of Agios Georgios in Iraklia. It's really just a concrete platform!
---
Accommodation in Iraklia is limited, and I recommend booking ahead in the summer months when tourism is busier. I've a guide here: Where to stay in Iraklia
---
Iraklia is one of the small islands in the Cyclades. It is by nature quiet and laid back – the complete opposite to Santorini! Discover what to see and do in Iraklia in this blog post: Iraklia Travel Guide
---
Ferryhopper is perhaps the easiest site to use when it comes to booking Ferry tickets online. I think it's better that you book your Ios to Iraklia ferry tickets in advance, especially during the the months of July, August, and September.
---
---
Find out more destination information about Iraklia including the best beaches, the cave, and life in general with our guidebook, now available on Amazon: Schinoussa and Iraklia
---
Ios to Iraklia Island Hopping FAQ
Readers sometimes ask these question about traveling to Iraklia from Ios include:
How do I get to Iraklia from Ios?
In order to take a trip from Ios to Iraklia you would need to go via another island first such as Naxos. There are no direct ferries sailing to the Greek island of Iraklia from Ios.
Is there an airport on Iraklia?
As there is no airport in Iraklia, the only way to travel from Ios to Iraklia is by sea, so you'll need to search for a ferry.
How many hours is the ferry from Ios to Iraklia?
With no direct ferries going to Iraklia island from Ios, it is hard to calculate the exact travel time. If connections line up perfectly, it could be 6 hours or less. In the worst case, you may need to stay over night on Naxos.
How do I buy ferry tickets to Iraklia?
I find that the Ferryhopper website is the best place to check details, look at prices and book ferry tickets online. I think it's better that you book your Ios to Iraklia ferry tickets in advance, but you could also use a local travel agency in Greece.
Wrapping up:
If you need to travel from the Greek island of Ios to the Greek island of Iraklia, there are a variety of different routes and ferry companies that will get you there. The best way is by going via Naxos first – make sure your schedules line up for this journey during peak season! I recommend checking out Ferryhopper for finding the perfect combination of ferries needed on your trip. You can also check out our guidebook about Iraklia Island with more information about what's in store when you arrive. As you explore Iraklia, I hope you enjoy its charming atmosphere as much as I do!
---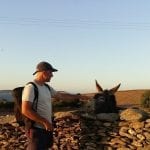 –
Dave Briggs
Dave is a
travel writer
who has been based in Greece since 2015. In addition to creating this travel blog post about Greek ferries from Ios to Iraklia, he's written many more guides to other islands and destinations in Greece. Follow Dave on social media for travel inspiration from Greece and beyond: