During the high season, there is only one ferry per week from Ios to Kimolos, but in September and October than can rise to four ferries a week. This guide shows the best way to travel from Ios to Kimolos in Greece.
Ios Kimolos Ferry Route
Kimolos is one of the Greek islands in the Aegean Sea you can reach by ferry from Ios. The distance between Kimolos and Ios is 47 miles or 76 kilometers.
The ferry Ios – Kimolos route is serviced by Blue Star Ferries and Zante Ferries. There are only one or two ferries per week on this route during the early part of summer (typically May to June).
Later in the year, there can be up to four ferries per week sailing to the destination of Kimolos from Ios.
Ferries to Kimolos from Ios
The travel time for the fastest connection from Ios going to Kimolos takes around 2 hours and 40 minutes. The slowest ferry sailing to Kimolos from Ios island takes around 3 hours and 5 minutes.
One thing you notice when traveling around the Cyclades islands by ferry, is that the faster ferry crossings are normally more expensive. This might not be the case with the ticket prices on this route though.
If you want to check which ferry companies sail from Ios to Kimolos, look at the schedules and book tickets for the ferry online, check out Ferryhopper.
Note: These ferries normally take foot passengers and cars. You should keep in mind though, that if you are driving a rental car, the hire company may not allow you to move a vehicle between islands on a ferry.
Kimolos Island Travel Tips
Here's some travel tips for visiting Kimolos that other visitors to this beautiful island in the Cyclades group have found useful:
The ferry service on the route to Kimolos leaves from the main port, called Gialos in Ios. Customers are normally advised to be there an hour before departure, but a half hour should be fine.
---
Ferries arrive at the main ferry port, Psathi in Kimolos.
---
For accommodation in Kimolos, I suggest using Booking. They have a great choice of places to stay in Kimolos and areas to consider staying include Psathi, Chorio, Kalamitsi, and Aliki.
---
If you are traveling to Kimolos in the the months of July, August, and September, I advise reserving where to stay in Kimolos a month or so in advance.
---
---
---
One of the best places to look at ferry schedules and for booking tickets online is at Ferryhopper. They have all the information you need on routes, prices and tickets to Kimolos and other islands in Greece.
---
---
---
Guidebook to Milos and Kimolos
You can now buy our guidebook to Milos and Kimolos at Amazon!
This book is available in both Kindle and Paperback formats.
Ios to Kimolos Ferry FAQ
Other tourists island hopping between Ios and Kimolos have found that these questions help them decide their holiday itineraries:
How can we get to Kimolos from Ios?
If you want to make the journey from Ios to Kimolos the best way is by using a ferry. The outward route takes on average three hours.
Is there an airport on Kimolos?
As there isn't an airport in Kimolos island, so the only way to take a trip from Ios to Kimolos is to use a ferry. The nearest airport to Kimolos is at Milos.
How long is the ferry crossing from Ios to Kimolos?
The ferries to the Cyclades island of Kimolos from Ios take between 2 hours and 40 minutes and 3 hours and 5 minutes. Ferry operators on the Ios Kimolos route may include Zanter Ferries and Blue Star Ferries.
How do I buy ferry tickets to Kimolos?
The best place to book Greek ferries online is Ferryhopper. You can also look at individual ferry company websites or use a travel agency which are normally located near island ports.
Wrapping up:
Ferryhopper is a useful website for travelers looking to find the best time and price on ferry tickets from Ios to Kimolos. They have information about routes, schedules, prices and availability of ferries sailing between these two Greek islands in the Aegean Sea. You can also use Ferryhopper's search function to compare rates across different companies that service this route which are operated by Blue Star Ferries and Zante Ferries.
---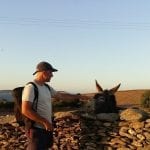 –
Dave Briggs
Dave is a
travel writer
from the UK who lives in and writes about Greece. In addition to writing this travel blog guide on the Ios to Kimolos ferry, he's written many more guides to Greece and the Cyclades islands. Follow Dave on social media for travel inspiration from Greece and beyond: