This collection of inspiring Mykonos quotes and fun Mykonos Instagram captions will transport you to the one Greek island where anything goes!
The Greek island of Mykonos
Known for its stunning beaches and crystal-clear water, Mykonos is a popular tourist destination for people from all over the world. The island is also home to some of the most famous nightclubs in Europe, which draw partygoers from all over the continent.
Mykonos is a relatively small island, but one of the most visited in Greece. Whether you're visiting Mykonos for one day on a cruise stop, or spending a week, it's a wonderful place to explore!
Want to get into that Mykonos mood? These quotes and captions for Instagram about Mykonos are just what you need!
Mykonos Quotes
Mykonos is a popular tourist destination for people who love the sea and sun and has inspired creativity in artists and writers for years. Let's start with some of our favourite quotes about Mykonos.
"Located in the Cyclades and surrounded by the blue-green water of the Aegean sits whitewashed, windmill-strewn Mykonos, the island of the winds."
― Lizy Manola
---
"Her dress sparkled like the stars that blanketed the Mykonos night sky."
― Anthea Syrokou, The Greek Tapestry
---
"Unless you have seen the houses of Mykonos, you can't pretend to be an architect. Whatever architecture has to say, it is said here."
― Le Corbusier
---
"I felt like a pilgrim upon a rare and spiritual planet landing the soil of Mykonos,I ensured it could give me a high inspiration for a next new epic,which was machining inside my inner brains."
― Nithin Purple, The Bell Ringing Woman: A Blue Bell of Inspiration
---
Both golden beaches and rocky countrysides make Mykonos distinctive.
― Laura Brooks
---
"But that was over there, in Greece. This was Mykonos, a seaside sanctuary so timeless that I half expected to glimpse Hercule Poirot and Captain Hastings walking along the dock as we disembarked from the ferry."
― Bobby Underwood, The Long Gray Goodbye
---
Quotes about Mykonos in Greece
Here's another section of quotes to do with Mykonos. Keep reading until you get to our Mykonos puns and Instagram captions further down. They're cheesey, but I promise you'll love them!
… the Greek Isles present a collage of diverse landscapes and customs. Mykonos is fun-loving, with lively tavernas and populated beaches. Delos is stoic, protecting the ruins of its ancient sanctuaries in solemn dignity.
― Laura Brooks
---
"Some places, such as Paris, have a magic best experienced for brief periods so the romantic feeling doesn't become tainted by a day to day reality. But Mykonos was different in that respect. Mykonos made you long for the restful, happy day to day reality of life on the Greek island, and it was the brief visits that tortured the soul. Paris was a romantic respite from life, Mykonos was life itself, and living. I understood why Susan had made a home for herself on Mykonos."
― Bobby Underwood, The Long Gray Goodbye
---
'Mykonos, which probably meant it was time for them to get.'
— Rick Riordan
---
'The beauty in front of her interrupted her thoughts. She took a deep breath, staring at the shores of Mykonos with the scenic coves and the golden sand beaches.'
– Angel Sefer
---
'We're often wrong at predicting who or what will transform us. Encountering certain people, books, music, places, or ideas at just the right time can immediately make our lives happier, richer, more beautiful, resonant, or meaningful. When it happens, we feel a kind of instant love for them, both deep and abiding. Now and then it can be something as trifling as a children's book, a returned telephone call, or a night at a seaside bar in Mykonos.'
– Jonathan Carroll
---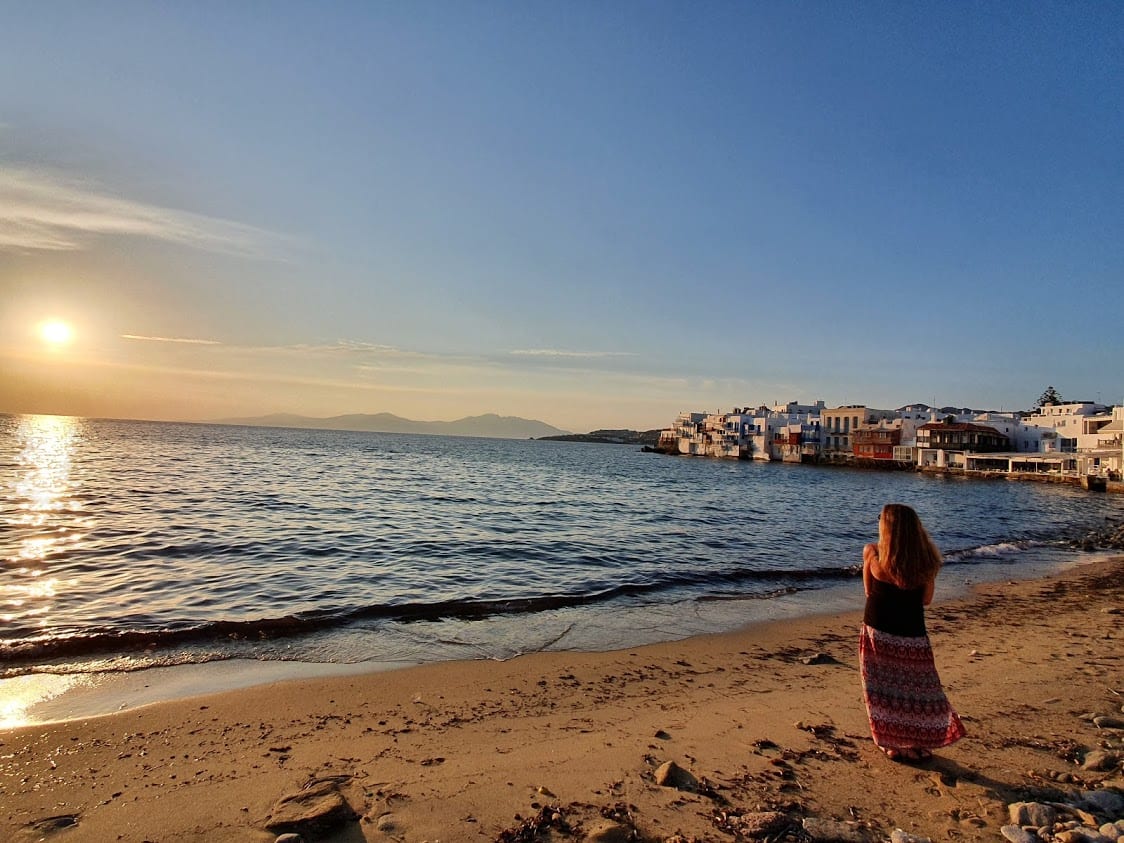 Mykonos Instagram Captions
Here are some nice and also witty captions about Mykonos you could use on Instagram.
---
"Mykonos – The Greek island that ouzos with charm!"
---
"Greeking out over the views in Mykonos!"
---
"I'm really feeling the Mykonos vibes!"
---
"Mykonos has taken another Greece of my heart!"
---
"Being Me in Mykonos"
---
"Mykonos is all Greek to me!"
---
"If you're looking for a party, head to Mykonos!"
Mykonos Captions For Instagram
---
"The only thing better than visiting Mykonos is living there!!"
---
"The views on Mykonos are simply magical."
---
"Olive for views like those in Mykonos"
---
"The beaches on Mykonos are some of the best in the world."
---
"Mykonos is a paradise for people who love the sea and sun."
---
"The sunsets on Mykonos are absolutely stunning."
---
"Enjoying some well deserved Me-konos time"
---
"Tis the sea-sun to be jolly in Mykonos"
---
"I'm shore I love Mykonos"
---
"I got to Mykonos first – Beach you to it!"
---
"Soaking up the Vitamin Sea in Mykonos"
---
"Mykonos – where there's a will, there's a wave"
---
"Let's have a weekend in Mykonos!"
Related: Weekend Captions
---
Quotes About Greece
There's literally hundreds of quotes of Greece you can choose from. In fact, I have a great list here of the best quotes about Greece. Underneath though, you'll find a few evocative and thoughtful musings on Greece, the Greek islands and more!
The isles of Greece, the isles of Greece! Where burning Sappho loved and sung, Where grew the arts of war and peace, Where Delos rose, and Phoebus sprung! Eternal summer gilds them yet, But all, except their sun, is set."
– Lord Byron
---
"The spirit of Greece, passing through and ascending above the world, hath so animated universal nature, that the very rocks and woods, the very torrents and wilds burst forth with it."
— Walter Savage Landor
---
"On a summers night, I have sat on the balcony drinking Ouzo, watching the ghosts of Greek Heroes sailing past, listening to the rustle of their sail cloths and the gentle lapping of their oars…and lain alongside Pythagoras watching him study the myriad of triangles in the constellations twinkling above us. Whether it was Crete, the heat, the Ouzo, or a combination, it is unequaled anywhere other than Santorini, in my humble opinion."
— Phil Simpkin
---
In every island of the Aegean Sea are found abundant traces of a vast prehistoric empire.
— James Theodore Bent
---
'The light of Greece opened my eyes, penetrated my pores, expanded my whole being.'
– Henry Miller
---
'Athens, the eye of Greece, mother of arts And eloquence.'
– John Milton
"Earth proudly wears the Parthenon as the best gem upon her zone."
– Ralph Waldo Emerson
---
Also read: 100+ Captions About Athens
Greece Quotes
Here's some more Greece quotes that could easily apply to Mykonos, but also reflect the beauty and culture of this fascinating country.
"Greece was a muse. It inspired creativity in magical ways that I can't even begin to understand or explain."
– Joe Bonamassa
---
"The world is the expanding Greece and Greece is the shrinking world."
– Victor Hugo
---
"Right now I'd love to be sitting on a Greek island somewhere because of being Greek American, eating great octopus salad, and some fantastic lamb. Or sipping a little ouzo. I think the Mediterranean diet is one of the healthiest… Lots of nuts, vegetables, fruits, fresh fish, lean meats, yogurt."
– Cat Cora
---
"Greek is a musical and prolific language, that gives a soul to the objects of sense, and a body to the abstractions of philosophy."
– Edward Gibbon
---
"Greece is a good place for rebirths."
– Judith Martin
---
"Such is the aspect of this shore; "Tis Greece, but living Greece no more! So coldly sweet, so deadly fair, We start, for the soul is wanting there."
– Lord Byron
---
"In a way, it's nice to know that there are Greek gods out there, because you have somebody to blame when things go wrong."
-Rick Riordan
---
There are two kinds of people. Greeks, and everyone else who wish they was Greek.
– My big fat Greek wedding
Discover Greece and Mykonos
If these Greece captions and quotes have inspired you to plan your trip to Greece or Mykonos, take a look at some of these travel guides to Mykonos and the Greek islands:
FAQ About the Greek Island of Mykonos
What is Mykonos known for?
Mykonos is known for its beautiful beaches, stunning sunsets, and lively nightlife. It's also a popular destination as a cruise ship destination.
How do you write a travel caption?
If you're visiting Mykonos, be sure to capture some amazing photos and post them with one of these travel captions!
"Paradise found!"
"Soaking up the Mediterranean sun"
"Mykonos – a little slice of heaven on earth"
"Taking in the stunning views"
"Living la vida loca in Mykonos!"
How did Mykonos become famous?
Mykonos originally became famous as being a carefree destination in Greece with great beaches. In the 60s it was very laid back, but nowadays, it is much more commercial in nature.
---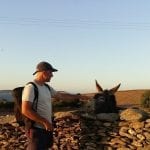 –
Dave Briggs
Dave is a
travel writer
based in Athens, Greece. As well as creating this compellation of the best Mykonos quotes and captions, he's also written hundreds more travel guides to getting around the Cyclades islands and Greek destinations. Let's stay connected – Follow Dave on social media for travel inspiration from Greece and beyond: