A Milos Mykonos ferry service runs once a day during the summer months. The Milos to Mykonos ferry takes 3 hours and 10 minutes, and is operated by SeaJets.
Getting to Mykonos from Milos
As Mykonos has a small international airport, it can be a good choice as a next island to visit after Milos for some people looking for a last Greek island to add to their travel itinerary.
This route might also appeal to anyone that has started their Greek island hopping adventure in Santorini, and wants to work their way through some of the islands.
A typical example of this would be Santorini to Folegandros, Folegandros to Milos, and Milos to Mykonos.
It must be said though, that Mykonos is not exactly the closest island to Milos, and there will need to be an allowance for some travel time by ferry. During the summer, the direct Milos Mykonos ferries takes just over 3 hours.
Note: Although both Milos and Mykonos have airports, flying from between Milos and Mykonos is not possible.
Ferries from Milos to Mykonos
During the height of summer, you can expect one daily ferry from Milos to Mykonos. These ferries to Mykonos from Milos are operated by SeaJets.
The summer ferry from Milos going to Mykonos takes around 3 hours and 10 minutes. It can be quite an expensive ticket due to the ferry speed, so it might be a route that budget conscious travelers have a think about.
This service is specifically laid on for the summer tourist season, so if you wanted to travel outside that period, you may need to find an indirect route. Typically, this would mean going via another island such as Paros or Naxos first.
If you want to check schedules and book tickets for the ferry online, check out Ferryhopper. They'll have up to date prices as well. Just keep in mind that ferry schedules are sometimes only uploaded a couple of months in advance.
Milos Mykonos Ferry Schedules
From time to time, there does appear to be a second ferry added on to this route leaving from Milos island to Mykonos. There doesn't appear to be any logic to it though – some weeks it's not there at all, other weeks it appears twice!
This is why I recommend using Ferryhopper to check ticket prices and see which ferry operators make trips on this route.
Mykonos Island Travel Tips
A few travel tips for visiting Mykonos:
---
One of the best places to look at Milos Mykonos ferry schedules and to book tickets online is at Ferryhopper. Although I think it's better to book your Milos to Mykonos ferry tickets in advance, especially during the busiest time of summer, you can use local travel agencies once you are traveling around Greece.
---
---
---
---
---
How to make the trip from Milos to Mykonos FAQ
A few of the questions readers ask about traveling to Mykonos from Milos include:
How can we get to Mykonos from Milos?
The best way to travel from Milos to Mykonos by using a ferry. There is 1 ferry per day sailing to Mykonos island from Milos.
Do Milos and Mykonos have airports?
Even though both Milos and Mykonos islands have airports, you can not fly between the two. Milos currently only as connections with Athens, whereas Mykonos airport has connections with Athens and some other destinations in Europe.
How long is the ferry crossing from Milos to Mykonos?
The ferries to the Cyclades island of Mykonos from Milos take around 3 hours and 10 minutes on a fast (but relatively expensive) SeaJets vessel.
Where do you get ferry tickets to Mykonos?
I find that the Ferryhopper website is the best place to book Mykonos ferry tickets online. If traveling in August, try to book your tickets as far in advance as you can in case popular routes such as the Milos to Mykonos ferry service sell out.
---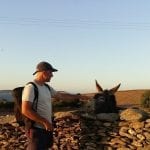 –
Dave Briggs
Dave is a
travel writer
based in Athens, Greece since 2015. As well as creating this guide to ferries from Milos to Mykonos, he's also written many more travel blogs about destinations in Greece. Follow Dave on social media for travel inspiration from Greece and beyond: