Adamas in Milos is the biggest settlement on the island, and also where you'll find the main ferry port. Most people choose to stay in Adamas when visiting Milos island in Greece, so in this travel guide, I'll show you some of the best things to see and do in Adamas Milos – when you're not too busy relaxing on the beach!
Adamas port town
People travelling to Milos by ferry will arrive at Adamas port town. Also known as Adamantas, it's the largest town in the Greek island of Milos, with approximately 1,400 residents out of a population of 5,000 people.
Adamas sits right in a big, natural bay, and has everything a visitor could possibly need. There are restaurants, bars, cafes, a few supermarkets, souvenir shops, rental car companies, travel agencies and laundry services. The two beaches close to Adamas, Lagada and Papikinou, are both fine for a quick swim.
Public buses connect Adamas with other areas in Milos, though the itineraries tend to change from time to time. In addition, Adamas is the starting point for various organized sailing trips that explore the coastline, including the famous Kleftiko bay.
All this means that Adamas is a popular place to stay for people visiting Milos for a few days, especially if they don't have their own transport.
Best things to do in Adamas
Although you probably wouldn't want to block out an entire day for sightseeing in Adamas Milos, the town does have some interesting places to visit that you can slot in when you have an hour or two free.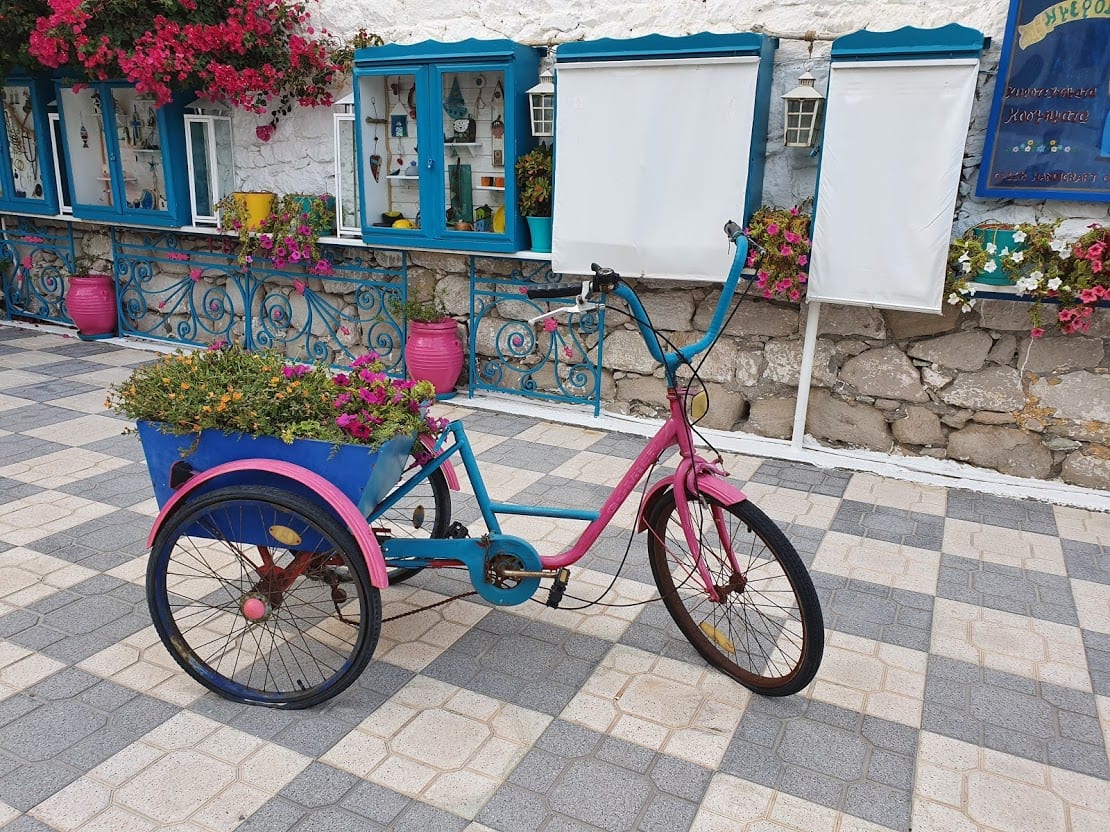 It's a pleasant town to take an evening stroll around, browse in the shops, or to take photos in the harbour area. Last, but definitely not least, Adamas has a few cool museums and places of interest.
Ecclesiastical Museum in Agia Triada Church
If you are a fan of churches and religious artefacts, you will be thrilled with the Ecclesiastical Museum. It is located inside the church of Agia Triada (Holy Trinity), which was built in the 9th century AD.
Its rich collections include rare books, impressive icons, precious gold and silver objects and unique wood carvings and iconostases. On your way in, check out the beautiful mosaic floor in the courtyard, designed by the local artist Giagos Kavroudakis.
For more information and opening hours, check their website.
Church of Kimisi tis Theotokou
On the tallest hill in Adamas, you will find the impressive church of Dormition of the Virgin (Kimisi tis Theotokou). The elaborate iconostasis and exquisite icons were transported here from the old Cathedral in Zefyria, the old capital of Milos.
Just like in the church of the Holy Trinity, he courtyard mosaic is designed by Giagos Kavroudakis.
Milos Maritime Museum
This small museum will introduce you to the island's long maritime history. You can see all sorts of artefacts, from prehistoric tools made from obsidian to rare naval maps and maritime instruments. There is also a wooden boat called "Irini", typical of the Cyclades.
The museum was closed in 2020, but hopefully it will reopen in 2021 or 2022.
Adamas WWII Bomb Shelter – German bunker
The grim WWII shelter and underground tunnels behind Lagada hotel was open to the public for a few years, and also operated as an art gallery. Unfortunately, in 2020 it seemed to be permanently closed. Ask around, in case this has changed.
Harbour Front
Spending some time walking along the harbour front, you will see the boats used for the sailing trips around Milos, private yachts, and ferries arriving and departing. There's a couple of nice places to have an ice cream and a coffee to watch the world go by!
Milos Mining Museum
This well laid out museum offers a great introduction to the island's geological diversity and long mining history. The exhibition areas present samples of the different minerals found in Milos over the millennia, along with excellent descriptions.
You can also see mining tools used in the past, geological and topographical maps of the island, and several relevant photos. Don't miss the basement floor, where you can watch a short documentary about the mining history of Milos in the last decades.
The Milos Mining Museum is a short walk from Adamas port, on the way to Papikinou beach. They also organize unique geological hikes, where you can visit important locations in Milos. For more information, visit their website.
Places to Eat in Adamas
Adamas in Milos has a wide range of restaurants, tavernas and takeaway places. You can also stock up at the supermarkets here if you are staying in self-catering accommodation.
O Hamos Milos – Ask any local or visitor where to eat in Milos, and they will mention O Hamos. This restaurant is right on Papikinou beach, within easy walking distance from Adamas.
Mikros Apoplous, Adamas – This modern Greek restaurant is located right on Adamas port, overlooking the quiet bay. They offer a selection of fish dishes, classic Greek cuisine and a couple of fusion dishes.
Best Gyros/Souvlaki: Try these places for quick eats – Let's Meat, Yankos, O Gyros Tis Milou.
Check out my full guide here: Where to eat in Milos
Not sure what Greek food is all about? Here's my favorite 10 foods in Greece you should try!
Beaches near Adamas
Milos is well known for its fantastic beaches (check out my guide to the best Beaches in Milos). If you're planning on spending a beach day, there are two within reasonably close walking distance to Adamas, which are Lagada and Papikinou.
Lagada beach in Adamas – It's right in front of a big hotel, and there are a few trees, so you don't need to bring any shade. In my opinion it's not super-special, but ok if you just want a quick dip after a hot day!
Papikinou – One of the most kid-friendly beaches on Milos, Papikinou is a long and narrow stretch of sand with some loungers and umbrellas. There are also several trees for shade. You can stop by O Hamos for a meal when you get hungry!
Where to stay in Adamas, Milos
As mentioned, the main port town of Adamas is a convenient place to stay for many people visiting the island of Milos. There's accommodation and hotels to suit all budgets.
One note should be made about the month of August – I've seen hotel and room prices nearly double on online booking platforms! Try giving some of the places a call to see if you can get the hotel rooms at a reduced rate.
Veletas Rooms – I've stayed here previously. The location is excellent, on a quiet street but very close to the port. The apartments are spacious, and the landlady will give you all the information you want.
Seaside apartments – literally on Adamas beach, and can accommodate up to four people. Offering a fully equipped kitchen, they are great for shorter and longer stays in Milos.
Deluxe Studios & Suites Ageri-Milos. The most highly rated hotel in Milos! Ideal for couples or families, they also provide free bicycles if you want to bike around Milos.
You might also like to read: Hotels and where to stay in Milos
Boat Tours Milos
Milos port town is also the place where you can take day trips and a boat tour to see more of the island. The Kleftiko caves boat trip is perhaps the most popular to take from Adamas Greece, but there are lots of others too!
Take a look here: Boat tours in Milos
Adamas Port Milos
If you're looking to continue your island hopping adventure around the Greek islands after spending time in Milos, you'll end up taking a ferry from the main Milos port, also in Adamas.
You can make many ferry connections to other Cycladic islands nearby, and when looking for tickets, I recommend suing Ferryscanner.
Milos Travel Guides
Interested in finding out more about the Greek island of Milos? Check out these other Milos blog posts:
---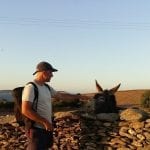 –
Dave Briggs
Dave is a
Greek travel blogger and writer
originally from the UK, and now living in Greece. In addition to creating this guide to the best things to do near Adamas Milos, he's written many other Greek island travel blogs. Follow Dave on social media for travel inspiration from Greece and beyond: