There are four ferries per week sailing from Milos to Syros during the summer. The journey takes between 6 hours 45 minutes and 9 hours 15 minutes.
How to get from Milos to Syros
It has to be said that the journey from Milos to Syros is not on the 'tourist' route. There are no high speed ferries between the two islands even in summer, which means that the journey is a slow one.
Quite why that is I'm not sure. I mean, ok, the beaches of Milos are far superior to anything that Syros has to offer, but Syros is a lovely island in any case.
Still, it is what it is, and even though both islands have an airport, there are no flight connections between them. This means that the only way to get from Milos to Syros is by ferry.
Note: If this has put you off, you can take a look at my article on which islands to visit after Milos.
Milos to Syros Ferry
Normally during the summer months, you can expect Seajets to offer a high speed ferry between islands in the Cyclades of Greece.
This is not the case with the Milos Syros ferry route however, and so the only choices are from four weekly slow Blue Star Ferries vessels.
The quicker boat from Milos going to Syros takes around 6 hours and 45 minutes. The slowest conventional ferry sailing to Syros from Milos island takes a a very long 9 hours and 15 minutes.
Try using Ferryhopper in order to book ferry tickets online. If you really had to get to Syros urgently on a day when direct ferries aren't due to sail, you could put together an indirect route going via another island first such as Milos to Paros .
Syros Island Travel Tips
A few travel tips for visiting Syros island:
---
---
---
---
---
---
What to see in Syros Greece
A short list of some of the things to do and see while in Syros includes:
See a sunset on one of the beaches in Syros
Walk around Ano Syros (Upper Syros)
Visit the Archaeological Museum in Ermoupoli
Check out the Vaporia neighbourhood
Admire the neoclassical buildings in Ermoupoli
Visit the Apollon Theatre
See the famous churches (and probably be confused by their names)
Traveling from Milos to Syros FAQ
A few of the frequently asked questions about taking a ferry to Syros from Milos include:
How do you get to Syros from Milos?
Taking a ferry is the best way to travel from Milos to Syros. There are up to 4 weekly Milos Syros ferries to choose from operated by Blue Star Ferries, a Greek ferry company.
Is there an airport on Syros?
Even though the Cyclades islands of Milos and Syros have airports, flying between Milos and Syros is not an option. Their airports only connect with Athens at the moment.
How long is the ferry crossing from Milos to Syros?
The ferries to the Greek island of Syros from Milos take between 6 hours and 45 minutes and 9 hours and 15 minutes. Ferry operators on the Milos Syros route may include Blue Star Ferries.
Where can I buy tickets for the ferry to Syros?
One of the best places to look at ferry schedules and to book tickets online is at Ferryhopper. Although I suggest you book your Milos to Syros ferry tickets in advance, you could also wait until you are in Greece, and use a travel agency.
---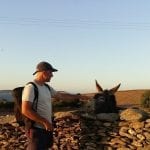 Dave Briggs is an author
of several Greek travel guides including a
Milos guide book
who is based in Athens, Greece. In addition to writing this guide about ferries from Milos to Syros, he's written hundreds of other insightful travel guides to Greek islands and destinations. Follow Dave on social media for travel inspiration from Greece and beyond: