There is one daily ferry from Milos to Naxos during the summer, with an additional boat operating the Milos Naxos ferry route once per week.
Naxos island in Greece
Wondering which island to visit after Milos? Naxos has plenty of things to see and do, and is a good vacation destination for families, couples, and groups of friends.
As the largest island in the Cyclades, it has great infrastructure, but never feels over-touristy in the way that places such as Mykonos and Santorini can do.
Getting to Naxos from Milos is fairly straightforward, and during the summer you can expect at least one ferry per day. Unfortunately, although both islands do have airports, they only connect with Athens so you can't fly from one island to the other.
Ferries to Naxos from Milos
During the height of summer, there is one high speed ferry per day from Milos to Naxos operated by SeaJets. This is supplemented by a slower, once a week conventional ferry that operates throughout the year which is operated by Blue Star Ferries.
SeaJets operate the fastest ferry from Milos going to Naxos, which takes around 2 hours and 25 minutes. This is the more expensive option, but you will be saving valuable vacation time by taking the quicker boat.
The slow ferry sailing to Naxos from Milos island takes around 6 hours and 5 minutes. This normally operates throughout the entire year, and has slightly cheaper prices.
Milos Naxos Ferry Route Tickets
The easiest way to book ferry tickets online is by using Ferryhopper. There, you'll be able to find the latest timetables and travel times for this Milos ferry to Naxos.
Keep in mind that some ferry routes between popular destinations in the Cyclades group can sell out during high season. I recommend you book online a month or so in advance.
As Milos to Naxos ferry timetables are only uploaded a couple of months in advance, you might want to check out openseas.gr to research which boats ran in the previous year.
If you want to see what other islands you can visit after Milos, take a look at this guide to Ferries from Milos.
Naxos Island Travel Tips
A few travel tips for visiting the island of Naxos:
There are lots of different areas you can stay in Naxos. Many travelers may prefer to be based in the Chora where many of the main attractions, tavernas and nightlife can be enjoyed. I personally prefer the Agios Prokopios area, as I normally travel with a car and so can easily drive to different areas on the island whenever I like. For where to stay in Naxos, take a look at Booking. I've previously stayed at a very affordable self-catering place you can check out here: Aggelos Studios.
---
One of the best places to look at Naxos ferry schedules from Milos and to book tickets online is at Ferryhopper. I think it's better that you book your Milos to Naxos ferry tickets a few weeks in advance, especially during the peak travel season. You can also leave it until you are in Greece and use a travel agency, but keep in mind that ferries in August can sell out as more people travel in that month. If you're looking to do this trip in reverse, go over to my guide on Naxos to Milos ferries.
---
---
---
What to see in Naxos Greece
There's lots of things to do in Naxos ranging from hiking to watersports, exploring archaeological sites and of course getting in some beach time.
I have some dedicated travel guide to Naxos that you might be interested in reading:
How to go to from Milos to Naxos FAQ
Readers sometimes ask these question about traveling to Naxos from Milos include:
How can you get to Naxos from Milos?
The quickest way to make a journey from Milos to Naxos is to take a direct ferry. There is normally at least 1 ferry per day during the tourists season, and an additional ferry one time per week on Saturdays sailing to the Cyclades island of Naxos from Milos.
Do Milos and Naxos have airports?
Although the Greek islands of Milos and Naxos both have an airport, flying from between Milos and Naxos is not something you can do. Their airports currently only have connections with Athens.
How many hours is the ferry from Milos to Naxos?
The ferries to Naxos from Milos take between 2 hours and 25 minutes and 6 hours and 5 minutes. Ferry operators on the Milos Naxos route may include SeaJets (the fastest crossing) and Blue Star Ferries.
How do I buy ferry tickets to Naxos?
The best place to look at tickets for the ferry from Milos to Naxos is Ferryhopper. They normally update the schedules a couple of months in advance, and it is easy to see and compare ferry ticket prices to the Greek islands.
---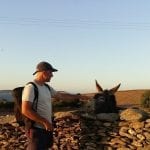 –
Dave Briggs
Dave is a
travel writer
from the UK who lives in and writes about Greece As well as writing this travel guide about ferries from Milos to Naxos, he's written hundreds more guides to other destinations in Greece. Follow Dave on social media for travel inspiration from Greece and beyond: