Hi,
Thank you very much for subscribing to my email list!
Please check your email, as I've just sent you a final confirmation.
In order to activate your subscription, you need to click on the link in that email. It's a bit of a pain I know, but it stops people being subscribed accidently.
If you can't see it in your main inbox, check any other folders.
If you don't get this final confirmation within a couple of hours, reach out directly to me at: dave (@) davestravelpages.com
Once you are confirmed, I'll share my best and most relevant posts about Greece with you over a series of emails. Feel free to unsubscribe at any time – but of course I hope you won't as each one has great insights into Greece!
Greece Travel Ideas
In the mean time, why not checkout some of these blog posts as a bit of an appetizer:
And…
And if you somehow found this page without signing up for my emails, go and signup now! Visit this page: Sign up for Greece travel guides
---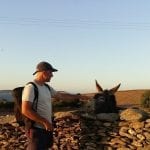 –
Dave Briggs
Dave is a
travel writer
based in Greece. As well as creating hundreds of guides about traveling in Greece, he's also
cycled around much of the world
. Follow Dave on social media for travel inspiration from Greece and beyond: