There is currently no direct ferry from Mykonos to Antiparos. The best way to travel, would be to take a ferry from Mykonos to Paros, and then Paros to Antiparos.
Antiparos island in Greece
The Greek island of Antiparos has had its profile raised in recent years, thanks to Tom Hanks owning a villa there. Not that it has changed the nature of the island much, so don't go to Antiparos expecting the glitz and glam of Hollywood!
In fact, even though Antiparos is relatively close to Mykonos, it has a completely different feel and vibe to it. It might not be as quiet as some other Cyclades islands such as Sikinos, but it's certainly not concreted over with endless rows of hotels.
Antiparos is an island to savour, with stunning beaches and great food. If you're looking for an island to spend a few days unwinding from the crowds of Mykonos, Antiparos could fit the bill nicely.
How to get from Mykonos to Antiparos
There aren't many Greek islands with airports in the Cyclades, and so it should be no surprise that tiny Antiparos does not have one. This means that the only way to reach Antiparos is by ferry.
The slight hiccup is that Mykonos and Antiparos do not connect directly. This means that you will have to plan to take the Mykonos to Paros ferry, and then take another local ferry from Paros to Antiparos after.
Ferries from Mykonos to Paros and then Antiparos
During the peak month of August, there can be as many as five ferries a day leaving from Mykonos to Paros. In other summer months, the ferry frequency on the Mykonos Paros route may be just 2 or 3.
The ferry operators on this route are SeaJets, Golden Star Ferries and Minoan Lines. Normally, the Seajets are the quickest ferries but they are the most expensive ferry company.
If you want to check schedules and book tickets for the ferry online, check out Ferryscanner.
Making a Ferry Connection
Once in Paros, you would then need to take a ferry over to Antiparos. There's a couple of options here. One, is to take a local boat from Parikia Harbour, and the other is to go to Pounta. If you're traveling by car, you'll need to take the Pounta crossings as this is the only car ferry.
Parikia to Antiparos Boat
In high season, there are ferries leaving from Pariikia Port to Antiparos approximately 4 times per day. Some passengers may find this more convenient. You'll only find out if it's running when you're there though.
Pounta to Antiparos Ferry
On arrival at Parikia Port in Paros, you would need to either drive or take the local bus over to the small port of Pounta. Ferries to Antiparos from Pounta, Paros leave all through the year with many crossings per day. The journey time is just 7 minutes!
You can not pre-book tickets for the Paros-Antiparos crossing, so you'll need to buy them at the port.
Antiparos Island Travel Tips
A few travel tips for visiting the Cyclades island of Antiparos:
---
---
---
---
What to see in Antiparos Greece
I've a full guide in things to do in Antiparos in the works. Until that's live, here's some of the highlights of the island you should consider experiencing:
Visit the Cave of Antiparos
Walk around the Chora and Kastro
Go hiking or cycling around Antiparos
Take a sailing tour
Beach time!
How to travel from Mykonos to Antiparos FAQ
A few of the questions readers ask about traveling to Antiparos from Mykonos include:
How do I get to Antiparos from Mykonos?
In order to make a journey from Mykonos to Antiparos the best way is by ferry boat. There are no direct sailings, and so the journey must be completed in two stages. The first stage is to take a ferry from Mykonos to Paros. Once on Paros, you would then take a separate ferry to Antiparos.
Is there an airport in Antiparos?
There is no airport in Antiparos. Although the nearest airport to Antiparos is on neighbouring Paros, you can not fly from Mykonos to Paros directly in any case. The only way to take a trip from Mykonos to Antiparos is by the ferry services.
How long is the ferry crossing from Mykonos to Antiparos?
The journey to the island of Antiparos from Mykonos involves a change of ferry in Paros. The overall travel time would depend on your connections. The Mykonos to Paros ferry takes between 40 minutes and 1 hour and 10 minutes, while the Paros Antiparos ferry takes from 7 minutes to a half hour.
How can I buy tickets for the ferry to Antiparos?
Ferryhopper is perhaps the easiest site to use when it comes to booking Ferry tickets online, and so you can book the Mykonos to Paros leg of the journey there. To get from Paros to Antiparos though, you'll have to buy a ticket from the port in Paros on the day of departure.
What are the nearby Cycladic islands to Mykonos?
Some closer Greek islands located near Mykonos include Tinos, Paros, Naxos, Syros.
---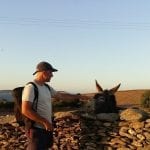 –
Dave Briggs
Dave is a
travel writer
originally from the UK, and now living in Greece. In addition to creating this guide about how to travel from Mykonos to Antiparos, he's written many other guides about Greek islands and destinations in Greece. Follow Dave on social media for travel inspiration from Greece and beyond: