During the summer, there is one direct daily Mykonos to Amorgos ferry. This ferry to Amorgos from Mykonos takes around 2 hours and 10 minutes.
Amorgos island in Greece
I'm constantly surprised with how few people have heard of Amorgos in the Cyclades islands of Greece. Anywhere else in the world, an island with perfect beaches, aqua blue waters, iconic monasteries, and miles of hiking paths would be a premier destination!
On top of that, Amorgos municipality have an incredible website, providing visitors with all the information they need. And yet, it's still in a way waiting to be discovered.
It's probably a good thing. It means you'll be able to enjoy Amorgos without the crowds you'll have just experienced in Mykonos!
How to get from Mykonos to Amorgos
There is no airport in the Greek island of Amorgos, so the only way to make the trip from Mykonos to Amorgos is to take a ferry.
During the busiest months for travel, you can expect 1 ferry per day sailing directly from Mykonos to Amorgos. These ferries to Amorgos from Mykonos are operated by SeaJets.
There are also several indirect routes available should a direct ferry crossing not be operating, and these might work out to be fractionally cheaper. They would involved going via Naxos or Paros first.
Book Mykonos to Amorgos ferry tickets here: Ferryscanner
Ferries to Amorgos from Mykonos
There is just the one daily direct ferry leaving from Mykonos and sailing to Amorgos during the tourist season. It's a Seajets high speed ferry, which means it is quite small, but fast. The journey time takes around 2 hours and 10 minutes.
The Seajets ferry company offers what you might call a touristic service between the two Cyclades islands. As a result, ticket prices can be quite expensive, around the 89.70 Euro mark.
Amorgos has two ports, but the Mykonos Amorgos crossing heads to just the one – Katapola. It does, however, make sense to double check where your Amorgos ferry arrives, as if your hotel owner is picking you up from the port, you don't want to send them to the wrong one!
Note: If you want to travel during the off-season, or if no direct ferries are available for some reason, you could consider taking a ferry from Mykonos to Naxos first. You would then get a separate Naxos to Amorgos ferry.
I find that Ferryscanner is a good website to use to book ferry tickets online.
Amorgos Island Travel Tips
A few travel tips for visiting the Greek island of Amorgos:
If you're looking where to stay in Amorgos, the two most popular areas are Katapola and Aegiali. Keep in mind that the Mykonos Amorgos ferry currently arrives in Katapola.
---
For hotels in Amorgos, I suggest using Booking. They have a great choice of accommodation in Amorgos and an easy to use site. If you are traveling to Amorgos in the busy summer months, I advise reserving rooms to rent in Amorgos a month or so in advance.
---
The easiest way to get hold of ferry tickets to Amorgos in Greece is by using Ferryhopper. Although I recommend you book your Mykonos to Amorgos ferry tickets in advance, especially during the busy high season, you could use a travel agency after your arrive in Greece. If you intend to travel during August, be aware that this is the peak month for travel, and that ferries for some journeys such as this one can be fully-booked, so don't leave getting your tickets until the last minute.
---
You should know that fares have gone up quite dramatically in 2022 for the ferry Mykonos to Amorgos. It's a 24 Euro increase on the previous year!
---
---
---
What to see in Amorgos Greece
Some of the things to do in Amorgos during your time on the island include:
Spend time in the towns of Katapola, Aegiali, and Chora
Relax on the incredible beaches in Amorgos
During my time in Amorgos, I really liked the beach at Aegiali, Kalotaritissa Beach, and the short 10 minute hike to the shipwreck of the Olympia boat!
I'd suggest staying 4-5 nights in Amorgos. If you're looking for which Greek islands in the Cyclades to visit afterwards, you might consider Donoussa. Alternatively, if you're heading back to Athens, consider getting the Blue Star ferries services to Piraeus Port.
How to travel from Mykonos to Amorgos FAQ
Readers sometimes ask these questions about traveling to Amorgos from Mykonos in the Cyclades group:
How do you get to Amorgos from Mykonos?
If you want to go to from Mykonos to Amorgos the best way is by ferry. There is 1 ferry per day sailing to Amorgos from Mykonos during the summer tourism season in Greece, and the ferry arrives at Katapola port.
Does Amorgos have an airport?
The Greek island of Amorgos does not have an airport. The closest airport to Amorgos is over on Naxos island. This means the only way to get to Amorgos from Mykonos or other places is by ferry.
How many hours is the ferry from Mykonos to Amorgos?
The direct ferry to the island of Amorgos from Mykonos takes around 2 hours and 10 minutes. SeaJets currently operate this route during the summer months, and the boat to Amorgos may stop at Naxos and one other island before reaching its destination.
Where can I buy tickets for the ferry to Amorgos?
The best place to look at Greek ferries to Amorgos online is Ferryhopper. Although I recommend you book your Mykonos to Amorgos ferry tickets in advance, you could also wait until you are in Greece, and use a travel agency.
Which ferry operators sail between Mykonos and Amorgos?
The Mykonos Katapola ferry is operated by SeaJets during the high season, and travel times on this once a day crossing are 2 hours and 10 minutes.
Other islands near Mykonos
I hope you found this guide on getting to Amorgos from Mykonos useful! If you're still researching which island to visit after Mykonos, these other guides might be useful:
---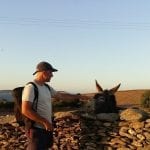 –
Dave Briggs
Dave is a
travel writer
originally from the UK, but living in Greece since 2015. As well as writing this travel guide about ferries to Amorgos from Mykonos, he's written hundreds of other insightful travel guides to Greek islands and destinations. Follow Dave on social media for travel inspiration from Greece and beyond: