You can take either a bus or a taxi from Rhodes Airport to Lindos, with a taxi being the easiest but most expensive means of transport.
Rhodes Airport – Lindos Airport Transfers
If you've booked a hotel or AirBnB in Lindos for when you visit Rhodes in Greece, you should know that getting to Lindos from the airport can only be done by taxi or bus.
Taking a public bus from Rhodes Airport Diagoras to Lindos is the cheapest way to travel, but comes with two problems.
The first is that there is no direct bus, so you will need to make a connection in Rhodes Town.
The second, is that because you have to take two buses in order to travel from Rhodes Airport to Lindos, the total travel time is 2 hours and 20 minutes – on a good day.
Tickets for both bus trips should come to about €9.20.
A taxi transfer from Rhodes International Airport to Lindos is the easiest option, but it is the most expensive.
You can expect taxi rides between Rhodes Airport and Lindos to cost around €81. It's a much quicker journey though, and you'll get to Lindos from the airport in about 50 minutes.
So, you'll need to figure out if the most convenient way of travel (a taxi) is worth paying more for than the longer way of traveling (a bus).
Personally, I think a taxi is worth the extra money if you plan to visit Lindos. You can get directly to your hotel's doorstep (or close by), and you can also pre-book it to avoid any waiting around at the airport.
You can pre-book a taxi between Rhodes Airport and Lindos here: Welcome Pickups
Undecided whether you should take taxi or a bus in order to get to Lindos from Rhodes Airport? Here's a look at the Rhodes airport transfer options to Lindos and their pros and cons.
Rhodes Airport to Lindos by Taxi
Taking a taxi from Rhodes Airport to Lindos Town is the stress-free way to begin your holiday in Rhodes. You don't have to worry about making bus connections, what you will do if the bus is full, and having to get from wherever a bus drops you off to your hotel.
Instead, a taxi can take you as close to the door of your accommodation in Lindos as possible, meaning you get a smooth start to the beginning of your vacation.
Taxis are available just outside the airport arrivals terminal. During the summer months (especially August) there may be a queue for them.
Why not pre-book a private taxi in advance at no extra cost so you get door to door service with no waiting?
Find out more about Lindos transfers, and make online bookings here: Rhodes Airport Taxi
If you are taking a holiday in Lindos during the busy summer months, pre-booking a taxi is by far the best thing to do. A taxi driver will be waiting for you when you arrive, and you'll get in the car straight away. If you've had a long flight you'll appreciate it!
Related: Best Day Trips In Rhodes
Rhodes Airport Transfer to Lindos by Bus
More budget minded travellers may prefer to take a bus rather than a taxi. While relatively straightforward, there are a couple of drawbacks to getting a bus from Rhodes Airport to Lindos Town.
The main drawback, is that the transfer time is 2 hours and 20 minutes or more. This is because you'll be taking a bus from Rhodes Airport to Rhodes Town, and then another bus from Rhodes Town to Lindos.
Another, potentially worse drawback, is that the buses from Rhodes Town to Lindos Town are quite often full, which means you may not even get on the first bus. Even if you do, you may be packed in with other passengers and sightseers, and have limited places for luggage etc.
The first stage of the trip is to take a bus from Rhodes Diagoras Airport into Rhodes Town. RODA, who operate bus services on the west side of the Greek island of Rhodes, service this route. Rhodes Town buses depart from the airport approximately every 30 minutes, and the bus ride from the airport to Rhodes East Side Bus Station takes about 20 minutes.
Once there, you will have a short walk to the KTEL bus stop area. KTEL Rhodes are the company that operate buses on the east coast of Rhodes. Their bus to Lindos from Rhodes Town leaves more or less every half hour, and travel times for this journey are over 1.5 hours
Important: In the peak season months of July and August, buses from Rhodes Town to Lindos can be full at certain times of day. That means not all passengers who want to travel can travel. For that reason, I recommend pre-booking the taxi when taking a vacation in Rhodes in the high season.
Hotel Shuttle Bus
If you haven't planned where to stay in Lindos Town yet, it can be worth looking for hotels that have a shuttle bus service to and from the airport.
There are not many that do, but it is an option worth exploring. If the hotel charges an additional fee for transfers, it's worth comparing the price with a regular taxi.
Booking is a great website where you can search for accommodation in Lindos and book places to stay. You can see on the description page of each place to stay if they offer a shuttle or not.
Rhodes Airport Car Rental
If you are thinking of renting a car to get around Rhodes in any case, you might be better off collecting the car from the airport. This way you'll save on the taxi fees, and have total flexibility.
You can use Rental Cars to give you an idea of how much it will cost to rent a car in Rhodes and to book online.
Also read: Essential information of renting a c in Greece
Rhodes Airport Transportation FAQ
Some commonly asked questions and answers about getting from Rhodes Airport to Lindos Town in Rhodes include:
How much is a taxi from Rhodes airport to Lindos?
The taxi fare from Rhodes Airport to Lindos costs about 81 Euros during the day. There may be additional prices charged for night time taxis and excess luggage.
What is the distance from Rhodes Airport to Lindos?
The most direct route between Rhodes Airport and Lindos is 51kms. A taxi will take between 50 minutes and an hour to cover the distance depending on traffic.
How long is the transfer from Rhodes airport to Lindos?
Direct transfer services such as taxis take 50 minutes to an hour. Buses from Rhodes Airport to Lindos take at least double the time.
Also read:
---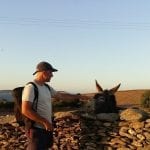 –
Dave Briggs
Dave is a
travel writer
living in, and writing about Greece. As well as creating this travel guide to Rhodes airport transfers to Lindos Town in Rhodes, he has written hundreds of travel blog posts about destinations and adventure activities. Follow Dave on social media for travel inspiration from around the world: