You can travel from Santorini ferry port to Fira using a bus, taxi, or private transfer. A bus is cheapest, while a pre-booked taxi is the quickest way.
Transport from Santorini Port
All ferries sailing into Santorini arrive at the new port, also called Santorini Athinios ferry port. So, whether you are traveling from Athens, Crete, or the other Cyclades islands of Greece by ferry to Santorini, you'll arrive at Athinios Port.
You can look at the timetables and buy Santorini ferry tickets online at: Ferryscanner
Once at the Santorini ferry port, you have several options when it comes to traveling on to Santorini's main town of Fira. These include public transport (buses), taxis, pre-booked taxis, shuttle buses, and car rentals.
If you are traveling in July and August I strongly recommend taking a pre-booked taxi from the ferry port to Fira. It will cut down on the hassle factor enormously.
You can pre-book a taxi here: Welcome Pickups
Outside of these peak season months though, most people will find the bus is the cheapest and most convenient way of getting to Fira from the ferry port in Santorini.
Below, I am going to break down the Santorini ferry port transfer options for reaching Fira in more detail.
First though, an important note: Cruise ships arriving in Santorini dock at the old port of Santorini just below Fira. This guide deals only with getting from Santorini Ferry Port to Fira.
Santorini Ferry Port – Fira Bus
Buses are timed to wait for each ferry arrival. There's no official bus timetable for Santorini ferry port buses on the KTEL site though, probably because the ferry arrival times change from week to week and month to month.
If you are arriving at Santorini island by ferry at a quiet time of year, the entire process will seem relatively smooth and orderly. Buses to Fira will be on the left as you disembark the ferry.
At busy times of year, the small ferry port on Santorini is a lot more chaotic with hundreds or even thousands of people milling around. The buses will still be in the same place, you'll just need to push through the crowds to get there!
Anyone traveling with luggage will be asked to put it underneath the bus. You buy a ticket either as you board, or after you are seated. Make sure you have cash – I've never seen a tap and go card machine work on the buses in Santorini yet.
Tickets for the Santorini ferry port to Fira bus ride cost between €2.00/person to €2.30/person. I seems to change year on year, and sometimes the prices go down – a first for Santorini! Regardless, this makes the bus the cheapest option for Santorini port to Fira transfers.
Once the public bus gets going, it may or may not go directly to Fira. The direct route is 7.6 km, and if it goes via a couple of villages the route length doubles to 14 kms or so.
As a result, the journey from Santorini's ferry port to Fira can take 20 – 30 minutes depending on traffic. The bus ride ends at Fira main bus station. Buses run to other parts of Santorini from Fira bus depot.
Related: How to get from Santorini ferry port to Oia
Santorini Ferry Port – Fira Taxi
In the same way that the public buses do, you may find taxis waiting when ferries arrive in Santorini. I say may, because Santorini island is only very small, and there are a limited number of taxis on the island.
This means that in the summer demand far exceeds supply, and taxi drivers may not go down to the ferry port if they can avoid it with easier money to be made elsewhere.
Those taxis that do wait may charge 40-50 Euro for the taxi ride from Santorini airport to Fira. This price needs to be confirmed with the driver. Prices are normally calculated on their estimation of distance and time taken.
Keep in mind that when taking a taxi from the ferry port to Fira in Santorini, the driver may not be able to get you to the door of your hotel if you are staying on the caldera. They will get you as close as possible though.
Santorini Ferry Port – Fira Pre-Booked Taxi
In order to guarantee a taxi ride from Santorini port to Fira, it is better to pre-book one. Yes, you do pay a little more than if you could find one on the day, but that's the price of peace of mind!
Divers will wait for your ferry to arrive, greet you, and then you'll be in the car and up to Fira in no time. It's the quickest way of getting from Athinios port in Santorini to Fira, and as you'll have known the price in advance, there's no hidden unpleasant surprises on cost.
You can pre-book a taxi from Santorini Athinios ferry port to the island's capital Fira here: Welcome Pickups
Santorini Ferry Port – Fira Shuttle Bus
A shared shuttle service is also worth thinking about, particularly for solo travelers who don't want the hassle of the public buses, but don't want the expense of a taxi.
Shuttle buses from Santorini ferry port going to Fira are also worth considering if pre-booked taxis are unavailable on your travel dates.
There are several options available for shuttle buses, you can check out an example here: Santorini Port Transfer Services
Santorini Ferry Port – Fira Rental Car
If you were planning on renting a car in Santorini to explore the island more during your stay, it can make sense to collect it at the ferry port.
There are several car rental companies located in the ferry port, although you'd want to have reserved it in advance. For rental cars in Santorini, take a look at: Discover Cars.
Driving out of the main port is a bit of a mission. The road up from Athinios ferry port is very windy and steep, in addition, traffic might be backed up. This is not the day to learn to drive stick!
Additional tips for your Santorini trip
See which ferry companies sail to Santorini and buy tickets for Santorini ferries online at: Ferryscanner
For day tours and trips in Santorini such as an excursions to the nearby volcano or a sunset cruise in Santorini, take a look at: Viator
Find hotels, rooms to rent, and accommodation in Santorini at: Booking
Related articles:
Santorini Athinios Ferry Port FAQ
Some of the most frequently asked questions people who are planning to travel to Santorini by ferry and need to get to Fira ask are:
How do I get from port to Fira in Santorini?
The best way to get from Santorini's Athinios Ferry Port to Fira is by pre-booked taxi or shuttle bus. The cheapest way is to use the public buses.
How much is a taxi from Santorini ferry port to Fira?
The price for a taxi from Santorini ferry port to Fira is typically 40-50 Euro. This price needs to be confirmed with the driver. Prices are normally calculated on their estimation of distance and time taken.
What port do the ferries leave from in Santorini?
The ferries leaving Santorini depart from the Athinios ferry port, which is located about 7.6 km from the island's capital, Fira. Athinios ferry port and the road to it can get quite busy, especially during the high season, and it is recommended to aim to arrive at least an hour before your scheduled departure time to avoid any unexpected delays.
How to get from Santorini Athinios port to Fira by bus?
The local public buses, which are the cheapest option, are timed to be waiting for arriving ferries. The journey takes about 25 minutes, and the price is around 2 Euro per person. Keep in mind that the buses might get packed during peak times.
Can I walk from Santorini ferry port to Fira?
While it is technically possible to walk from Santorini ferry port to Fira, it is not recommended for most travelers. The distance between the port and Fira is approximately 7.6 km (4.3 miles) and the route involves a steep climb of over 200 meters (650 feet) in elevation. The walk could take anywhere from 1.5 to 2.5 hours depending on your fitness level and pace. It wouldn't be much fun carrying all the luggage either.
---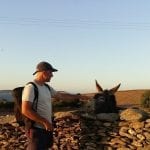 –
Dave Briggs
Dave is a
travel writer
based in Greece who regularly writes tips for people planning a trip to Santorini. In addition to writing this guide on bus, taxi, shuttle bus, and car rental options you can consider when traveling between Santorini ferry port and Fira, he's also written hundreds more travel guides to Santorini and other Greek destinations on this travel blog. Follow Dave on social media for more Santorini travel secrets and ideas: