This guide covers how to get to Santorini by plane and ferry boat, and also includes how to book your tickets in advance.
Santorini is one of the best known Greek islands. This article offers information on how to travel to Santorini by international flight, domestic flight, ferry and cruise ships.
Where is Santorini in Greece
The beautiful island of Santorini is one of the Cyclades islands in Greece. Located in the Aegean Sea, to the east of mainland Greece, Santorini is accessible by air or sea.
Santorini has an international airport (JTR), which has recently been renovated. You can reach the small island by international flight from some European cities, or a short domestic flight from Athens.
There is also a large ferry port called Athinios. Ferries connect Santorini with Piraeus port in Athens, Crete, Mykonos, Milos and other Greek islands.
Thousands of flights, ferries and cruise ships arrive to Santorini from Athens and different locations in Europe, making it one of the most popular tourist destinations in Greece.
How to fly to Santorini Greece
A common way to get to Santorini is by plane. Many people travel on direct flights to Santorini from various European cities, as well as Tel Aviv in Israel.
In addition, there are numerous year-round daily connections from the Athens International Airport, Eleftherios Venizelos.
Ticket costs can be very reasonable if booked well in advance. As a rule, booking a last-minute ticket can be quite expensive, especially if you have checked luggage.
Look here for tips on how to find cheap flights.
Direct flights to Santorini from Europe
During the tourist season, several different airlines operate direct flights to Santorini from Europe. Examples include British Airways, Air France, Lufthansa, easyJet, RyanAir, Transavia, Volotea and Wizz. A full list is available on the airport's website.
You can catch flights from several European capitals, like London, Paris, Rome, Dublin, Madrid and Lisbon, but also other cities, like Milano, Lyon, Manchester and Munich. Depending on the airport of origin, the trip duration varies from about 1 hour 30 minutes to 4 hours 30 minutes.
Generally speaking, there are more international flights that enter Santorini in the high season, July and August.
As an example, let's check the best way to get to Santorini from London. Whereas in high season there's a choice of companies offering direct flights, you'll find fewer options in shoulder season, and no direct flights in winter.
Skyscanner is a great search engine to look for flights and book your airfares. It will bring up all available connections, both direct and direct, to the popular Greek island.
Flights from Athens to Santorini
Another option to reach Santorini island is to fly from the Athens international airport, Eleftherios Venizelos, located a 45-minute drive from central Athens. The short direct flight to Santorini only takes 45-50 minutes.
The main air carrier in Greece, Olympic Air / Aegean Airlines, fly to Santorini a few times per day, year-round. Seasonal options include Ryanair, Volotea and Sky Express.
If you book in advance, you can get very reasonable prices, which might be much cheaper than the return cost of a ferry.
As an indication, return plane tickets from Athens to Santorini will usually cost around 70-100 euro when booked in advance. If you book several months ahead, you can find really cheap airfares, starting from about 30-35 euro return.
Getting from Santorini airport to your hotel
The airport in Santorini is located a 10 minute drive from the capital, Fira town, and a 25-30 minute drive from Oia.
There are several ways to get to your hotel from Santorini airport. You can take a bus, pre-booked taxi, or a car rental.
Bus: There is a regular bus service leaving from the airport and terminating at Fira main bus station. The fare is just over 2 euros per person. If you are staying in a village other than Fira, you will need to take an onward bus which leave on a regular basis during the summer months.
Taxi: While many hotels offer a complimentary airport transfer service, you will often find that there is a charge. Taxi fares vary, as they depend on distance covered and number of passengers.
As Santorini is a popular island, I strongly recommend to pre-book your airport taxi. A great option is Welcome Pickups, who are efficient, courteous and reliable.
Rental car: Renting your own vehicle is the best way to get around Santorini. You can see all of Santorini's beautiful villages and iconic beaches – just be prepared for lack of parking space at the most visited destinations. A list of car rental agencies is available on the airport's website.
Related:
Travelling to Santorini by ferry
Another popular way to reach Santorini is by ferry to Santorini's main port, Athinios.
There are numerous daily ferry connections with the main port in Athens, Piraeus.
Moreover, visitors who are planning to do some island hopping in Greece will be pleased to know that there are ferry routes from Santorini to several islands.
You can also travel in to Santorini from other islands. One such route is the Rhodes to Santorini ferry.
Ferries from Piraeus port in Athens to Santorini
During high season, there are usually 4-5 ferries per day from Piraeus port to Santorini. Generally speaking, there are two types of ferry: the high speed ferry, and the conventional ferry.
High speed ferries are run by a well-known ferry company called SeaJets. They typically leave Piraeus early in the morning, and take 4.5 – 5 hours to reach Santorini. The main drawback is that the trip will be rather bumpy if there are strong meltemi winds.
Most of the slow ferries are run by Blue Star Ferries, a subsidiary of the Attica Group company. The Piraeus – Santorini trip lasts about 8 hours.
Cost of ferry travel from Piraeus
Ferry ticket prices vary a lot. One-way ticket prices for the Blue Star Ferry start at 35 euro per person, while the fast ferry costs about 80 euro.
Fares are the same year-round, but they can sometimes be sold out, so advance booking is recommended. You can compare routes and book ferry tickets on Ferryhopper.
Island hopping from Santorini
People visiting Santorini usually travel to one or more popular islands nearby. Mykonos, known as a party island, Ios, Paros, Naxos, Folegandros, Milos and Crete are all very easy to get to, as they are directly connected with Santorini.
These ferry journeys typically take anywhere between 1 and 4 hours, depending on your destination and type of ferry you choose. Blue Star Ferries, SeaJets and also Minoan Lines are among the companies running ferries on these routes.
Note that many of these connections will not run in the low season. While there will be slow ferries between the Cyclades islands, there are usually no connections between Santorini and Crete.
Again, Ferryhopper is the best place to check all ferry timetables and book your tickets.
Getting from Athinios port to your hotel in Santorini
Unlike many other Cyclades, Athinios port is not walking distance from any towns. It is about a 15-minute drive from the capital, Fira, and a 35-40 minute drive from Oia.
To reach your hotel anywhere in Santorini from the main ferry port you will need to take a bus, pre-booked hotel transfer / taxi, or car rental.
Bus: Whenever ferries arrive from various destinations, you will find there are regular bus services waiting to pick up passengers. This information isn't always accessible on the official KTEL bus website. If you are staying outside the capital, you will need to change buses at the bus station in Fira.
Taxi: Unless your hotel offers a (free) pickup, make sure you pre-book a taxi on Welcome Pickups, my preferred transfer company.
Rental car: If you decide to rent a car and get around Santorini on your own, you can arrange to pick it up at the port.
Arriving to Santorini on a cruise ship
People visiting Santorini on a cruise will typically have a few hours on the small island. While this is not enough to see the whole island, you will get an idea of the highlights.
In this case, it's best to book a tour with one of the local companies. Otherwise, trying to get your bearings might get too stressful.
Get Your Guide offers numerous tours which will help you discover the best of Santorini and make the most of your holiday.
How to fly to Santorini from USA, Canada, Australia
Finally, let's see what happens if you are travelling to Greece from outside Europe, e.g. USA, Canada, or Australia.
In these cases, your best option is to fly into an airport somewhere in Europe, from where direct flights depart to Santorini.
Generally speaking, some of the best options for a layover include London, Paris, Rome, Frankfurt or Athens.
However, it's worth checking all possible itineraries on SkyScanner. There may be significantly cheaper options, especially if you are happy to use low-cost airlines such as RyanAir.
Frequently asked questions about how to get to Santorini
Here are some questions asked by people who visit Santorini:
What is the best way to get to Santorini?
Apart from international flights, there are daily flights to Santorini from Athens International Airport at Eleftherios Venizelos. These flights are available every day of the week at various times of the day.
What airport do you fly into to go to Santorini?
Santorini has an international airport (JTR), which is located a 10-minute drive from Fira, the capital.
Is it better to fly or ferry to Santorini?
Flying into Santorini is quick, and is the best way to get to Santorini if you are pushed for time. Taking a ferry is the best way if you want to enjoy the serenity of a leisurely journey throughout the islands in Greece.
What is the cheapest way to get to Santorini?
Usually, the cheapest way to get to Santorini from Athens is the slow ferry from Piraeus port. With that said, you may find cheap airfares, either from Athens or from certain European cities.
Is it better to fly into Athens or Santorini?
If you are planning to visit Athens, Santorini and more islands in the same trip, the best option is usually to fly into Santorini, and make your way back to Athens through the other islands.
---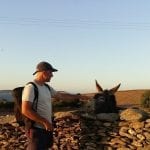 – Dave Briggs
Dave is a travel writer who's been living in Greece since 2015. In addition to writing this guide on the easiest ways to get to the island of Santorini, he's created hundreds of travel itineraries and blog posts about Greece which you can find here on Dave's Travel Pages.
Follow Dave on social media for travel inspiration from Greece and beyond: