There are several Santorini to Thirasia ferry crossings per day, taking about 10-20 minutes to sail the Santorini – Thirasia route leaving from Ammoudi Port, near Oia.
Thirasia island in Greece
Thirasia is the smaller sister of Santorini, created after the strong volcano eruption in the 16th century BC. It's a quiet volcanic island with about 250 residents, a few villages and few tourist amenities.
Although so close to each other, the two islands couldn't be more different. The world-famous Santorini is busy and cosmopolitan. Thirasia is quiet, authentic and ideal for people who want to get away from it all.
There are several passenger ferries from Santorini to Thirasia a day during the summer months. In addition, there is normally a bigger ferry a few times per week, which you can use if you have a vehicle.
If you are wondering whether Thirasia is worth visiting, it does depend on what you are after.
If you are looking for authenticity, laid-back life and an off-the-beaten-track experience, it definitely fits the description. In addition, it offers wild nature combined with incredible views of the caldera.
Ferries to Thirasia from Santorini
There are four ways to get from Santorini to Thirasia:
A small foot passenger boat departing from the tiny Ammoudi port under Oia, on the northwest coast of Santorini. This is the quickest way to get to Thirasia, as it takes around 10 minutes. It normally runs 3-4 times a day and stops at both ports in Thirasia, Riva and Korfos. As itineraries tend to change, it's best to ask around for the latest information.
---
A big ferry travelling a few times per week, departing from Athinios, the main port of Santorini. This route is served by the company called SeaJets, but the actual ferry tends to change now and then. This ferry takes vehicles and you can book your tickets online at Ferryhopper. Santorini to Thirasia ferry timetables are normally updated a couple of months in advance.
---
A local passenger / vehicle ferry departing from Athinios port on most days of the week. Up-to-date information and tickets can be found at the port or local travel agents.
---
There is always an option of a day or half-day trip from Santorini to Thirasia. You can choose a sailing trip passing by Thirasia, or a walking tour of the island.
---
For ferry operators and timetables to other Greek islands, you can book ferry tickets online at Ferryscanner
---
Thirasia Island Travel Tips
Make your Thirasia trip planning a little easier with these insights:
There is limited accommodation in Thirasia, and it's mostly around the capital, Manolas, and Riva port. If you are traveling to Thirasia during summer months, I recommend reserving your rooms well in advance. For hotels in Thirasia, I recommend using Booking.
---
In terms of how long to stay in Thirasia, it really depends on what you want. Yes, you can easily see the highlights in just a few hours. If, however, you want to actually experience this little island, consider staying a night or two.
---
The island is really small, and you will definitely enjoy it if you like walking. However, there is also a bus, and hitch-hiking is very common here, like in most small islands.
---
Welcome taxis are an excellent way to get to the port for your Thirasia ferry.
---
What to see in Thirasia Greece
If you like exploring, Thirasia will surprise you. For such a small island, there's definitely more than meets the eye.
The best things to do in Thirasia include the following:
Walk on the hiking trails on the island (bring comfy shoes!)
Stroll around Manolas, the capital
Explore Agrilia, a semi-abandoned village with an impressive church dedicated to Virgin Mary
Stop at the quaint village of Potamos, with the traditional cave houses
Visit the Monastery of Kimisis Theotokou up on the hill and enjoy the amazing views. Tip – there is an important local celebration on the 15th August
Swim at the wild, black beaches
Imagine how life must have been 50 or 100 years ago
Tip – Don't forget your camera, as the abandoned buildings and wild landscapes are extremely picturesque!
FAQ About Santorini To Thirasia Ferry Timetables
Here are some questions often asked by people planning to travel between Santorini and Thirasia:
How do you get to Thirasia from Santorini?
The only way to reach Thirasia is by sea. There are frequent local ferries and passenger boats that connect the two islands of Thirasia and Santorini.
Is there an airport on Thirasia?
While Santorini has an international airport, the island of Thirasia does not have one. That said, the exclusive Perivolas hotel has a heliport for its customers!
Where does the Thirasia ferry leave from in Santorini?
The foot passenger ferry from Santorini to Thirasia leaves from Ammoudi Port, near Oia. If you have a vehicle, you will need to take a different ferry from Athinios port.
How long does the Santorini to Thirasia ferry take?
You will barely feel the trip between Santorini and Thirasia, as it's only between 10 and 20 minutes sailing time.
How do I buy ferry tickets for Thirasia?
Ferryhopper is an easy to use website for most of your ferry tickets in Greece. At the moment though, the foot passenger tickets for Thirasia can only be bought at agencies on Santorini.
Santorini Travel Guides
If you're considering spending any time on Santorini, these travel blog posts may be worth reading:
---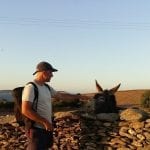 – Dave Briggs
Dave is a travel writer who's been living in Greece since 2015. He's used that time wisely (or so he thinks) by traveling to dozens of Greek islands and writing about them.
Follow Dave on social media for travel inspiration from Greece and beyond: Facebook, Twitter, Pinterest, Instagram, YouTube.