Mykonos, Naxos, Paros, Folegandros, and Milos are all popular Cycladic islands to visit by ferry from Santorini. This guide shows you how.
Want to know where to go after Santorini? This guide shows how to get from Santorini to the other islands in the beautiful Greek Cyclades.
Islands Near Santorini In Greece
The chic Greek island of Santorini needs no introduction. Famous for its sunsets, beautiful villages, and charm, Santorini is a bucket list destination for many people.
What many people do not realise though, is that Santorini is also a good gateway into the other Cyclades islands in Greece.
And what's not often talked about over the noise of the Santorini Instagram posts, is that these other nearby Greek islands are often just as charming and a lot more authentic!
Which island to go after Santorini?
After you've visited Santorini, you have the option to visit other Greek islands nearby such as Mykonos, Naxos, Folegandros, Ios, Thirasia, and Anafi.
Many people choose to pair Santorini and Mykonos together, as these are the 'big name' destinations in the Greek Cyclades island chain. Thinking to only do one of these? Check out my Mykonos vs Santorini post!
Islands Close To Santorini
There's more islands than just these in the Cyclades though. In fact, there's a total of 24 inhabited Cyclades islands in Greece!
It can make it a tough decision if you only plan on visiting this part of the world once in your life. Where on earth should you choose to go?
If you find yourself in this position, don't let me dissuade you from the classic Athens – Santorini – Mykonos itinerary. It's a once in a lifetime opportunity, so go enjoy!
If you might be returning back to Greece, and are feeling a little more adventurous, perhaps look beyond this and try to fit in a quiet island like Sikinos or Kimolos. You'll get a totally different perspective to Greece!
Best Greek islands to go near Santorini
You should note that when you are looking at where to go from Santorini, any island you choose is going to require you to take a ferry to get there. So, you get a Cyclades island hopping adventure at the same time!
When looking for islands close to Santorini by ferry, I'd suggest picking routes with no more than 2 hours travel time. There's lots of islands around Santorini which fulfill this requirement, so no worries!
Oh, and if you are looking for timetables and tickets for a ferry journey to other islands near Santorini, I suggest you use Ferryscanner.
Below, I'll give you a brief description of my top suggestions of islands to visit after Santorini. Underneath that, I'll show how you can get from Santorini to all the other islands in the Cyclades chain.
Of all the islands close to Santorini, there are perhaps 6 which are the best and the easiest to travel to afterward:
Mykonos
In a similar way to Santorini, Mykonos really needs no introduction. Or does it?
It's probably wise to be clear on what Mykonos is all about. Namely, it's a place to see and be seen. A place to enjoy the nightlife, and cosmopolitan atmosphere. It also has some of the most beautiful beaches in Greece.
You'll see Arabian Princes arrive on their yachts (many of which are bigger than Greek navy ships!), TV reality stars, and professional footballers. There's also ordinary people like you and me of course (unless you happen to be Royalty, a TV reality star or a professional footballer).
Mykonos is not the most authentic island in Greece, and the prices here are generally a lot higher than on other Greek islands. It does have really nice beaches, but a lot of them are covered with umbrellas and sunbeds for rent at prices that might make you intake your breath sharply.
Does Mykonos have it's redeeming aspects? Yes of course it does, but I'm pretty sure you've already read the glossy side about Mykonos, so now you can balance it against my view.
In short – the whole island is like a five star resort, so don't expect to see the budget side of Greece in Mykonos!
Read: How to get from Santorini to Mykonos
---
Naxos
Now this wonderful island is much more like it!
Let's describe Naxos as the family-friendly version of Mykonos. It has golden sandy beaches that at least equal if not exceed its more famous counterpart, but there are more of them.
Additionally, Naxos is the biggest island in the Cyclades, meaning that there's much more variety here. The fact that tourism, although an important industry, isn't the only one, gives Naxos a more authentic nature.
Add in great cuisine, quaint villages, historical sites, and lots of hiking trails, and you'll find that Naxos is a destination you might just want to return to again and again.
Read: How to get from Santorini to Naxos
---
Folegandros
I've often heard people describing getting off the ferry from Santorini to Folegandros, and feeling as though there's been a weight lifted from their shoulders. Almost as if the island is a breath of fresh air.
It's easy to see why. The island of Folegandros, whilst certainly not the undiscovered gem it was 30 years, still has a pace of life slow enough for it to feel more genuine than Santorini.
I particularly enjoyed taking some of the hiking trails, especially when hiking to Katergo Beach. Others say they enjoy the social atmosphere of eating evening meals outdoors in the square of the Chora.
If this is your first time to Greece, I'd recommend Folegandros as an island to visit after Santorini. It's a nice, gentle introduction to Greek island hopping, and the island caters well to English speaking tourists whilst at the same time makes you feel as though you have stumbled across a destination package holiday tours will never reach.
Read: How to get from Santorini to Folegandros
---
Ios
If Mykonos is the island where people with insane amounts of money go to party, then Ios is its more wallet-friendly cousin!
It has something of a reputation as a party island destination for 20 to 30 somethings, but at the same time you have to make an effort to reach it, as Ios does not have an airport.
There's been talk of Ios trying to wean itself away from party tourism, and I can say there's a lot more to the island than the nightlife, so they should do well.
I thought the beaches were very nice, especially the famous Mylopotas beach, and can honestly say that some of the best sunsets I've seen in Greece were in Ios. Check out my guide to sunsets in Ios if you don't believe me!
Read: How to get from Santorini to Ios
---
Thirasia
This is actually the closest island to Santorini. Even so, it remains an overlooked destination in the Cyclades.
In all fairness, if you are visiting Santorini, you can pop over to Thirasia on a day trip from Santorini. Spend a couple of days though, and you'll find it has a very different pace of life than its far busier neighbor.
With just 150 permanent residents, and a handful of villages, it's a good place to escape to in order to avoid the Santorini crowds, appreciate the scenery, visit churches and monasteries, and also enjoy the views of the caldera and Santorini itself from a unique angle.
Read: How to get from Santorini to Thirasia
---
Anafi
The island of Anafi is quite small, but has some amazing beaches and an interesting Chora. Anafi has an almost exotic feel to it, and for now, it remains something of an undiscovered gem.
My advice – Visit while you can before it changes (not that it's likely to change any time soon). With a population of less than 300 and no airport, you can rest assured that hordes of tourists are never going to find Anafi – even if they had heard about it.
Some of the best things to do in Anafi include visiting the Kalamos Rock, the Monastery of Kalamiotissa, the Monastery of Zoodochos Pigi, hiking, and of course enjoying plenty of beach time!
Read: How to get from Santorini to Anafi
---
Island hopping from Santorini
In order to travel between Greek islands, you will need to use the ferry network. The network is made up of dozens of different Greek ferry companies, all operating on different routes and timetables.
In the past, this used to make hopping to islands after Santorini quite confusing to plan. Then, along came Ferryhopper to make life easy.
I strongly recommend you take a look at the Ferryhopper site. It's easy to navigate, and you can clearly see the ferry times and prices, browse through ferry routes. and book the ferry tickets online.
---
Tips on booking ferries from Santorini
Here's a few travel tips on how to plan your island hopping adventures after visiting Santorini.
---
---
---
---
Santorini Island Hopping Destinations
Here's my guides on how to travel from Santorini to other islands close by in the Aegean Sea:
What to visit next to Santorini FAQ
Readers planning to island hop to nearby islands after spending time in Santorini often ask questions similar to:
Which islands are near to Santorini?
The nearest islands to Santorini are Thirasia, Anafi, Ios, Sikinos and Folegandros. These destinations are also Greek islands in the Cyclades chain.
What are the best islands to visit from Santorini?
One of the most popular destinations to consider going next next after you visit Santorini is Mykonos. It's not the closest island to Santorini, but the legendary Mykonos beach parties make it the best known island in the Cyclades after Santorini.
What islands can you ferry to from Santorini?
You can travel to all of the islands near Santorini by ferry such as Folegandros, Anafi, and Ios, as well as the majority of the Cyclades islands. Ferry connections from Santorini to Crete are also available.
What countries are close to Santorini Greece?
Santorini is not near the borders of another country, but Turkey and Cyprus could be considered the closest. Santorini has an international airport, and there are flight connections with many European cities.
Can I travel to Mykonos after Santorini?
Yes, you can take a ferry to Mykonos from Santorini. Travelers should be aware that these are high speed crossings on catamaran style vessels which do no have an outer deck.
---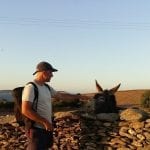 – Dave Briggs
Dave is a travel writer who's been living in Greece since 2015. Since then, he's traveled to dozens of Greek islands, and has created hundreds of travel guides and blog posts including this one on how to get to the islands close to Santorini. He has a somewhat ambitious goal of visiting the 150 Greek islands he hasn't been to yet in order to write about them too.
Follow Dave on social media for travel inspiration from Greece and beyond: