When choosing a Santorini shore excursion, you'll want to pick a Santorini tour that makes the most of your time on this beautiful Greek island.
Santorini Excursions
If Santorini is one of your cruise ship stops during a sailing itinerary of Greece, there's a few things you need to consider when planning a shore excursion.
The first, is that each cruise ship allows different amounts of time for their passengers to spend in Santorini.
The second, is that cruise ships anchor out in the caldera of Santorini. Tender boats bring passengers to shore from where it is better to get a cable car to the top of the cliffs rather than walk. Therefore, tours that meet you at the cable car make a lot of sense.
With this in mind, when thinking about booking a shore excursion in Santorini, it's best to go with a customizable tour which allows for your off the boat time. There are also tours of Santorini specifically designed with cruise ship passengers in mind. Some of the best include:
If you're planning a trip to Santorini, don't miss out on these Santorini sightseeing tours! I've selected 10 of the best Santorini tours so you can experience more of the most beautiful island in Greece.
The 10 Best Tours in Santorini
You've made the decision to visit Santorini. You know you want to see the sunset and take awesome photos, but what else is there to do?
Santorini, the world-famous Greek island, has a lot to offer. Visiting the ancient site of Akrotiri, the amazing wineries, the lovely beaches and the awesome volcano are just a few of the things to do in Santorini.
While it's possible to visit most of these places independently, it is also possible to book various tours. Here is a list of the best tours in Santorini for 2019.
Santorini Best Tours
There are really three main types of Santorini tour you can take, which are boat tours, wine tours and island-overview tours. You might find that some tours combine all three! Here's the top Santorini Greece guided tours.
---
1. Santorini Volcano Tour
(6-10 hours)
If you are going to Santorini, you absolutely must visit the volcanic islands that are a short boat ride away.
This boat tour will pass by the uninhabited islands from Nea Kameni and Palea Kameni, where you will have the chance to walk on volcanic grounds and swim at thermal springs.
You will also visit the smaller island of Thirassia, where people from Santorini often take mini-breaks. The tour ends in Oia, where you can stay longer to see the sunset if you want.
There are many boat tours in Santorini that visit the volcano, and you can see what they are like using the link below.
** Click here for more on the Santorini Volcano Tour **
---
2. Santorini Catamaran Tour
(5 hours)
If you want to take a Santorini boat tour but aren't too interested in walking on the volcano, you can opt for a catamaran cruise, focusing on visiting beaches and swimming.
In all fairness, the volcano can get uncomfortable hot in summer, so this cruise in Santorini will suit better people who don't cope well with high temperatures, or just want to relax and take it easy.
You can take the Santorini Catamaran Tour either in the morning or in the afternoon, when you will also see the sunset. A lunch / dinner on board is included as well in the Catamaran tour Santorini.
I think the Santorini Catamaran Sunset Cruise is the best option.
** Click here for more on the Santorini Catamaran Sunset Cruise **
You'll also find there's different types of Santorini boat tours to choose from at Get Your Guide.
---
3. Santorini bus tour (Full Day)
(10 hours)
The Santorini bus tour is ideal for people with limited time on Santorini, or those who want to see the most important sites on the island in one day.
The shared bus will pick you up from a meeting point close to your hotel, and will drive you around the island.
During this tour, you will explore the ancient site of Akrotiri with a licensed guide, relax on a couple of the famous Santorini beaches, Perissa and Red Beach, and visit two of Santorini's most picturesque villages, Emporio and Profitis Ilias.
You will also have the chance to taste the local wines at one of the famous Santorini wineries. The day will end with a stop in Oia village, where you will see the most photographed sunset in Greece.
** Click here for information on the Santorini Bus Tour **
---
4. Half day Santorini tour by shared bus
(7 hours)
This bus tour of Santorini is great if you want to meet other like-minded travelers and make new friends while you are exploring Santorini, but are not keen on a full day tour.
In this tour, you will visit some of the less visited villages, like the traditional settlement of Megalochori, and take in the views from the island's highest point, Profitis Ilias.
You will explore the ancient site of Akrotiri, and have plenty of time to go to both Red Beach and Perivolos beach, where there will be a stop for swimming and lunch.
Finally, you will get to visit one winery and taste the famous Santorini wines.
** Click here for more on the half day Santorini bus tour **
---
5. Half day Private Santorini Tours
(6 hours)
Private Santorini tours are ideal for groups or families of up to 4 people, who want an introduction to the island. You will visit several towns and villages in Santorini, and get the chance to learn a little about the island's history.
Apart from the popular towns of Oia and Firostefani, you will also visit Profitis Ilias, on Santorini's highest mountain, as well as Pyrgos, the old capital with the ruins of a Venetian castle.
You will also have time to explore the Akrotiri ancient site, and visit one of the most popular Santorini wineries, the Venetsanos winery.
Finally, you will have time on the Red and Black beaches, with an optional stop for lunch.
** Find out more about Santorini Private Tours **
---
6. Santorini Wine Tour
(4 hours)
Although most Santorini tours will include a stop at one winery, you might be interested in a more specific winery tour.
During this tour, you will learn a lot about the wine making process and the special types of local Santorini grapes.
Needless to say, you will get to taste a few of the famous Santorini wines, and perhaps buy a bottle or two to take back home.
There's four Santorini Wine Tours to choose from:
---
7. Visiting Akrotiri ancient site in Santorini
(2 hours)
This tour is ideal if you want to explore the island on your own, but still want a private licensed guide to understand more about the ancient site of Akrotiri, which dates from the Minoan Bronze Age.
The settlement was already developed by the end of 3rd millennium BC, and it expanded further later, when a drainage system and paved streets were introduced.
It was an important place for trade and arts, most notable pottery. The settlement was destroyed due to the eruption of the volcano in the 16th century BC.
Fortunately, volcanic ash preserved some parts of the site, such as buildings, remains of frescoes and artworks. You can choose a tour with or without hotel pick-up.
** Read more about the Akrotiri Tour **
---
8. Santorini Walking Tour
(5 hours)
While it's entirely possible to hike from Fira to Oia on your own, you can also hike with a local guide who will give you information about Santorini.
The 10 km / 6 mile hike begins at Fira and ends in Oia, and is an easy, comfortable hike with only one or two steep parts.
It should take you anything from 2,5 to 3,5 hours to complete the hike, depending on the number of stops and your walking speed.
I can definitely recommend this hike, as it was one of my favourite things to do in Santorini.
** Read about the Santorini Walking Tour here **
---
9. Photography Tour Santorini
(4 hours)
If you want to take the best photos of Santorini, you would be interested in a photography tour run by a passionate photographer, Konstantina Sidiropoulou.
Santorini is a truly picturesque place, and it isn't necessarily easy to discover everything on your own in just a few days. On offer, are two unique Santorini tours to see the island from a different perspective.
In both tours, you will be taken to the best places in Santorini to take good pictures, taking into account the light, time of day and weather conditions.
The evening Santorini photography tour also includes a quick workshop on how to take good night shots.
---
10. Santorini electric mountain bike adventure
(5 hours)
If you are looking for something different regarding trips in Santorini, this is this bicycle tour for you! You will visit some of the less visited villages in Santorini, and explore the island from the saddle of an e-bike.
Although I haven't done this Santorini island tour myself, I will make sure to get in touch with this company when I go back to Santorini.
** Read about the Santorini E-Bike tour here **
---
Top Santorini Tours: Customized Private tour of Santorini
(4 hours)
If you want a completely private, customized experience on Santorini, this option is ideal.
You can ask all the questions you wanted about Santorini and Greece, and you can also visit places that are not too popular with visitors, like the Donkey Brewery.
It's also recommended if you don't want to rent a car yourself, but still want to visit places that aren't accessible on public transport.
** Santorini Customized Private Tour **
---
More Santorini Guides
If you enjoyed this guide to day tours in Santorini, you might also be interested in these other travel guides and excursions from Santorini:
Santorini Greece Tours
If you enjoyed this guide to the best Santorini tours and excursions please share it on social media. You'll find social sharing buttons in the bottom right hand corner of the screen.
---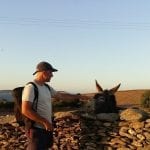 –
Dave Briggs
Dave is a travel writer living in Greece and originally from the UK. He started this travel blog in 2005, and over the years it has developed into an invaluable source of travel information about Greece and the Greek islands. He has a somewhat ambitious (perhaps impossible) goal of visiting every Greek island and writing about it.
Free Santorini and Greece Travel Guides
Would you like more information on planning a trip to Santorini and Greece?
Sign up for my free travel guides below, and I'll send you a series of guides designed to help you create the perfect vacation in Santorini and Greece!