The Greek Islands are a dream destination for many travelers, and for good reason. The picturesque views of Santorini's white buildings on the cliffs will leave you breathless, Mykonos' beautiful beaches will make you want to never leave, and Milos' awe inspiring landscape provides some of the most photogenic backdrops in the world.
With so much variety in such a small country, it can be difficult to choose which island is best for your next vacation. We're here to help!
This blog post highlights 10 of the most famous islands in Greece that are perfect destinations no matter what time of year you visit them or what kind of traveler you are.
10 Amazing Picturesque Islands in Greece
What makes Greece so amazing? The beaches, the weather, and the beautiful islands that line up along the coast. Here's our choice of 10 of the most stunning Greek islands you should visit whenever you can!
1. Santorini
Santorini is one of the most famous islands in Greece. The beautiful white buildings and blue domes are a sight to behold, and the sunsets are simply remarkable!
Take a tour to the volcano, and if you're feeling more energetic, make the walk along the caldera from Fira to Oia. Santorini is a great place to visit in the summer, but it can get very hot. Make sure you're prepared for that and have some water with you!
Strolling around the village of Oia is a must-do, and the views from up there are just breathtaking. Be early to get your position for the sunset though – it's a popular event!
Santorini is a popular honeymoon destination, and is often listed as one of the best Greek islands for couples.
Read about Santorini here: Santorini Travel Blog
2. Mykonos
Mykonos is a paradise for those who love to party. The island has some of the best nightlife in Greece, and it has a cosmopolitan feel to it.
Mykonos is not just about the nightlife though. You can also enjoy the beaches, which are some of Greece's most famous. Golden sands, clear blue seas and warm temperatures -sounds about perfect!
Don't miss out on the sightseeing though. The Old Town of Mykonos is a delight to stroll around, and you should also make time to take a half day tour over to the UNESCO World Heritage Site of Delos.
Read about Mykonos here: 3 days in Mykonos
3. Crete
Crete is a large island with plenty to offer. The beaches here are also some of the best in Greece, and there's an abundance for culture too-the Minoan ruins at Knossos rank among many as being one highlight!
Crete is the largest island in Greece, and so you'll find there is something to do for people of all ages. Some of the highlights of Crete include the quaint town of Chania, the unique Matala Caves, great food and an authentic vibe. Feeling like a road trip? Crete is about ideal to explore in two weeks if you hire a car and head out on the open road!
Read about Crete here: Road trip in Crete
4. Rhodes
The island of Rhodes is perhaps most famous for its medieval castle and fortifications. This is one of the most impressive castles in Europe, and it's a UNESCO World Heritage Site.
The beaches here are also some great for sun worshippers-they're long stretches that offer plenty to do as well! You'll find there really isn't any shortage of things to do when you visit Rhodes: from water sports like scuba diving or snorkeling to hiking and even horseback riding, Rhodes is a popular island destination in Greece especially during the autumn months.
Read about Rhodes here: 2 Weeks Greece itinerary
5. Milos
Milos is a small island with some of the best beaches in Greece, and it's also one that has been blessed by Mother Nature with a fantastically unique landscape. Every beach seem to be different from the last, and the island is also home to some of Greece's most picturesque villages.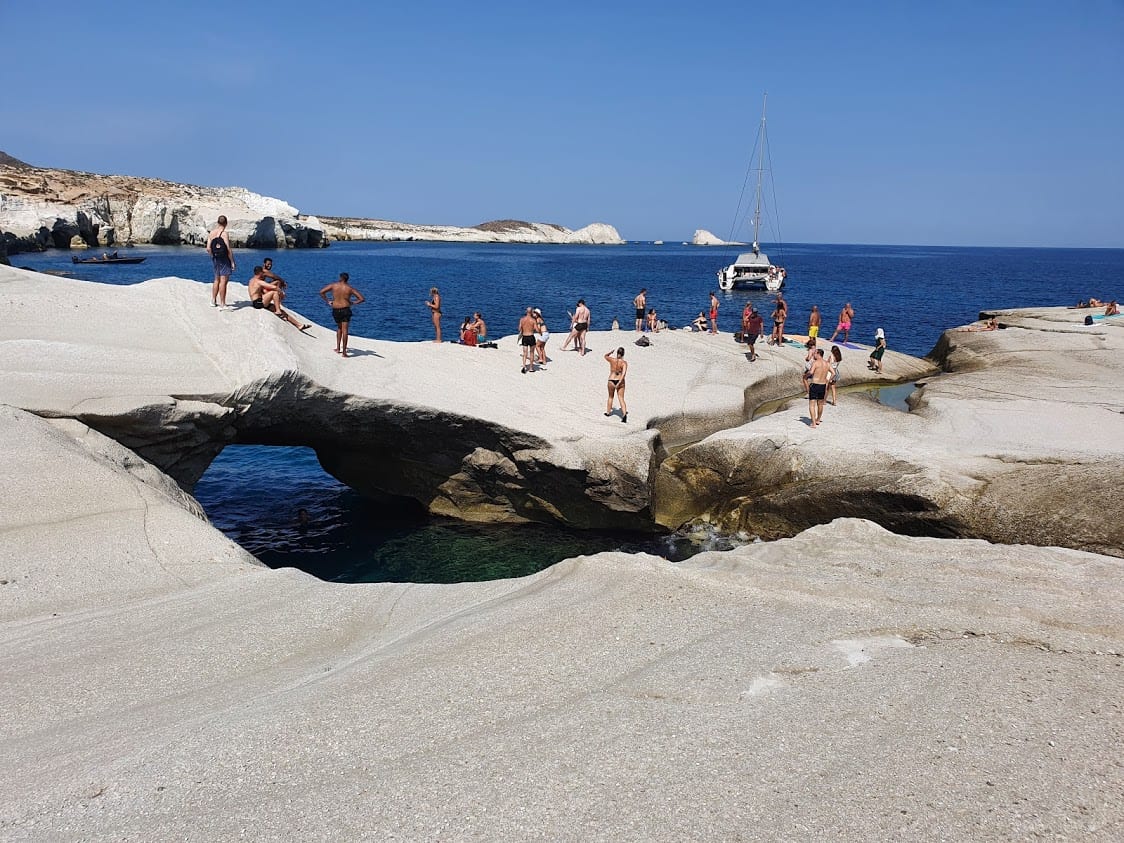 The top draws in Milos are Sarakiniko Beach and Kleftiko Bay, but there are nearly 100 other beaches on the island just waiting for you to lay down your towel and soak up the sun!
Read about Milos here: Milos Travel Guide
6. Corfu
The island of Corfu has long been popular with holiday makers, who love the beaches and the beautiful setting of Corfu Town. The island is also popular with families, who enjoy the many activities available for children.
Some of the highlights of Corfu that visitors should make time to experience include the Paleokastritsa Monastery, Arillas Beach, and La Grotta Beach.
7. Naxos
Naxos is the biggest island in the Cyclades, and although it's a great family-friendly destination, seems to fly under the radar of many visitors to Greece.
The island is famous for its beautiful beaches and crystal-clear waters, but it also has a lot to offer in the way of history. The capital city Naxos Town was once an important trade center that fought off invasions from pirates during Ottoman rule over Greece. It's symbol is the imposing Portara gate, which can be a great place from where to watch the sunset.
Read about Naxos here: Top things to do in Naxos
8. Kefalonia
Kefalonia is a large island in the Ionian Sea, and it's known for its rugged terrain. The scenery here can be breathtaking at times with deep valleys that are covered by lush green forests on one side of them while vast seaside cliffs dominate their other sides – perfect spots to enjoy some peace away from civilization!
Perhaps it is most well known as the setting for Captain Corelli's Mandolin, a popular book by Louis de Bernieres. The island is also well-known for its vineyards and olive groves that produce some of the finest wines in Greece! Try the local specialty – Robola!
Read about Kefalonia here: Things to do in Kefalonia
9. Patmos
Patmos is the northernmost of Greece's Dodecanese islands, and it's known as the "Jerusalem of the Aegean", after being blue declared a Holy Island in 1983 by the Greek government.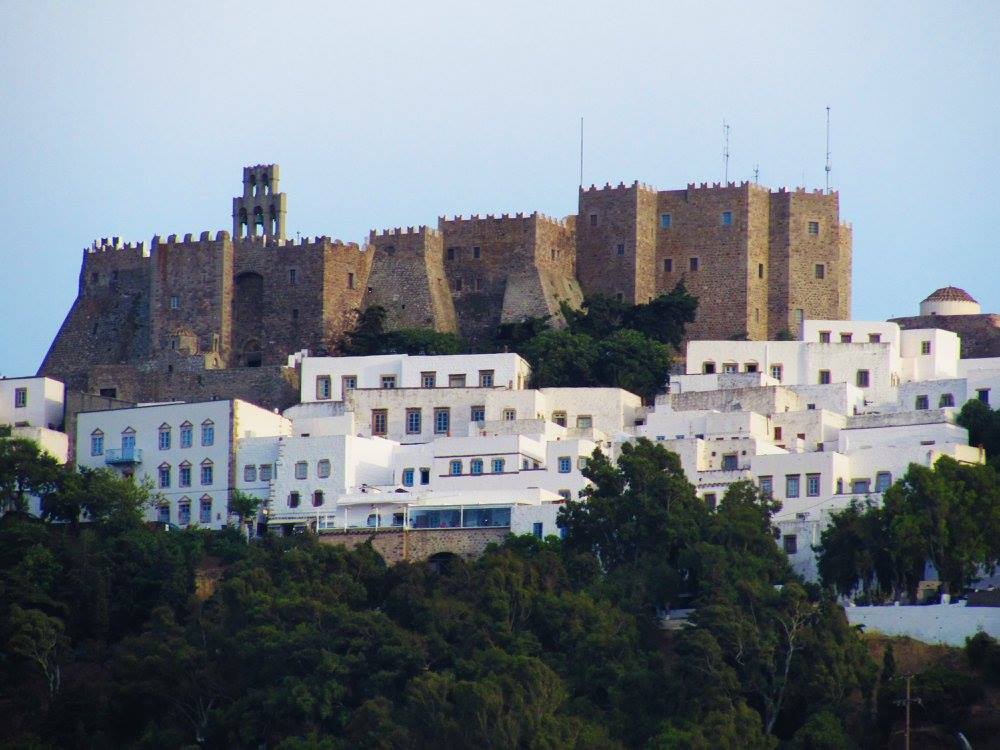 The island is home to the Monastery of Saint John, which was established in AD96. This secluded monastery has been a place for spiritual retreat and reflection since it's founding nearly 2000 years ago!
Some of the things you should definitely find time to do whilst in Patmos include exploring the alleys of the Medieval Chora, visiting the Monastery of Saint John in Chora, people-watching at the Agia Levia Square, visiting the Cave of Apocalypse and of course going to the beaches!
The local food scene in Patmos is also pretty good, so indulge in some fresh seafood when there.
Read about Patmos here: Patmos island guide
10. Ithaca
Ithaca is one of the Ionian island, and was home for Odysseus in Homer's epic poem "The Odyssey". It offers beautiful beaches such as Vathy Bay which are perfect if you're looking just want some relaxation time on your vacation.
Unlike other beaches in Greece, most of the ones in Ithaca are pebbly, which while not as comfortable as sand, makes the waters shine and sparkle – truly one of the most picturesque Greek islands you can visit!
Read about Ithaca here: Things to do in Ithaca
FAQ About Pretty Greek Islands
Readers planning to visit some of the most beautiful islands in Greece on vacation often ask questions similar to:
Which is the prettiest and quietest Greek island?
Santorini is often thought of as the prettiest Greek island, but it is far from quiet! For stunning landscapes and relative quietness try Milos or Kimolos.
Which Greek island is the least touristy?
Greece has over 200 inhabited islands, and many of them have populations of just a few hundred people. Beautiful islands in the Cyclades that are not super-touristy include Sikinos, Schinoussa, and Iraklia.
Which Greek island has the most beautiful beaches?
There's very tough competition to win this crown! In my opinion, Milos, Crete, and Mykonos have some of the best beaches in Greece.
Which is the best Greek island to go to?
Whilst Mykonos and Santorini have the highest profiles, it's the upcoming destinations such as Milos, Folegandros and Naxos which have more natural and authentic charm and beauty.
Also read: Santorini vs Rhodes
---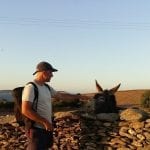 –
Dave Briggs
Dave is a
Greek travel blogger
originally from the UK, and now living in Athens, Greece. In addition to writing this travel blog post about the most scenic Greek islands, he's written many other guides to Greece. Follow Dave on social media for travel inspiration from Greece and beyond: