Hi,
If this worked, (fingers crossed!), you are now subscribed to receive travel information about Greece.
Be sure to check your email every day or two, as you'll find a new message from me!
Feel free to unsubscribe at any time – but of course I hope you won't as each one has great insights into Greece!
Greece Travel Tips
In the mean time, why not checkout some of these blog posts as a bit of an appetizer:
and…
And if you like using social media, you can find me on the following sites:
Finally, if you somehow found this page without signing up for my emails, go and signup now! Visit this page: Sign up for Greece travel guides
---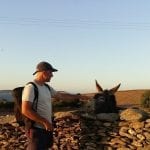 –
Dave Briggs
Dave is a
travel writer
based in Greece. As well as creating hundreds of guides about traveling in Greece, he's also cycled around much of the world. Follow Dave on social media for travel inspiration from Greece and beyond: