Quiet Greek islands and big name attractions, ancient ruins and sun-kissed beaches. Here's a look at some of the best places to go in Greece.
Best places to go in Greece
It wouldn't be an exaggeration to say that Greece has a place for everyone. From quaint coastal towns to quiet islands, from bustling cities to lovely nature, Greece has it all. And let's not forget that Greece has some of the best beaches and archaeological sites in the world of course!
For the first time visitor, the sheer amount of choice can be overwhelming. That's why people tend to go for an Athens – Santorini – Mykonos itinerary, even though in my opinion there are better options.
Still, if you want to take that route, these Greece itineraries will help you get started.
I'd encourage you to look deeper than just these popular destinations in Greece though. Sure, Santorini might be a bucket list item, but there's 226 more inhabited Greek islands to choose from, all with their own charm and beauty.
Best places to visit in Greece for…
Beaches – Crete, the Peloponnese, Milos, Lefkada, Naxos
Ancient Sites – Athens, the Peloponnese, Crete, but everywhere really
Byzantine monuments – Athens, Thessaloniki, the Peloponnese, Naxos, Arta
Castles – Ionian Islands, the Peloponnese, Thessaloniki, Crete, Rhodes, Patmos, Nafpaktos
Greek Food – Crete, Naxos, Thessaloniki, Zagori
Nightlife – Mykonos, Ios, Paros, Athens
Hiking – Everywhere!
Here are a few more details on some of the best places to go in Greece.
1. Athens
The Greek capital is one of the most popular destinations in Greece. Ideal for people who like big cities and ancient sites, it is a great place to visit for a couple of days. That said, there is enough to do if you are staying here for longer. You will never run out of things to do in Athens!
Some of the Athens highlights include the ancient site of the Acropolis, the Ancient Agora, the National Archaeological Museum, the Acropolis Museum and the Panathenaic Stadium. You might also want to see the changing of the guards, in front of the Parliament in Syntagma square.
If you are a museum person, Athens has over 70 museums, so you have many choices. At the same time, wherever you walk in Athens you are likely to come across some interesting buildings from different eras, so take your time and explore.
If you want to enjoy the Athens Riviera, you can go for a swim at the upmarket area of Glyfada, or at lake Vouliagmeni, a bit further out. You can also visit the magnificent Temple of Poseidon at Cape Sounio, on a half day trip from Athens.
Finally, if you are interested in shopping in Athens, you will be spoilt for choice. Between the popular Ermou Street, the upmarket area of Kolonaki, the souvenir markets in Plaka, and the bustling flea market area in Monastiraki, you will definitely be spoilt for choice.
Related: Best Cities In Greece
2. Archaeological site of Delphi
The archaeological site of Delphi can easily be visited on a day trip from Athens. The ancient ruins are really phenomenal, and the adjacent museum is very well laid out and informative.
One of the highlights of Delphi is the surrounding landscape. Located up on the mountains in mainland Greece, the site is a really special place.
You can climb all the way up to the top, and reach the impressive stadium. There, you can find a seat further away from the tourist crowds and look down on the plains. You will immediately realize why Delphi was considered to be the centre of the ancient world!
3. The Meteora Monasteries
The majestic Meteora monasteries are a UNESCO World Heritage site, and for very good reason. This magnificent area of Greece is a few hours out of Athens, and is often included in a two day trip which also includes Delphi.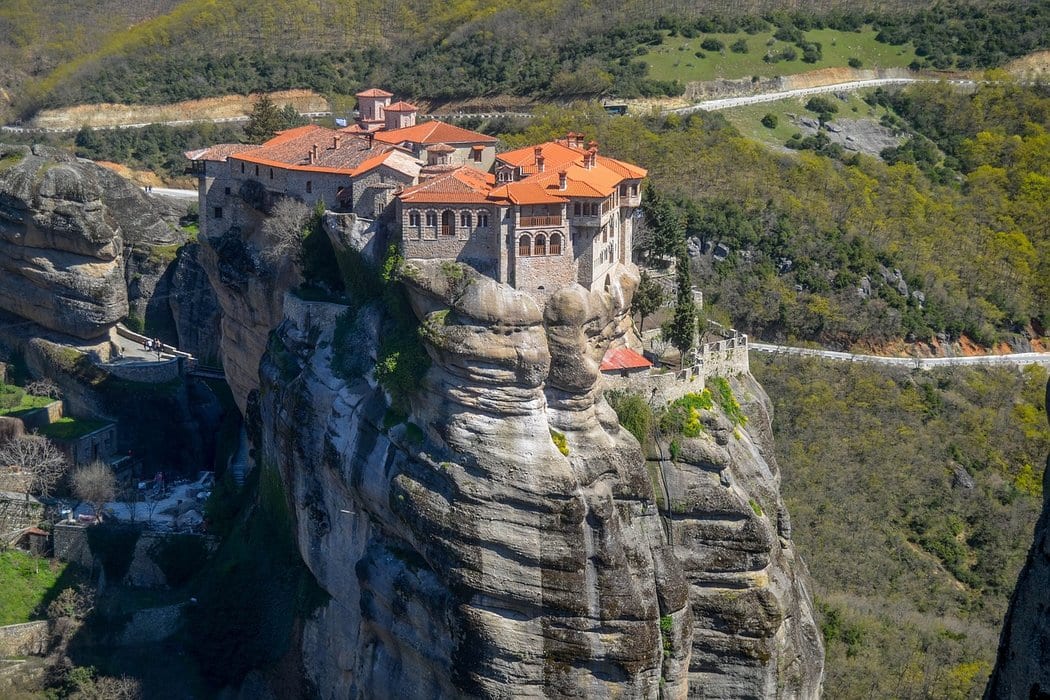 No words can describe this awesome landscape full of wild rocks, cliffs and the monasteries perched on their highest points. This is definitely an area of Greece you should visit once in your life.
Whilst Meteora Greece is quite popular with tourists, it's also quite extensive. You will definitely be able to find a peaceful spot to sit down and take in the amazing views.
4. Zagori and the nearby villages
Relatively few people realize that Greece is actually a very mountainous country. The Zagori villages, in the region of Epirus in northern Greece, are not high on most people's radar, but they are pretty amazing nevertheless. The combination of natural beauty and quaint little villages with traditional stone houses is quite unique.
While Zagori is predominantly a winter destination, it can also be visited in summer, and it will be pleasantly cool compared to the cities or the islands.
So if you are not so interested in beaches, and prefer to experience some parts of Greece that are not always featured in travel guides, the Zagori area is just for you. Depending on the season you go, you can enjoy hiking, rafting or canoeing.
Special mention goes to food in Zagori, which is hearty, authentic Greek food. Don't miss the traditional pies, the cheeses and the meat dishes.
5. Ioannina
Few tourists have heard of the small town of Ioannina, but in our opinion it's one of the best places to go in Greece. Ioannina, best pronounced Yannena, is just a short drive away from Zagori villages.
Built right on Pamvotida Lake, Ioannina is a fairly quiet town during summer, though it's pretty vibrant in all other seasons, due the large number of students. Walk around the picturesque, narrow streets, pick a place you like and have a coffee or a meal – this is as close as it gets to an authentic Greek town.
When you visit Ioannina, do not miss the Castle, the Fethiye Mosque and the silversmithing museum. It is also possible to visit the small island in the middle of the lake.
6. Thessaloniki
Greece's second biggest city, Thessaloniki is often overlooked by visitors. If you are interested in Roman and Byzantine history, this is definitely the place to head for while in Greece. With plenty of ancient ruins, an imposing castle overlooking the city, and a bunch of museums, Thessaloniki deserves well over a couple of days.
The city is compact and entirely walkable, and it's right on the coast. Go for an evening stroll along the beautiful promenade, and you will easily see why Thessaloniki is one of the best places to go in Greece.
If you want some beach time, you can go to the nearby Chalkidiki area. You can immediately see that on the map as three separate peninsulas, which Greeks call "legs". The left peninsula is more cosmopolitan, while the middle one is a little more natural. Wherever you go, you can't go wrong!
The right peninsula is a very special place in Greece, as it is home to Mt Athos' monasteries. This is an area where women are not allowed to enter. Men who want to explore this unique place will have to arrange their visit in advance.
7. Nafplio
Very few people who visit the Peloponnese in Greece leave Nafplio out of their itinerary, and for good reason. There are many beautifully preserved buildings from all these eras, and also a handful of museums explaining parts of Greece's long history.
This small, picturesque coastal town was occupied by the Byzantines, the Ottomans and the Venetians, and later became the first capital of modern Greece.
While in Nafplio, visit the imposing Palamidi castle up on the hill, and stroll around the maze of cobbled streets. You can walk on the promenade with the sea view, and perhaps get a boat to the small Bourtzi castle. Though you won't be able to go inside, due to ongoing restoration works, you will get great views of Nafplio.
If you are not visiting the Peloponnese, you can still visit Nafplio in a day trip from Athens.
8. Mycenae and Epidaurus
If you are interested in ancient history, the ancient site of Mycenae and the ancient theatre of Epidaurus are among the best places to go in Greece. They are both in the Peloponnese, and can be easily visited on a day trip from Athens.
The UNESCO site of Mycenae is a large, spread-out area full of ancient ruins dating from the second half of the 2nd millennium BC. The remains of the fortified walls surrounding the ancient city are really impressive. There is also an interesting museum, which is probably best visited first, if you want to gain some understanding of the site and its history.
The ancient theatre of Epidaurus is really one of a kind, as the acoustics are incredible. During summer weekends, it hosts several performances, so if you are visiting Greece in summer check out the schedule. There are normally surtitles in English, so you can follow the plot, but the experience will be outstanding even without them.
9. Olympia
This is the place where the Ancient Olympic Games started in 776 BC. Often included in people's itineraries in the Peloponnese, it is one of the best archaeological sites in Greece. It was dedicated to Zeus, and served as a religious sanctuary, as well as the location for the most important Games of ancient times.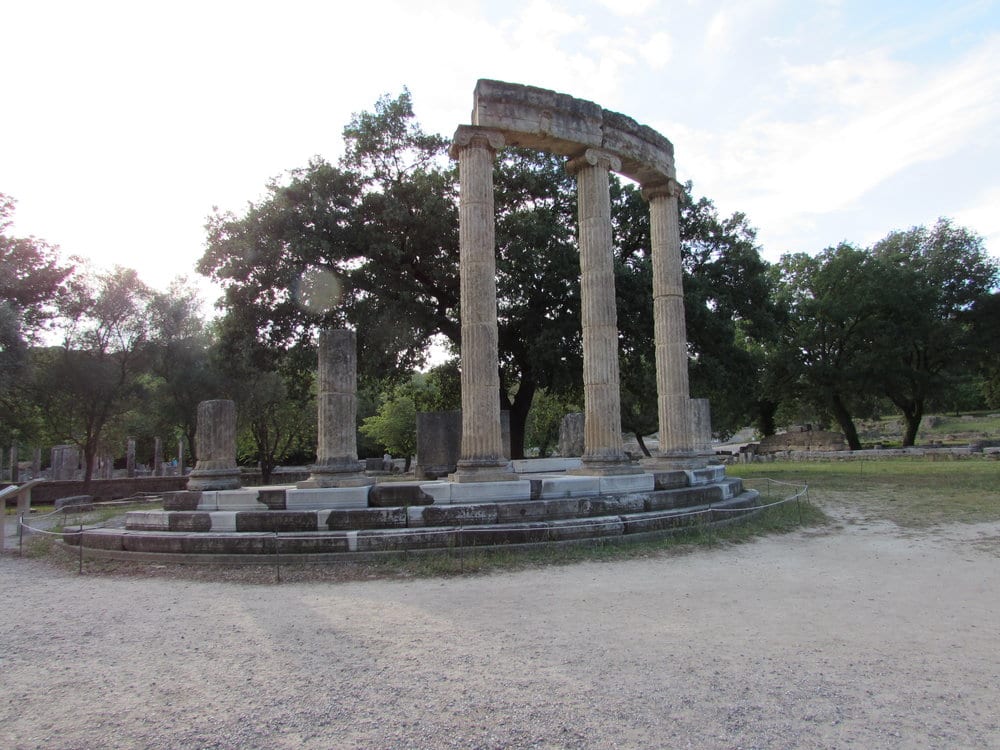 Allow a few hours to visit the site and the museum. While in Olympia, you can also visit the interesting Archimedes' Museum, which showcases some ancient Greek inventions.
10. Elafonisos
If we had to single out only one beach in the Peloponnese, it would have to be Elafonisos. A long, sandy stretch to the south of the Peloponnese, Elafonisos has been popular with Greeks and visitors for several years. Even so, you should be able to find a sand dune or two to isolate yourself from the crowd and just look at the incredible sea.
You can reach Elafonisos through a short boat ride from the small town of Viglafia, in southern Peloponnese.
11. Patras
Few people have heard of Patras, and those who have are most likely travelling on a ferry from Italy. Regardless, Patras, the biggest city in the Peloponnese, definitely deserves a visit – though few Greeks are actually likely to agree.
Patras boasts an excellent archaeological museum, a castle and one of the biggest cathedrals in Greece, Agios Andreas. As it's a vibrant student town, it's also full of small places to eat, tiny cafes and bars, and lots of street art.
It's a great stop for a day, especially if you are taking a boat to one of the nearby Ionian islands. Here's a look at the best things to do in Patras Greece.
12. "The Greek Islands"
Ask ten people about their favourite Greek island, and you will get a few different answers. While Santorini will definitely get a few mentions, as it is on most people's itinerary in Greece, you will likely hear some other answers too.
Greece has thousands of islands, which are mostly grouped together. The most popular groups of Greek islands are the Cyclades, the Ionian islands, the Dodecanese, the Sporades and Crete. Based on where they are, they differ quite a lot. As an example, while the Cyclades are generally dry and arid, the Ionian islands are evergreen.
You can consider a sailing trip passing by several of "the Greek islands", and find your own favourite! Pictured above is Symi in Greece.
13. Crete – Heraklion town and Knossos Palace
Crete is Greece's largest island. While it needs several weeks to explore properly, even if you have a few days in Crete you can get an idea of what it has to offer – and start planning your next trip there.
If it's your first time in Crete, you will most likely want to include Heraklion town and the Palace of Knossos in your itinerary. This superb Minoan palace was excavated and heavily restored during the 20th century. You can find out more about the history of Crete and the Minoan civilization if you visit the excellent Archaeological Museum at Heraklion.
While few Greeks will speak highly of Heraklion, this coastal town is actually very interesting with lots of things to do. With a beautifully preserved castle, a few souvenir shops, and several authentic little neighbourhoods, Heraklion is an all-year-round destination. You can use Heraklion as your base, and take day trips to nearby areas.
14. Crete – Chania
Another coastal town in north Crete, the picturesque town of Chania is a couple of hours west of Heraklion. It's a charming little town with tiny alleys, boutique hotels, plenty of souvenir shops and beautiful views to the Aegean. While it gets fairly busy during summer, it is one of the best places to go in Greece, especially if you are visiting off-season.
If you stay in Chania for a few days, you can hire a car and get around Crete, or take a day trip or two. Apart from the well-known beaches of Balos and Elafonissi, there are many others that you can discover in the wider area.
15 . Crete – Kedrodassos beach
Elafonissi beach in Chania might be all the hype, but few tourists venture over to nearby Kedrodassos beach. A paradise on earth, Kedrodassos is a protected area.
If you decide to visit, make sure you leave no rubbish behind, just like on any other beach.
16. Rhodes
The largest island of the Dodecanese, Rhodes offers a combination of history, archaeology and lovely beaches. The main town of Rhodes has a lot to see, first and foremost the superbly preserved castles.
Even children and teenagers will be interested in exploring these UNESCO Word Heritage Sites, built in the 14th century. Take your time to walk around the gigantic walls, and imagine what life must have been like back then.
Although it is widely known as the island of medieval knights, Rhodes is also famous for the ancient site of Lindos. You can easily visit on a day trip from Rhodes town, and combine it with a swim on one of the nearby beaches.
If you are looking for beaches, Rhodes won't disappoint. People looking for a relaxed holiday might want to avoid the busy party area of Faliraki, and perhaps go further south. If you are happy to drive, you can take a day trip to one of the most amazing beaches in all of Greece, Prassonissi.
Rhodes is a great island to visit in the summer, but it also makes a good autumn break destination. Check out these Greek islands to visit in October.
17. Patmos
Patmos is definitely not an island on everyone's radar. While it's often included on cruise boat itineraries, it's not really a destination for everyone. It takes 7 or more hours to reach Patmos from Piraeus, and most people who are pushed for time will find it too long. If you are going to the island of Samos, however, Patmos is only a short ferry ride away.
Patmos is a great choice if you are looking for an island that combines great beaches, a relaxed atmosphere, interesting religious sites and amazing food.
The best known attraction on the island is the Cave of the Apocalypse, where St John is said to have lived. By all means avoid the times that cruise boats arrive, as it will then be too busy. There is also St John's Monastery, which is still functioning as a monastery and open to the public.
While in Patmos, you should spend some time in the main town, Chora. Like many towns in Greece, it has tiny backstreets, so you can lose yourself in the whitewashed maze.
Last but not least – in terms of beaches, Patmos has a fair few. Rent a car, or take a boat trip around the island, and explore Agriolivado, Lambi, Skala, Psili Ammos, and anywhere else the map takes you!
18. Milos
A rapidly evolving holiday destination, Milos is a spectacular island, especially if your main interest is to explore different beaches.
Sandy beaches, pebbly beaches, rocks, cliffs, Milos has it all, and the best way to explore the numerous beaches is to go on a sailing trip around Milos.
On the other hand, it is possible to visit many of the beaches in Milos by land. While you will definitely need a 4WD if you want to explore the west part of the island, the roads on the east part of the island are fairly well maintained.
You will just have to get used to driving on narrow, windy streets!
There is a fair amount of sightseeing to do in Milos. You can visit the village of Klima, the Paleochristian Catacombs and the ancient theatre, and climb all the way up the castle in Plaka.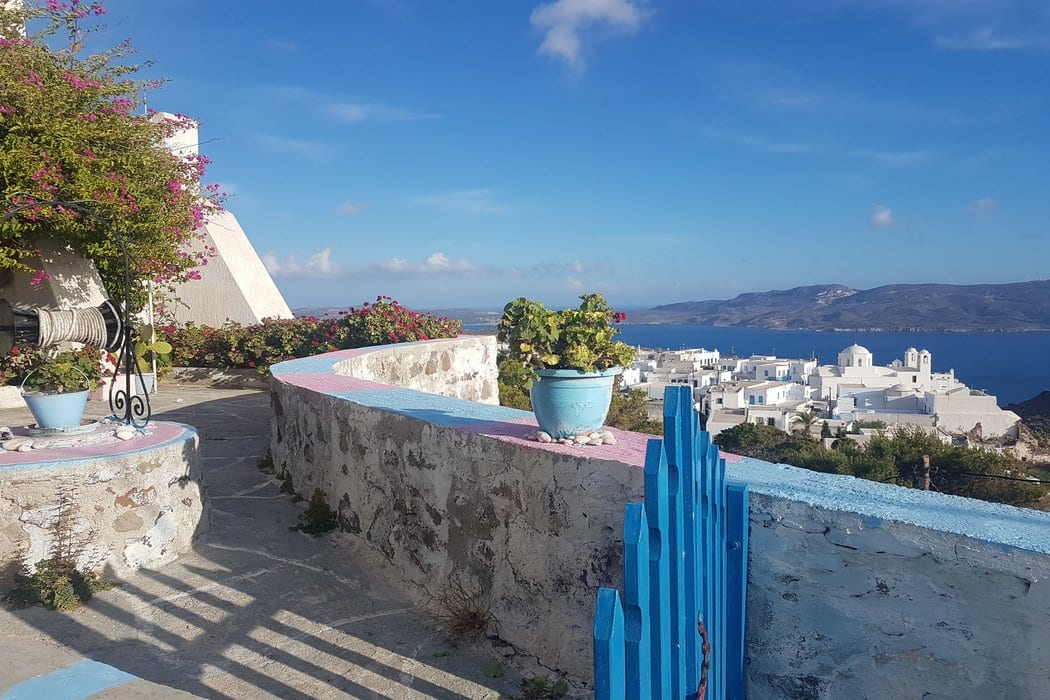 It's also worth taking a tour explains the mining history of Milos, and takes you to the old mines. As for how long to spend in Milos? You can easily spend a week on the island, and you won't get bored!
19. Santorini
Is Santorini one of the best places to go in Greece? Our answer – it's definitely one of the most unique places in Greece. The views to the volcano, the whitewashed houses built at the edge of the cliff, the ancient site of Akrotiri, the dark volcanic sand and the spectacular sunsets make for a really unique combination.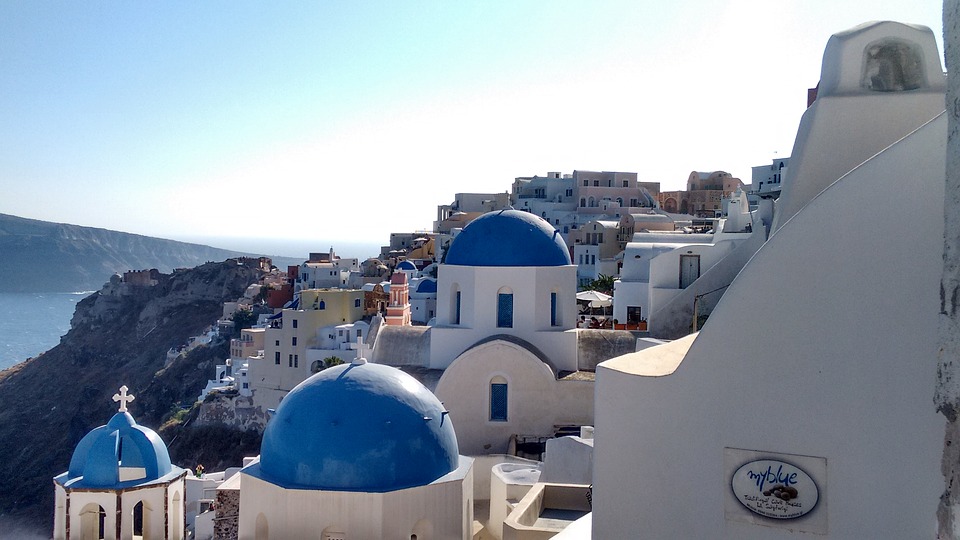 However, we have some advice for you, and we strongly encourage you to use it. Do not visit Santorini during peak season.
Santorini receives over 2 million people annually, and as you can imagine it can get extremely crowded, especially when cruise boats arrive. Efforts are currently being made to extend the season, so we suggest that you visit in autumn or winter – we visited in November and really loved it.
Read our full travel guide to Santorini for more information.
20. Naxos
Naxos, the largest of the Cyclades islands, is one of the best places to go in Greece. People often include it as another island to visit before or after Santorini. However, this large island has plenty to do and is a great destination on its own.
Naxos has great archaeological sites and some of the nicest beaches in Greece, such as Agios Prokopios, Plaka, Orkos, Aliko and Agia Anna. If you want to relax, you can choose to stay on one of the beaches. If you want to be closer to nightlife, you can stay in the main town, Chora.
Built inside a so-called castle, Chora is a really picturesque maze of narrow streets. Take your time to wander around, and discover side street sand beautiful photo spots.
Besides Chora, there are also some lovely little towns and villages all around Naxos that you should visit, such as Apeiranthos and Filoti.
In terms of cuisine, Naxos has some of the best food in Greece. Its regional cheeses and traditional meat dishes are pretty unique, so make sure you taste them all! Naxos potatoes are pretty famous around Greece, and the island holds the 2018 Guinness record for the most French fries being cooked at once – 625 kilos!
21. Schinoussa
Chances are that you've never heard of this tiny little island. If you are looking for a quiet Greek island getaway, this will be the perfect place for you. It is very close to Naxos, so you can visit both.
Schinoussa is small enough to walk around everywhere, and at the same time it has a surprising number of lovely beaches. The food is simply fantastic – every taverna we visited was better than the previous one!
Schinoussa is rarely featured among the best places to go in Greece, but this is probably because very few people have actually visited, and even fewer decided to write about it. Go, and see for yourself!
22. Corfu
The best known of the Ionian islands, Corfu is full of old castles and fortresses, picturesque landscapes and beautiful beaches. It's a short flight from Athens, or can be combined with a road trip in Western Greece.
Corfu has a wide selection of beaches. Although you can find plenty of organized beaches with loungers and umbrellas, you can try and discover some of the least famous ones.
A Greek website ran a poll, according to which the best beaches in Corfu are Rovinia, Chalikounas, Glyfada, Paleokastritsa, Canal d'Amour, Issos and Mirtiotissa. You can start with those, and see what you think!
If you are after beaches, you can also take day trips to the nearby islands of Paxi, Antipaxi, Othoni, Errikousa and Mathraki. They will most likely be crowded in summer, but the colour of the sea is outstanding!
In terms of sightseeing, Corfu has a fair amount to offer. You should definitely visit the two fortresses, known as Old Fortress and New Fortress, in the UNESCO Corfu town. Originally built to protect the island from invaders, they are now open to the public and offer great views of Corfu. Occasionally, cultural events take place inside the grounds.
In terms of religious buildings, make sure you visit the Vlacherna Monastery, built on its own little island. The Monastery of Panagia Paleokastritsa, with fabulous views to the Ionian Sea, is also a must-see in Corfu.
A special time to visit Corfu is during Greek Easter, when culture meets religion in a series of unique traditional events. While in most of Greece the Resurrection of Jesus is celebrated with fireworks, the people of Corfu celebrate by throwing terracotta pots from their balconies. Make sure you reserve a good spot to observe this unique custom!
Last but not least, try the local cuisine. Corfu has an interesting mix of Greek and Italian cuisines, and you will absolutely love it, especially if you like meat cooked in thick red sauces.
23. Lefkada
If you are looking for fantastic beaches but have already been to Milos, try Lefkada. This large, green island has some of the top beaches in Greece. As Lefkada is connected to the mainland, it's a popular choice with Greeks who prefer not to budget for boat tickets or flights. If you want to enjoy some quiet time, try to avoid peak season and go after the 11th September, when schools begin.
The main attraction of Lefkada is really its beaches. Our advice is to hire a car and visit all of them, which is what we did. Our favourite beaches in Lefkada include the famous Egremni, Pefkoulia, Avali, Megali Petra and Agiofilli. On the other hand, we found Kathisma, Kavalikefta, Nydri and Porto Katsiki too crowded for our taste.
Exploring mainland Lefkada is also interesting, as it will give you a very different perspective of the island. Some of the mountain villages are quite cool, and they have much lower temperatures if you want to escape the sun. Our favourite villages were Eglouvi and Karya.
Finally, Lefkada town is worth visiting for an evening or two. Apart from exploring the narrow streets, there are a few small museums, and the big Agia Mavra castle that you can visit.
24. Ithaca
The famous island of Odysseus, or Ulysses, is a super quiet, laid back place where you will feel like time has stopped. The small, quiet villages seem to never be overrun by tourists, and the peak season is apparently quite short, from about mid-July to mid-August. You will need a car to get around if you want to explore the island properly.
While Ithaca lacks the stunning sandy beaches of Lefkada, it has small hidden coves and pebbly patches where you can pretty much isolate yourself from the crowds.
Driving around the island is lovely, as the landscape is mountainous and green. If you have only been to Santorini, you will think you are in a different country!
Ithaca has some lovely towns and villages that you should visit. The main town of Vathy, where some people choose to stay, is a really picturesque little town, with a selection of boutique hotels and small traditional restaurants.
On the other side of Ithaca, you shouldn't miss the coastal villages of Kioni and Frikes. And by all means visit the Moni Katharon, the monastery overlooking Ithaca – the views are simply magnificent.
25. Zakynthos
Another one of the Ionian islands, Zakynthos offers a combination of lovely surroundings, beautiful beaches, an interesting marine park, a lovely town with a Venetian castle and a lot of party life.
Many people go to Zakynthos for the famous Navagio beach, but the island has many more places where you can go swimming. From busy resort towns to more secluded coves, like Anafonitria and Volimes, you will definitely find a beach you like.
Do not miss the National Marine Park on Laganas Bay, which is home to the native Caretta Caretta loggerhead sea turtles. Note that access to the beach is restricted during their breeding period.