There are at least 8 daily ferries sailing from Tinos to Mykonos in Greece, and the travel times vary between 20 and 35 minutes. Here's everything you need to know about traveling by ferry between Tinos and Mykonos.
Tinos Mykonos Ferry Route
The two Greek islands of Tinos and Mykonos are very close neighbors within the Cyclades group of islands. In fact, the port to port distance between Tinos and Mykonos is just 24 kms.
As a result, there are plenty of ferry connections between these two beautiful islands all the year round.
Of course, most people go island hopping in Greece during the summer months, and this is when the ferry schedule seems to be packed with options. There can be between 8 and 11 ferries a day sailing from Tinos to Mykonos during the high season!
You can book ferries for the Tinos Mykonos crossing online here: Ferryscanner
Ferry Operators Sailing Tinos to Mykonos
A number of different Greek ferry companies offer a ferry trip between Tinos and Mykonos during the high season (the time when most people travel).
These ferries to Mykonos from Tinos are operated by Blue Star Ferries, SeaJets, Fast Ferries and Golden Star Ferries.
The quickest ferry from Tinos going to Mykonos takes around 20 minutes. The slowest ferry sailing to Mykonos from Tinos island takes around 35 minutes. It's one of the quickest ferry trips you can make between popular destinations in the Cyclades of Greece!
Buying Ferry Tickets
Most ferries in Greece now offer e tickets, and this is the case with the Tinos Mykonos route.
This makes planning an itinerary a lot easier than in the past, as you can now book a ticket online before you go rather than waiting until you are actually in Greece!
Most ticket prices for this ferry trip are around 10.00 Euro, with the most expensive Tinos Mykonos ferry ticket costing 16 Euro.
I recommend using Ferryscanner to check ticket prices and book online.
Mykonos Island Travel Tips
Here's a few travel tips on planning a vacation to explore the Cyclades island of Mykonos:
Ferries leave from the island's port in Tinos Town in Tinos. Passengers should arrive at the port at least a half an hour before the departure time.
---
Arriving ferries dock at New Tourlos port, a few kilometres distance from Mykonos Town in Mykonos.
---
If you plan to visit Mykonos in the summer, you really need to book your accommodations well in advance. Take a look at my guide on where to stay in Mykonos.
---
---
Mykonos is very quiet during the low season – if you are planning to travel during this time, expect fewer places open chillier weather between November and April.
---
Take a look here so you can start planning an itinerary of what to see and do in Mykonos: Mykonos in 3 days
---
The best place to book tickets for Greek ferries online is Ferryscanner. I recommend you book your Tinos to Mykonos ferry tickets at least a week in advance – a month in advance if traveling in August.
---
---
---
How to travel from Tinos to Mykonos FAQ
Some commonly asked questions about traveling to Mykonos from Tinos include:
How can I get to Mykonos from Tinos?
In order to make the journey from Tinos to Mykonos the best way is by ferry. There are up to at least 8 ferries a day sailing to the Greek island of Mykonos from Tinos.
Is there an airport on Mykonos?
Mykonos has an international airport that has connections with Athens Airport and many European destinations.
How long is the ferry ride from Tinos to Mykonos?
The ferries to Mykonos island from Tinos take between 20 minutes and 35 minutes. Ferry operators on the Tinos Mykonos route may include Blue Star Ferries, SeaJets, Fast Ferries and Golden Star Ferries.
How can I buy tickets for the ferry to Mykonos?
Ferryhopper is perhaps the easiest site to use when it comes to booking Ferry tickets online. Although I recommend you book your Tinos to Mykonos ferry tickets in advance, you could also use a local travel agency in Greece.
How much is the ferry from Tinos to Mykonos?
There are a number of different ferry companies crossing from Tinos to Mykonos, with passenger ticket prices starting from 9 Euros.
---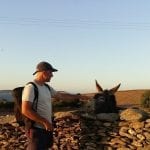 –
Dave Briggs
Dave is a
travel writer
from the UK who has been living in Athens, Greece since 2015. In addition to writing this transport guide to taking ferries from Tinos to Mykonos, he's written many more guides to Greece and the islands. Follow Dave on social media for travel inspiration from Greece and beyond: