One of the more popular itineraries that people consider for a Greek vacation is a combination of Athens, Mykonos and Santorini. If that's something you're considering, this blog post will help you plan your trip!
Reasons to visit Athens Mykonos Santorini
When it comes to putting together a Greece itinerary, few options are as appealing as visiting Athens along with the popular Greek islands of Mykonos and Santorini.
I hesitate to say they are all bucket list destinations, but… well, I suppose they are!
Offering the best of Greece, you'll get to see and experience ancient sites, fantastic beaches, beautiful towns, and Cycladic charm when you visit Athens and the famous islands of Mykonos and Santorini.
If this is something you've always dreamed of doing, then this guide to visiting Athens, Mykonos, and Santorini is perfect for you!
Which order should I visit Mykonos Santorini and Athens?
This is a very good question! My opinion is that you should leave the Athens sightseeing section of your trip until last. The reason for this, is that this way you won't miss your international flight back home if a ferry was delayed!
That said, if you are traveling to Greece from a European country, you might find direct flights to all three destinations, and so have more options.
For reasons of simplicity, this guide will be based on landing in Athens, flying straight out to Mykonos, taking a ferry to Santorini, and then either flying back or taking a ferry to Athens.
Athens and the Greek Islands of Mykonos and Santorini
Here's some of the essential things you need to know about combining an island hopping trip between Mykonos and Santorini with an Athens city break:
If you're flying into Athens from your own country, try flying directly out to the islands the same day.
It doesn't matter if you go to Mykonos or Santorini first – they are both very different islands.
You can't fly between Mykonos and Santorini. You can only take a ferry. Check timetables and book ferries online at: Ferryscanner
If traveling in the summer months, make sure to book those ferries well in advance!
From the last island you can take a ferry or fly back to Athens. Again, use Ferryscanner for booking ferry tickets. If you prefer to fly, use Skyscanner to compare airfare prices.
Have your last destination as Athens, that way if there are ferry delays, you don't run the risk of missing an international flight home!
If you can, put aside two days, or at least one complete day in Athens for sightseeing.
I've included some of my personalized itineraries for each destination in the following sections of this blog post. If you prefer tours, check out Get Your Guide for each destination.
I love traveling by ferry in Greece as you can see from the photo above! If you have limited time though, flights will be much quicker in and out of Athens.
How long to spend in Mykonos, Santorini and Athens?
From reader feedback over the years, it seems a lot of people like to visit these three destinations within a week. Of course, if you can spend longer in Greece, do so!
For this example itinerary, I'll assume you have more or less 7 days. A recommended time split would be 2 full days in each destination, and then add on the extra day to the destination that appeals to you the most.
I'll also assume you're going to Mykonos first, then Santorini, and finally finishing in Athens.
Here's a look at each of these dream destinations, with some tips and sightseeing itineraries you might like to check out further:
Mykonos is known for its great beaches and nightlife. The Old Town is a delight to walk around, sunset drinks are not to be missed!
Many attractions such as the Mykonos windmills, and Little Venice are in and around Mykonos Town. For short stays on Mykonos island, this can be a good location to stay.
You can also make various day trips on Mykonos to beaches and beach bars. The sacred island of Delos is right next door, and certainly worth the half day trip if you want to tick off a UNESCO World Heritage site from your list. In addition to a guided tour of Delos Island and its ancient ruins, there are lots of other sailing trips and activities you can try. Including the legendary party scene!
Useful links and articles to help plan your itinerary:
Mykonos Santorini Island Hopping
The only way to travel between the two islands of Mykonos and Santorini is to take a ferry. In the high season, there are 4 or 5 direct ferries a day from Mykonos to Santorini, and ferry rides take from 2 to 3.5 hours.
Keep in mind that in off season there might not be ferries at all, and in the peak season, ferries can easily sell out on some travel dates.
Check the latest timetables and schedules, and book a ferry ticket online at Ferryscanner.
Santorini is famed for its whitewashed buildings, blue domed churches, and stunning caldera views. It really is one of the most beautiful Greek islands!
Sunset in Oia village is not to be missed, and if you have time, the walk from Fira to Oia is very rewarding. Local tours and trips include a tour to taste the local wine, trips to the hot springs and volcano, and a memorable Greek island sunset cruise.
Useful links and articles to help plan your itinerary:
Traveling from Santorini to Athens
There are many direct flights a day from Santorini Airport to Athens Airport. At under an hour, this is the quickest way to get from Santorini to Athens.
There are also 6 ferries a day sailing from Santorini to Athens Piraeus Port. This is the slowest way to travel though, with travel times ranging from 4 hours 50 minutes to nearly 8 hours.
Whichever method you choose to take, you'll want to get into Athens city afterwards. All the main historic attractions of the capital city of Greece are clustered in an historic center. This is also the best area to stay.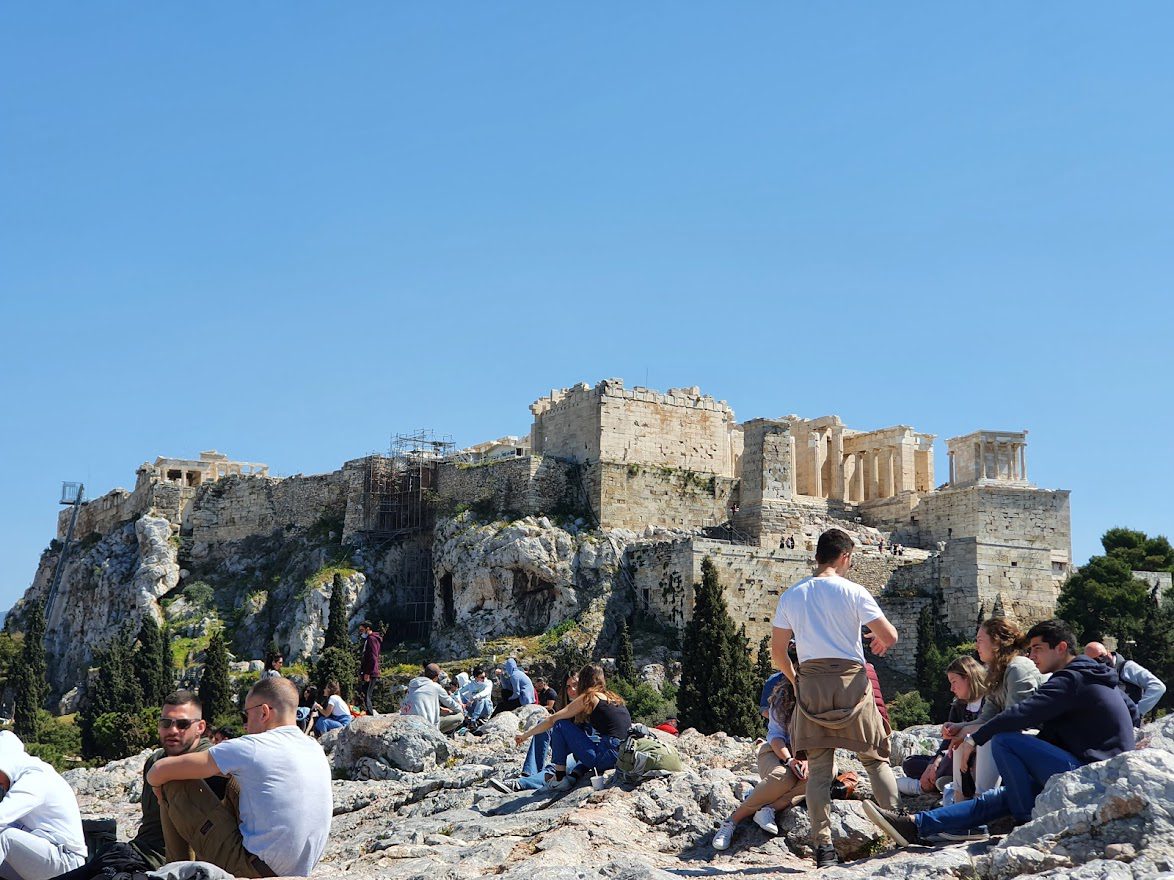 One of the oldest cities in the world, Athens is famous for being the cradle of Western Civilization and the birthplace of democracy. The Acropolis with its magnificent Parthenon temple is the must-see attraction here, but there's also a cool contemporary vibe for those will to dive beneath the surface of this historic city.
Don't miss the Temple of Olympian Zeus, National Archaeological Museum, Changing of the Guard near Syntagma Square, and Ancient Agora!
Traveling from Athens City Center to Athens International Airport
It takes about an hour to get from the center of Athens to the airport by bus, metro or taxi. I personally think the metro is the easiest way to travel to the airport.
Athens Mykonos and Santorini Travel Itinerary
Readers planning their first trip to Greece and wanting to combine the popular islands of Mykonos and Santorini with Athens often ask questions such as:
How do I get from Athens Mykonos to Santorini?
You can fly or take a ferry from Athens to Mykonos and Santorini. You can only take ferries between Mykonos and Santorini though, as there are no direct flights between the two Cyclades islands.
Is it better to go to Mykonos or Santorini first from Athens?
It doesn't really make a difference which island you visit first after Athens. Your transport options and travel times remain the same.
Which has better beaches Mykonos or Santorini?
While Santorini does have curious black sand beaches, the beaches on the island of Mykonos are far superior. Mykonos is definitely the better beach destination of the two islands!
If you're looking for a Greek vacation that combines the popular islands of Mykonos and Santorini with Athens, this blog post is here to help. Whether it's your first time exploring Greece or you've visited before, we hope this guide has helped answer all your questions on how to get from one island to another seamlessly!
---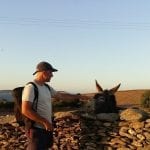 –
Dave Briggs
Dave is a
travel writer
from the UK who has been living in Athens, Greece since 2015. In addition to writing this guide on how to visit Mykonos Santorini and Athens, he's written many more guides to Greece and the islands. Follow Dave on social media for travel inspiration from Greece and beyond: