There is at least one ferry a day sailing the short distance between Tinos and Syros islands in Greece, with travel times taking just 30 minutes.
Tinos Syros Ferry Route
Whether you want to travel from Tinos to Syros during the low season or high season, there are always plenty of direct ferries between these two Greek islands to choose from.
The reason, is that Syros is the administrative capital of the Cycladic islands, so there is always a mix of locals and tourists on vacation using the boats all the year around.
Typically, most travelers are looking for ferry schedules in the high season, which is roughly May through until October. During this period, there is one ferry a day sailing from Tinos to Syros, with occasional supplemental ferries on different days.
You can check ferry schedules for Tinos Syros ferry crossings at: Ferryscanner
Ferry Tickets and Ferry Operators
The main ferry company operating the Tinos Syros route is Blue Star Ferries. They have a regular schedule with a daily 15.00 departure from Tinos.
This boat takes just 30 minutes to reach its destination at Syros. Passengers should expect ticket prices to be around 11.50 Euro.
You might also find an additional Blue Star Ferries crossing added once or twice a week depending on demand.
For the latest ferry schedule, and to book tickets online, I recommend using Ferryscanner.
Other ferry companies that might offer sporadic crossings on the route Tinos Syros include SeaJets, and more rarely Minoan Lines. These are normally added to off season schedules.
Syros Island Travel Tips
A few travel tips to help you explore more when visiting the Greek island of Syros:
Ferry services leave from the island's port in Tinos Town in Tinos. Tinos port might not be as busy as Piraeus port but still, you should be there at least a half an hour before departure.
---
---
For hotels in Syros, take a look at my guide: Best Hotels Syros. Areas to consider staying include Ano Syros, Ermoupoli, Poseidonia, Galissas, Azolimnos, and Finikas. If you are planning a trip to Syros in the busiest months for travel, I advise reserving accommodation in Syros a month or so in advance.
---
---
I find that the Ferryscanner website is the best place to book ferry tickets online for the Tinos Syros ferry crossing. I suggest you book your Tinos to Syros ferry tickets at least a few weeks in advance, especially during the high season for travel in Greece (July and August).
---
---
---
Travel to other Greek islands
As Syros is the administrative center of the Cyclades islands, it has connections with many other nearby islands. Some popular destinations to visit from Syros include Mykonos, Andros, and Kythnos.
ake a look here for a guide to islands near Syros.
How to get from Tinos to Syros FAQ
Questions about about traveling between Tinos and Syros include:
How do I get to Syros from Tinos?
The only way to travel from Tinos to Syros is by using a ferry. There is at least one ferry a day, with an additional ferry on Thursdays sailing to Syros island from Tinos.
Is there an airport on Syros?
The Greek island of Syros has a small airport with domestic connections only to Athens Airport.
How long is the ferry crossing from Tinos to Syros?
The ferries to the Cyclades island of Syros from Tinos take between 30 minutes and 50 minutes. Ferry operators on the Tinos Syros route may include Blue Star Ferries.
Where can I buy tickets for the ferry to Syros?
The easiest way to get hold of ferry tickets in Greece is by using Ferryhopper. Although I suggest you book your Tinos to Syros ferry tickets in advance, you could also wait until you are in Greece, and use a travel agency.
---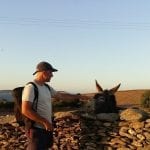 –
Dave Briggs
Dave is a
travel writer
who has been living in Athens and Greece since 2015. In addition to creating this travel guide to ferries from Tinos to Syros, he's written many more guides to Greece and the islands. Follow Dave on social media for travel ideas about Greece, Europe and around the world: