Include these top 10 things to do in Athens Greece in your city break itinerary. See the main attractions in Athens without missing a thing.
Athens is one of the most fascinating cities in the world. The birthplace of democracy, home of philosophers and thinkers, and birthplace of Western Civilization, it's one of the oldest cities in Europe.
If you're planning to spend any time in Athens, you'll want to check out the main attractions such as the Acropolis and other ancient wonders.
As it turns out, most of the top things to see in Athens are located within the historic center. This means it's very easy to get around and see the highlights of Athens in a short space of time.
With 2 days in Athens, you can see most of the essential places of interest and then make your way out to those fabulous Greek islands for some well deserved beach time!
10 Best things to do in Athens
Having lived in Athens for over five years, I've visited most of the major and minor places to see in Athens that visitors might be interested in.
If you only have limited time during your city break, these are the top 10 things to do in Athens I strongly suggest you see and experience.
1. Temple Of Olympian Zeus
If you are looking for what not to miss in Athens, you probably already know there's really no escaping the temples, nor should you even consider doing it!
Greece is a country with a vast, rich culture, and its stunning capital is sure to transport you all the way back to ancient times through the outstanding architecture alone.
Greek mythology is filled with tales of greatness and beauty, and while walking through the Temple Of Olympian Zeus, an ode to the king of gods himself that took centuries to complete, you might just feel thunder shaking above you.
The Temple of the Olympian Zeus is a colossal building, with huge columns of stone, some of which have sadly fallen over during the 2000 years of its existence.
It's actually one of my favourite places to visit in Athens, as it's here you can start to appreciate the sheer scale and beauty of the ancient city.
There's also some pretty good views of the Acropolis Hill and Parthenon from the Temple of Zeus.
2. Plaka
Walking through this beautiful neighbourhood, you'll feel all the energy and charm of the Greek islands flowing through you without actually having to visit them.
Resting right underneath the watchful eyes of the Acropolis, the Plaka is a must see for those visiting the city.
You can see remnants of ancient buildings spread throughout the streets and feel both cozy and entertained, thanks to the many small businesses that have been established there.
You will find nice restaurants for very reasonable prices, cute and dainty establishments selling souvenirs, and more than a couple little artisan shops for more traditional items.
Attached to Plaka is Athens 'hidden village' of Anafiotika. The houses here make you think you are walking through a Greek island town! There's also some great little street art in this area as well.
3. The Acropolis and The Parthenon
This one is a no-brainer. The Acropolis is one of the most famous landmarks in Greece.
Going to Athens and not visit the Parthenon and the Acropolis...well, it's not to say that you didn't actually go to Athens, but there really is no excuse to miss it.
The Parthenon is one of the most astonishing man-made wonders of this world, built perfectly down to a tee, thousands of years ago.
The climb up to the Acropolis is brisk and delightful, and once you allow your eyes to rest upon the imposing and magnificent force of the Parthenon's beauty, you'll thank yourself for actually following the crowds of tourists for once.
Find out about more: Guided tours of the Acropolis.
4. Temple Of Poseidon
If you happen to find yourself with a little extra time on your hands and feel like exploring beyond the city limits, take a small trip down to Sounion.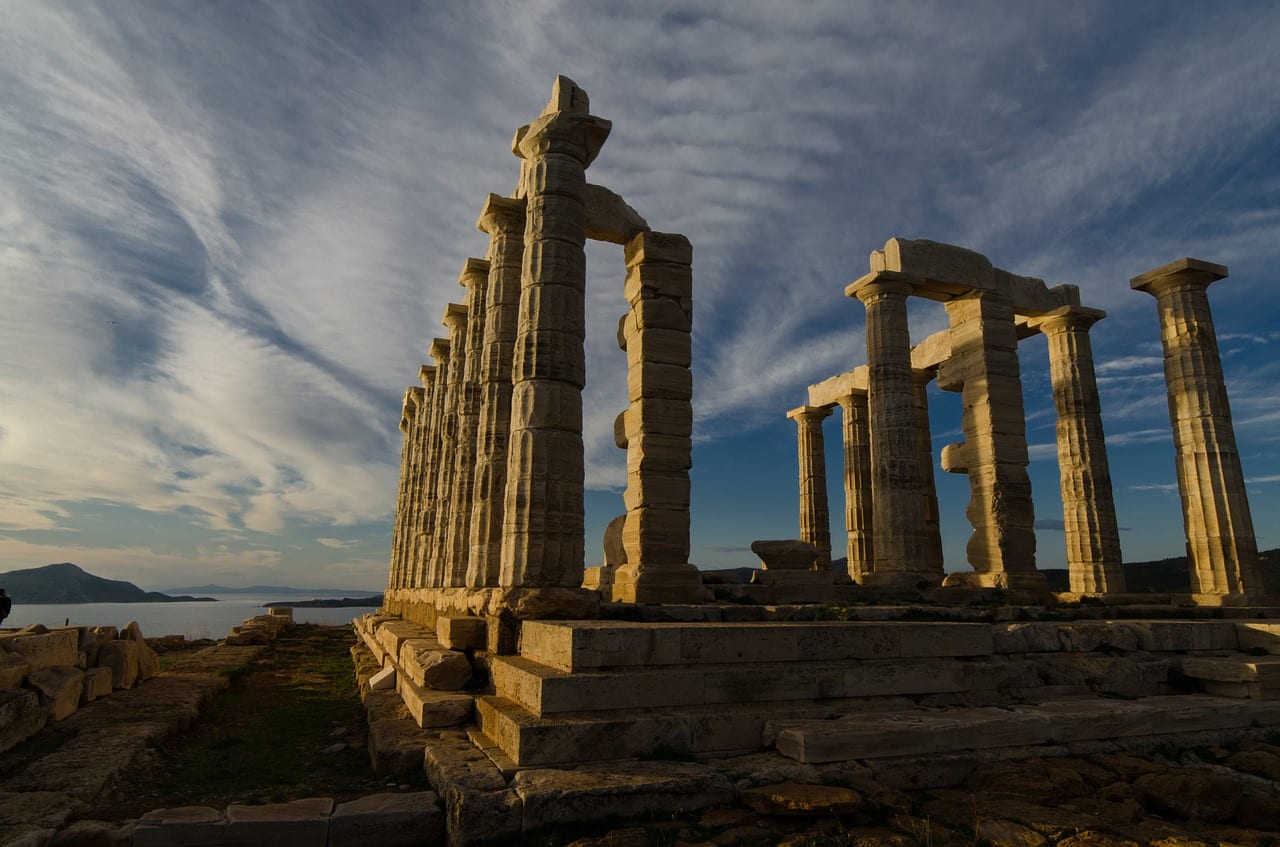 Only 70 km away from Athens, this lovely place finds itself resting upon a hill by the ocean shore, which couldn't be more perfect for worshipping Poseidon, the god of sea himself.
You can find a bit more peace resting near the salt water and enjoy a beautiful sunset, surrounded by another stunning monument, courtesy of one of the greatest civilizations that ever inhabited this world.
Find out more: Sounion and Temple of Poseidon
5. Monastiraki Market
A buoyant and bustling square, Monastiraki is usually filled with all sorts of stores, mainly aimed towards tourists. You will be sure to find everything your heart may desire, from records, to jewelry and souvenirs.
Even if you aren't looking to buy anything in particular, you can just sit and relax in one of the many cafes and take in the hectic environment.
On Sundays in particular, it becomes more of a flea market than anything else, with vendors spreading sheets on the pavement and filling them with all sorts of random items. A place sure to entertain you for a while in between more cultural engagements.
6. The National Gardens
Once you start to feel the wariness from sightseeing all day and it's finally time to relax without necessarily returning to your hotel, the perfect time comes for a visit to the National Gardens.
Perfectly hidden in the midst of the chaos that usually characterizes country capitals, these gardens are a true hidden gem for both nature lovers and casual passers-by alike.
Here you can take some time to get away from the noise and boisterous tourists and just take in all the stunning shades of green, the beautiful and quaint scenery and the cute little animals that might, ever so often, come your way.
7. Psiri
A bouncing yet adorable little area, with streets paved with tons of small cafes, bars, restaurants and shops where the crowds often gathers over the weekend for some night-time fun.
If you're looking for a cool place to chill, drink and have a little dance during your stay, Psiri won't disappoint! Guaranteed to be filled with lively people and smiling strangers, this is the place to go for a good dose of enjoyment.
Find out more: Things to see in Athens in 2 days.
8. Odeon Of Herodes Atticus
A gorgeous stone open-air theatre, the Odeon is a true mark of elegance where art and astonishing architecture come together.
Some of the greatest artists of all time, including Maria Callas and Frank Sinatra, have graced the stage of this remarkable structure. Even if you're not up for a show, just taking the time to admire it is already worth it!
9. The Athens Central Market
Every major city has its own, and this one is no exception! When considering things to do in Athens, a little walk through the central market of Athens must definitely make it to your list.
Besides giving you the chance to enjoy the full experience of a real food market, with all the fresh meat and fish, the market is the place to go for amazing food at cheap prices.
10. Mount Lycabettus
No visit to a foreign city or country can ever be complete without taking in a massive, beautiful view. If Athens is already breathtaking on its own, with every corner, every street, every stunning monument, you can imagine what it must look like when you see it from the top of a mountain.
Climbing Mount Lycabettus is a must for, in the very minimum, all first time visitors (of course there's not a doubt the enchanting view will blow anyone away and become a mandatory stop in every visit to Athens!).
And don't worry if you're already concerned about hiking all the way to the top – there's a cable car that will do the climbing for you, so the only thing that will take your breath away is the mesmerizing beauty of the city!
Related: What is Athens famous for?
FAQ About Athens City Break
Readers planning to see sites like the Ancient Agora and National Archaeological Museum in Athens often as questions such as these when planning a trip:
What should I avoid in Athens?
Generally speaking, Athens is a safe city to visit, although you might want to exercise extra caution if you find yourself in Omonia, Exarcheia, Vathi, and Kolokotroni Squares.
What is the most important thing to Athens?
No trip to Athens is complete without visiting the Acropolis. This ancient site is home to iconic buildings and landmarks such as the Parthenon Temple and Theatre of Dionysus, and you get the best view of the city from here when you visit Athens.
How can I spend 2 days in Athens?
You can see all the important archaeological sites of Athens as well as experiencing all the cool things the modern city has to offer within 2 days. Remember to check out the Panathenaic Stadium which was where the first modern Olympics were held if you're a sports fan!
What do people do in Athens Greece?
From archaeological treasures and historic churches to amazing museums like the Acropolis Museum and Athens National Archaeological Museum, there's always something to do in Athens!
How long do I need in the Ancient Agora in Athens?
The Agora is a central archaeological site, and important ruin from Ancient Athens. The site also includes an archaeological museum, so you should allow at least 1.5 hours in the Ancient Agora.
More Athens Travel Guides
Looking for a step by step guide on how to see Athens? Check out my One day in Athens itinerary. If you are visiting Athens as a cruise stop, perhaps a hop on hop off bus in Athens might be a better solution.
You might also find my guide to 3 days in Athens useful. If you've got longer in the city, you should check out this more indepth guide to the buildings and landmarks of Athens.
Finally, take a look here for 10 ideas one how to spend 10 days in Greece on your next vacation.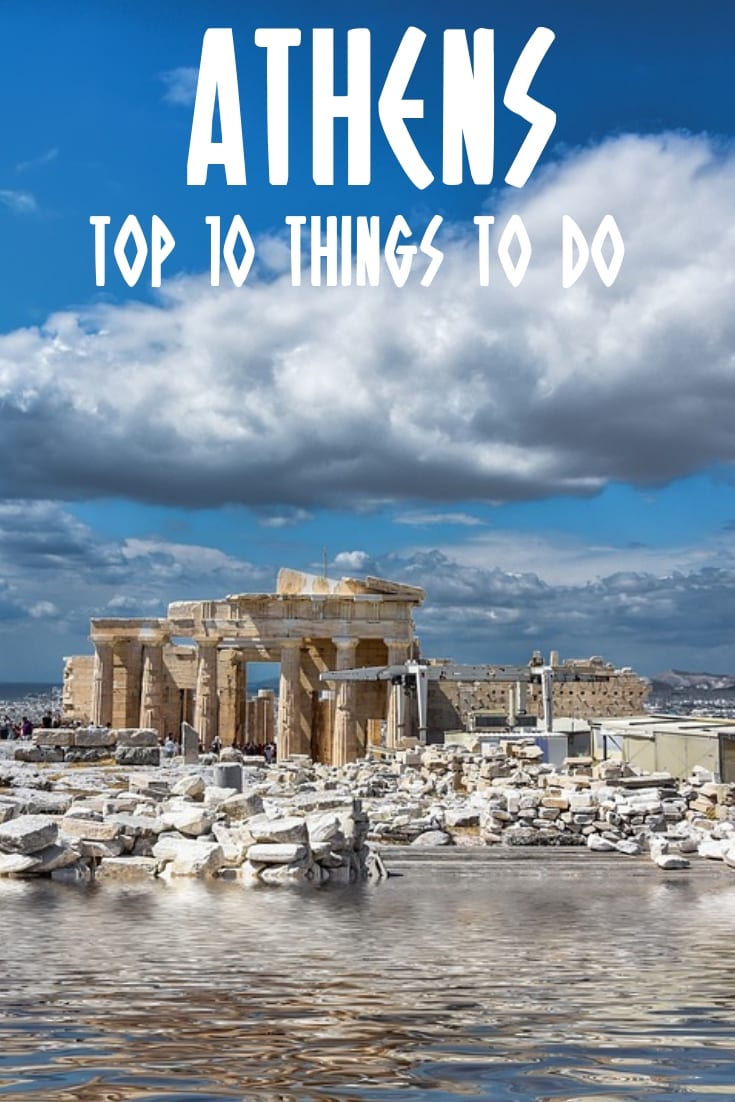 Next read: Best Cities In Greece
---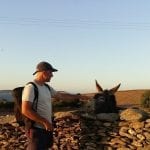 –
Dave Briggs
Dave is a travel writer from the UK, currently living in Athens, Greece. He created this travel blog back in 2005 to document his travel adventures around the world. Since moving to Athens he has a somewhat ambitious (perhaps impossible) goal of visiting every Greek island and writing about it. Follow Dave on social media for travel guides and latest travel information on Athens and Greece: