Greece might be associated with stunning islands and beautiful beaches, but it also has some amazing cities. Here are the best cities in Greece to visit during your next vacation.
What are the best cities to visit in Greece?
Unless you're a dedicated urban explorer, Greek city hopping is never going to be as appealing as Greek island hopping. Perhaps that's a bit of a shame.
The truth is, there are dozens of cities to visit in Greece, each with their own individual charm and personality. You will find them scattered throughout the mainland and all around the Greek islands.
Some of them boast ancient ruins, while others are dominated by Venetian castles. Many are full of byzantine churches, or incredible neoclassical buildings. So, maybe Greek city-hopping should become a thing?
In this guide, I'll introduce you to my favourite Greek cities, and I'll explain why you should spend a day or two in each one.
Note: I did try to find out what actually constitutes a city in Greece, but hit a wall. That means some of the listed cities here may be technically towns, or even villages! If you have a clear definition of what a city in Greece is, leave a comment at the end of the post!
And now, let's look in the best cities to visit in Greece, one by one!
Athens – Explore the Greek Capital
Athens is the biggest city in Greece. It's also the oldest European capital city, with a recorded history dating back over 3,400 years.
Athens has waxed and waned in popularity as a destination over the years, and is finally on the rise once more.
Boasting one of the world's most famous ancient sites, the Acropolis, it's one of the country's best places to visit for history. Other sites include the ruins in the Ancient Agora, the Temple of Olympian Zeus, and Kerameikos Ancient Cemetery.
However, there's so much more to explore in this ancient capital city. Cool street art, countless museums, a modern vibe, great food… I could go on and on. Athens is certainly worth spending a day or two in, or much longer if you really want to get to know it.
Related: What is Athens known for?
Like some visitors are quick to point out, the capital is not the prettiest city in Greece. However, it has many beautiful spots and charming little neighbourhoods. One of the quirkiest ones is Anafiotika, right in the historic centre.
Find out more here: The Ultimate Guide to Athens
Thessaloniki – Best for Roman and Byzantine history
Thessaloniki is Greece's second biggest city, and the capital of Northern Greece. Unfortunately, it often flies under the radar of people planning a Greek vacation. Perhaps it's because of its location. Or maybe there's simply so much in the country to see and do.
Whatever the reason, it's resulted in Thessaloniki evolving into a considerably more laid back city than Athens. It's smaller of course, and with fewer people, but there's still plenty to see and do.
In fact, anyone interested in Roman and Byzantine history, should aim to spend a few days here. There are several impressive sites, historic museums, and an incredible Byzantine castle overlooking the city.
In addition, you will find plenty of modern art, wonderful markets, fantastic restaurants and vibrant nightlife. And the best part? Thessaloniki is right on the coast!
Find out more here: Things to do in Thessaloniki
Nafplio – The first capital of Greece
The picturesque city of Nafplio in the Peloponnese is best known as the fist capital city of modern Greece. The little coastal town is full of large squares, neoclassical buildings, and pretty architecture.
Nafplio has two impressive fortresses. Bourtzi is located on a tiny island, a few minutes off the coast. There is a small port where you can take a boat, but check if the castle is open to visitors.
However, you can visit the impressive Palamidi, a really well-preserved Venetian fortress on top of a hill. The views are simply incredible!
I happen to have visited Nafplion on two overcast days, so perhaps the shine was taken off a little bit. Still, it's definitely one of the top places you should visit in Greece.
Nafplio is only a couple of hours away from Athens. You can easily go on a day trip, and combine it with a visit to the archaeological sites of Ancient Mycenae and / or Epidaurus.
I've a full guide here on the best things to do in Nafplio.
Rhodes Old Town in Rhodes island
If you fancy a trip back to the age of Knights and Castles, Rhodes Old Town is a must see. The medieval city is one of the 18 designated UNESCO World Heritage sites in the country.
The town's focal point is the immaculately preserved Palace of the Grand Master. You can explore the spacious rooms and galleries inside the Palace, but also walk around its massive walls.
Overall, the medieval town of Rhodes is a fascinating place to wander around, both during the day and at night. Apart from the castle, you will also find a large selection of restaurants, cafes and bars.
You can more or less see Rhodes city during a day. This means that it's easy to visit whether you are stopping on a cruise, or just want a break from the beach – and the island of Rhodes has some great ones!
Find out more here: UNESCO sites in Greece
Heraklion in Crete
Heraklion is the capital of Crete, the largest island in Greece, and another interesting city to visit. It may not be as beautiful as nearby Chania (to some eyes), but it ticks plenty of boxes.
The old town and fortified harbour area with the Venetian castle are great places to explore. Allow enough time to stroll around the market and enjoy the tavernas, which have some of the best food in Greece.
The archaeological museum in Heraklion is fantastic. It will give you a good introduction to the city's main draw-card, the Palace of Knossos. In ancient times, this was the home of the Minotaur. Are you ready to enter the Labyrinth?
Find out more: Day trips from Heraklion
Chania in Crete
Most people will agree that if you only have time for one city in Crete, you must visit Chania. The small coastal town is full of history and culture, quaint little streets, picturesque architecture, and incredible charm.
If you want to take a break from sightseeing, there are several nice beaches nearby, like Nea Chora, Chrisi Akti, Agii Apostoli or Seitan Limani.
One thing that particularly stands out in Chania is the food! You will find several traditional restaurants serving some amazing Greek dishes. I still remember our meal at Koutourouki, a few years ago!
At night, the small town comes alive, and you will find plenty of laid-back bars to have a drink.
A word of warning – Chania is particularly popular with tourists in summer. While its beauty is non-negotiable, I would suggest visiting in the shoulder season if you can.
Related: When to go to Greece
Chora in Mykonos
Visitors love the simple, charming Cycladic architecture with the picturesque white-washed houses. You will find them on most of the Cyclades islands.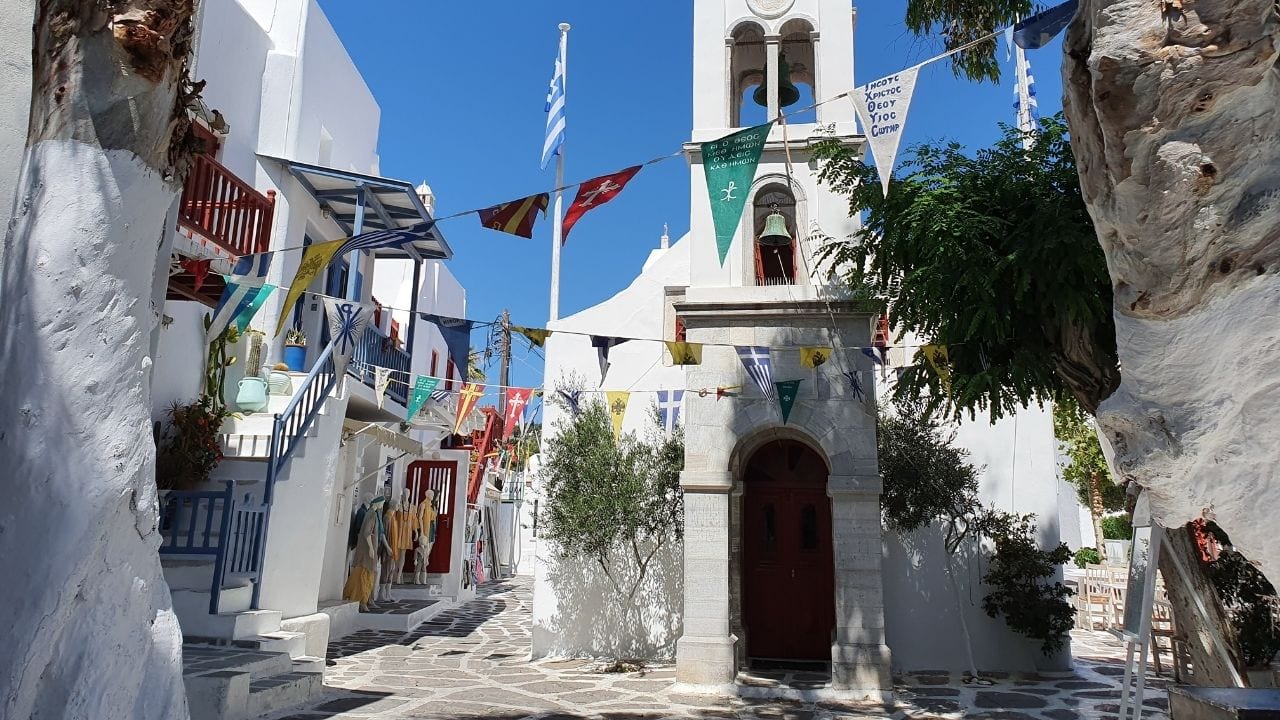 However, few towns are as iconic as Mykonos Old Town, one of the most sought-after destinations in the world.
I am not sure whether Chora Mykonos is a town or a village. But it hardly matters! Wander around, and lose yourself in the maze of little streets.
At night, the town comes alive with all sorts of restaurants and bars. Mykonos is famous for its nightlife, so spend some time exploring its numerous clubs. Just make sure you are left with some energy to enjoy the gorgeous beaches, which are some of the best on the Greek islands.
Finally, while in Mykonos, don't miss a day trip to the nearby archaeological site of Ancient Delos.
Ermoupolis, the capital of the Cyclades
Syros is the most populated Cycladic island. Ermoupolis, its capital, is the administrative centre of this popular Greek island group.
Unlike Mykonos, Naxos or the other Cyclades, Ermoupolis is full of incredible neoclassical buildings. Some of them, like the impressive city hall, are open to visitors. You will also find a few interesting museums, art galleries and the majestic Apollo theatre.
As you would expect, Ermoupolis is right on the sea. There is even a small urban beach where you can go for a quick swim!
Find out more here: Things to do in Syros
Patras – Not just a port city
Athens and Thessaloniki both boast sizeable populations. Greece's third largest city, called Patras, has a population of just 167,000 people.
Geographically, Patras is positioned in the northern Peloponnese. It acts as regional capital for Western Greece. It's a vibrant place, with a lively student population, and a carnival which attracts visitors from all over the world.
In my opinion, far too many visitors simply pass through the city. Most of them either take the stunning Rio – Antirrio bridge to Western Greece, or jump on a ferry to the nearby Ionian islands and Italy.
It's a shame, because Patras is a wonderful little town to spend some time in. In addition, it has a fabulous archaeological museum which I would argue is one of the best in Greece.
Find out more here: Things to do in Patras
Corfu Old Town
Corfu is one of the Ionian islands, and a popular destination in Greece. It's one of the best places to visit if you are after historic landmarks, neoclassical architecture, style and culture.
Allow plenty of time to walk around the old Corfu Town, which is a UNESCO World Heritage Site. Explore the sights during the day, and stroll around by night, when the monuments are lit up.
Some of the most famous attractions include the Venetian forts, the neoclassical building called Liston and the Palace of St. Michael and St. George. The Achilleion Palace, located a few kilometres out of the town, is also a well known site.
When in Corfu, make sure you allow enough time to explore the traditional villages, and the gorgeous beaches, which are among the best in the country.
Kalambaka near Meteora monasteries
Kalambaka (Kalampaka, Kalabaka, numerous other spellings) may not be an obvious addition to a list of best cities to visit in Greece, but it all comes down to location.
Backed by the awe-inspiring landscape of Meteora, this is the city (or town, I'm not quite sure!) to look for accommodation when visiting the Meteora monasteries.
There is also more to do in town as well, including being able to visit a rather unique Mushroom Museum!
Find out more: Meteora Tours and Activities
Ioannina – Off the beaten track
You may not have heard of Ioannina, a small town in the Epirus region of Greece. You are not the only one! Unless you are visiting Northern / Western Greece, this fantastic little gem of a town will remain well under the radar.
Ioannina is located on the coast of lake Pamvotida, in an area with plenty of natural beauty. There is a lot to do here, which includes sitting at the numerous cafes and tavernas along with the large student population.
In terms of attractions, don't miss the Ioannina castle, the Fethiye Mosque and the numerous museums. You can also take a short boat trip to the little Ioannina Island, right in the lake.
Find out more here: Things to do in Ioannina
Parga – A little gem on the mainland
Parga is a small, laid-back town located on the north-west coast of mainland Greece.
The beauty of the area will really blow you away. The combination of lush trees, blue sea, colourful traditional houses and the ruins of an old Venetian castle make Parga one of the most popular destinations in the Epirus region. There are also plenty of unspoiled beaches nearby, where you can relax for a few hours – or days.
Tip: You can easily visit Meteora, Ioannina and Parga on the same trip. Allow a couple of extra days to explore the fantastic mountain villages, like Metsovo, Aristi, Vitsa and Papigo. You will find plenty of accommodation and restaurants in the area.
Nafpaktos – Weekend break from Athens
On the other side of the Rio – Antirrio Bridge from Patras and to the east, you will find the historic town of Nafpaktos. It's an unpretentious little port town that can make a nice weekend break destination from Athens, or a worthwhile stop on a Greek road trip.
The quaint Venetian harbour is the main attraction to Nafpaktos, and there's also a couple of beaches to try out. The nearby mountains and forests are also worth exploring if you have extra time. In fact, I've cycled some challenging but rewarding routes in the area.
Find out more here: Best things to do in Nafpaktos
What is the most beautiful city in Greece?
And now, an important question: what is the most beautiful Greek city?
Many of the cities mentioned above are among the most picturesque cities in Greece. Nafplio is among the most popular destinations, not least because it's easily accessible from Athens.
Chania, the Old Town of Rhodes, Corfu town and Chora Mykonos are some of the most visited cities in the pretty Mediterranean country. Their traditional architecture, picturesque streets and unique island charm make them some of the best places to visit in Greece.
As far as I'm concerned, my favourite Greek city is the quaint Ioannina. I loved the historic centre, the castle, and its setting beside the lake. It is not so well known, and you won't see too many tourists, but this only enhances its natural beauty.
You may be surprised to see that Santorini is completely missing from my list. However, I don't think that any of the main towns in Santorini can compete with all these other Greek cities!
Best cities to visit in Greece
So these were my favourite cities to visit in Greece. You can easily explore a few during your next vacation, and dive into Greek history and culture. Let me know which one was your favourite!
Related: What is Greece