There are currently no direct ferries sailing from Santorini to Iraklia. The best way to get to Iraklia from Santorini would be to swap ferries in Naxos.
Iraklia island in Greece
If you're looking for an island getaway in Greece far from the crowds, Iraklia certainly fits the bill.
The contrast with Santorini couldn't be more stark. The tiny island has less than 150 permanent residents, and it has the feeling of a place where time has stopped still.
Compare that to the thousands of tourists that arrive daily in Santorini, and it's worlds apart!
I far prefer these small, quiet islands of the Cyclades, and even contributed to a book about Iraklia.
You can find it on Amazon here: Schinoussa and Iraklia in Greece: Greek Islands Travel Guide
How to get from Santorini to Iraklia
There isn't an airport on Iraklia island, so the only way to get from Santorini to Iraklia is to take a ferry.
Unfortunately, there is currently no direct ferry from Santorini to Iraklia. So, like you would have to do if you wanted to get from Santorini to Schinoussa, you will need to swap ferries in Naxos.
During the tourist season, there are 2 or sometimes 3 ferries per day from Santorini to Naxos. Now, whether these arrive in time for your ferry back out to Iraklia is another question! You can check which ferry companies sail on this route and look at prices at Ferryhopper.
If you do have to spend the night in Naxos, you can find accommodation in the Chora, along with plenty to do to keep you occupied for the evening.
Plan to stay longer in Naxos? Check out my guide here: Things to do in Naxos island Greece.
Ferries to Iraklia from Naxos
After you have arrived in Naxos, you'll then need to get a ferry out to Iraklia. There is normally one, but sometimes two ferries per day sailing from Naxos to Iraklia.
The little Express Skopelitis boat runs between Naxos and Iraklia (as well as other Small Cyclades Islands) once a day apart from Sundays. Blue Star ferries sail from Naxos to Iraklia 3 times a week, with one of the days being a Sunday.
I find that Ferryhopper is a good website to use to book ferry tickets online. I use it myself for checking ferry routes and working out itineraries for my island hopping trips in Greece!
Iraklia Island Travel Tips
A few travel tips for visiting Iraklia island:
Passengers should be at departure ferry ports at least a half an hour before services are due to leave.
---
If you are making a ferry connection on the same day, allow for a couple of hours in between.
---
Booking has a decent selection of accommodation in Iraklia to choose from. Not all hotels and apartments are listed on Booking though. I've a full guide here on where to stay in Iraklia.
---
Ferryhopper has up to date ferry timetables and route information for ferries in Greece. You can also pay for your tickets online, and for a lot of ferries, be issued an e-ticket you simply show on your phone when boarding the ferries.
---
There is an ATM machine on Iraklia, but I would suggest making sure you don't arrive with an empty wallet just in case the machine doesn't accept your card for whatever reason. I've a guide here on Money in Greece, and also another one on the Revolut travel card that might help you plan your travel money for Greece.
---
Welcome taxis can be pre-booked to take you from your hotel in Santorini down to the port. I'd suggest organizing your taxi to drop you off at the port an hour before your ferry is due to depart.
---
What to see in Iraklia Greece
You're not visiting Iraklia because of its endless amount of things to do. Probably quite the opposite!
Iraklia is an island to be enjoyed, and as such, visiting beaches and using the hiking trails are how to spend your time when there.
If there's one 'main attraction' (apart from the peace and quiet), it's the Cave of Agios Ioannis.
Read my travel blog for more island information you'll find useful when you visit Iraklia: Iraklia Island Travel Guide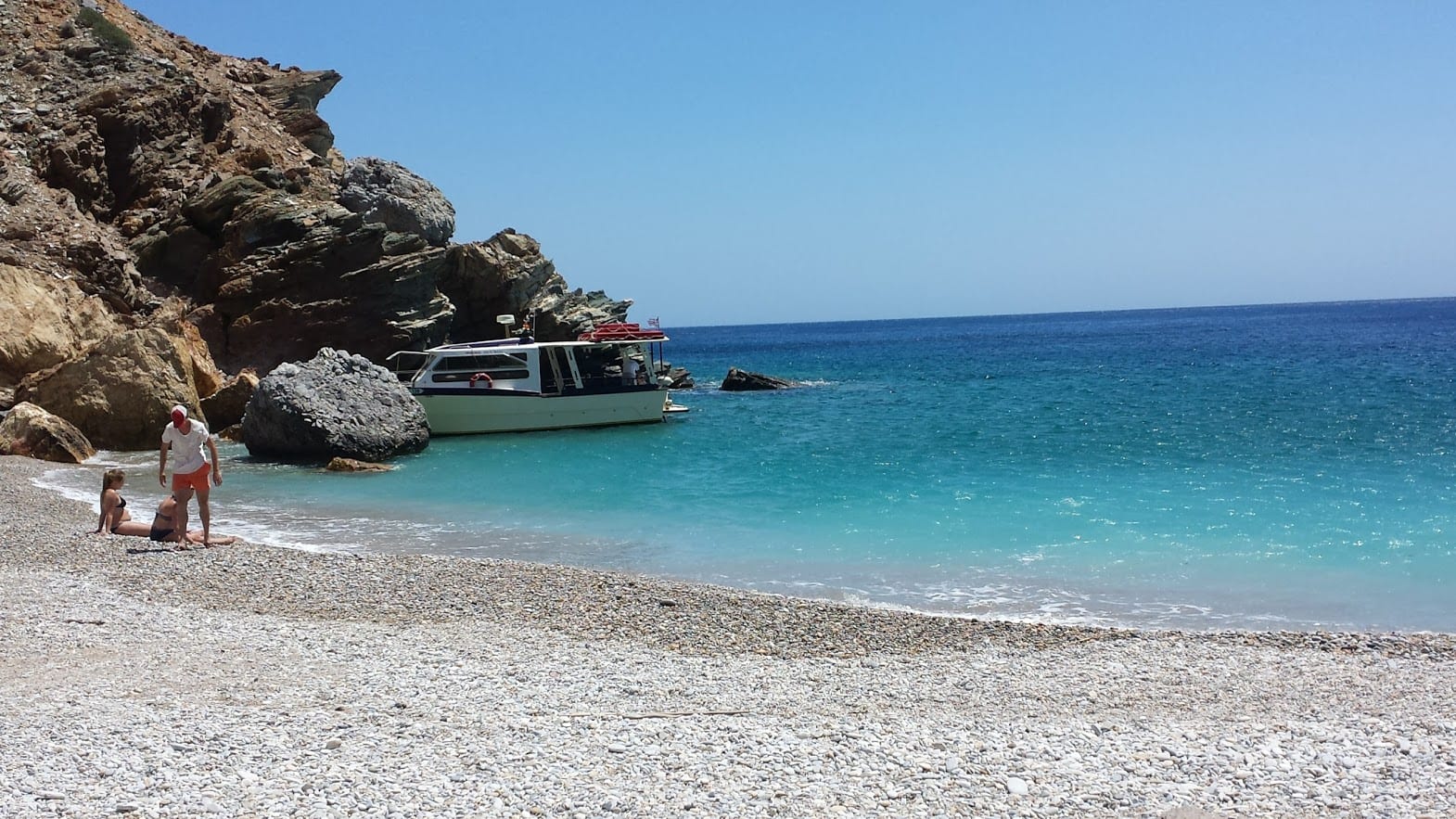 How to travel from Santorini to Iraklia FAQ
Questions that people ask about traveling to Iraklia from Santorini include:
How do I get to Iraklia from Santorini?
If you want to take the journey from Santorini to Iraklia you have to use the Greek ferry network. There are no direct ferries sailing to the Greek island of Iraklia from Santorini, so you'll first need to get a ferry to Naxos, and from there, get a second ferry to the island of Iraklia.
Is there an airport in Iraklia?
As there is no airport in the Cyclades island of Iraklia, the only way to travel from Santorini to Iraklia is by ferry. The closest airport to Iraklia is on Naxos island, but you can not fly there directly from Santorini.
How long is the ferry ride from Santorini to Iraklia?
The ferries to Iraklia from Santorini involve a ferry change in Naxos. As such, the total travel time will depend on your connection. As a guide though, the ferry from Santorini to Naxos takes around 2 hours, and the ferry from Naxos to Iraklia is just a little less than that.
How do I buy ferry tickets to Iraklia?
One of the best places to look at ferry schedules and to book tickets online is at Ferryhopper. Although I think it's better to book your ferry tickets to Iraklia in advance, you might also prefer to use a local travel agency in Greece when you have arrived.
---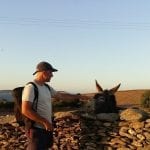 – Dave Briggs
Dave is a travel writer who's been living in Greece since 2015. He's created many travel guides and blog posts such as this one about how to get from Santorini to Iraklia in order to help other travelers appreciate Greece as much as he does.
Follow Dave on social media for travel inspiration from Greece and beyond: