During the summer tourist season, there is one ferry per day sailing from Santorini to Koufonisia. The journey on the SeaJets takes 2 hours.
Koufonisia island in Greece
Positioned between the islands of Naxos and Amorgos, Koufonisia boasts amazing beaches, sparkling seas, and a heavenly coastline.
Actually consisting of two islands – Ano Koufonissi and Kato Koufonissi -, the destination as a whole is most often referred to as Koufonisia.
Whilst we can say that Koufonisia has definitely been discovered (its direct ferry connection with Santorini is testament to that), it's a much different place than Santorini.
You'll enjoy the relative quietness, absence of huge crowds, and quality beach time. Of course, you have to get to Koufonisia first!
How to get from Santorini to Koufonissi
There is no airport in Koufonissi island, so the only way to make the journey from Santorini to Koufonissi is by using the ferry network.
During the height of summer, there is usually one ferry per day sailing from Santorini to Koufonissi. These ferries to Koufonissi from Santorini are operated by SeaJets.
Ferries to Koufonissi from Santorini
The direct ferry sailing to Koufonissi from Santorini island takes around 2 hours. It leaves at 12.40 and arrives at 14.40.
Note that as this is a 'tourist' ferry service, it is relatively expensive when compared to reaching other islands. The price for a passenger ticket starts at 74.70 Euro.
For the best prices, and schedules, take a look at Ferryscanner.
Alternative Koufonissi Ferry Routes
If the direct ferry route seems expensive, there may be other options.
Depending on the year, budget travelers could consider first taking a ferry from Santorini to Naxos, and then from Naxos to Koufonisi. This might work out a little cheaper, but obviously it will involve much more travel time.
The simplest place to look at schedules and to buy a ferry ticket for Greek ferries is at the Ferryscanner website.
Koufonissi Island Travel Tips
A few travel tips for visiting Koufonissi island:
Most ferries leave Santorini on time, so be at the port at least an hour before departure. The traffic getting to the port can be very busy so allow for delays!
---
As there's only one ferry company operating this route with one crossing a day, I advice booking an e ticket online a couple of months in advance.
---
Ferryscanner is a good place to look at ferry schedules and book ticket for an island hopping trip between Santorini and Koufonisia.
---
Booking is the easiest place to see what hotels in Koufonissi there are. Frequent users can have further discounts and special offers. Expect hotels to be fully booked in August.
---
You might see Koufonissi spelled in a variety of ways, such as Koufonisia and Koufonisi. They all refer to the same place, which is the main island of Ano Koufonisi. Are you ready to say it's all Greek to me yet?
---
Welcome taxis can be pre-booked to take you from your accommodation in Santorini down to the port. They are fairly priced, and will ensure that you get to the port in time for departure.
---
No need to worry about renting a car in Koufonisia – you can get everywhere by walking or hiring a bicycle for the day. The island is tiny!
---
What to see in Koufonissi Greece
Relax and take it easy – you're on holiday! There's not much to tick off a list when it comes to essential experiences to have in Koufonisia, which is part of the joy of the island.
Take a boat tour of coastline of Koufonisia (both islands!)
Check out the Ano Koufonissi beaches of Foinikas, Loutro, Italida, and Pori
Don't miss the Kato Koufonissi beaches of Nero, Detis
Walk a few miles on the hiking trails
Savour the fresh seafood in cute tavernas
Check out my complete guide here: Koufonisia in Greece
How to take the ferry from Santorini to Koufonisia FAQ
Some commonly asked questions about traveling to Koufonissi from Santorini include:
How can you get to Koufonissi from Santorini?
In order to take the journey from Santorini to Koufonissi the best way is by ferry. There is 1 ferry per day in the summer sailing to Koufonissi from Santorini. During off season, this ferry may not run, and so you would have to take an indirect route via Naxos to Koufonisia.
Is there an airport on Koufonissi?
There isn't an airport in the Greek island of Koufonissi, so the only way to get from Santorini to Koufonissi is by ferry. The nearest airport to Koufonisia is over on Naxos island.
How long is the ferry crossing from Santorini to Koufonissi?
The ferries to the Cyclades island of Koufonissi from Santorini take around 2 hours. The ferry only runs during the summer months (tourist season), and the ferry operator is SeaJets. The vessel is likely to be either the SeaJet 2 or the SuperJet.
Where do I buy ferry tickets to Koufonissi?
The best place to look at Greek ferries to Koufonissi online is Ferryscanner. I think it's better that you book your Santorini to Koufonissi ferry tickets in advance, but you might also prefer to use a travel agency in Greece once you have arrived in the country.
Other Islands After Santorini
Koufonissi isn't the only island you can consider visiting after Santorini. You can visit almost any of the islands in the Cyclades quite easily from Santorini if you wish.
Here's a few guides on which islands to visit after Santorini:
---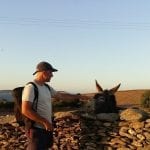 – Dave Briggs
Dave is a travel writer who's been living in and writing about Greece since 2015. He's written hundreds of travel guides here at Dave's Travel Pages with the aim of helping make life easier for people planning to travel to Greece. He hasn't quite visited all the Greek islands yet – but he's getting there!
Follow Dave on social media for travel inspiration from Greece and beyond: