In order to travel from Santorini to Schinoussa in Greece, you'll first need to swap ferries in Naxos. This guide shows you how.
Schinoussa island in Greece
If you're looking for a quiet Greek island to visit after Santorini, it doesn't get much quieter than sleepy Schinoussa!
One of the 'Lesser Cyclades' that is positioned close to Naxos, Schinoussa attracts the type of person that prefers to get away from the crowds. It's a small island, with some lovely beaches, very few people, and a completely different pace of life than Santorini.
Schinoussa is one of my favourite islands in the Cyclades. In fact I loved it so much, I co-wrote a guide book on it for Real Greek Experiences!
You can find it on Amazon here: Schinoussa and Iraklia in Greece: Greek Islands Travel Guide
How to get from Santorini to Schinoussa
There's no airport on the Cyclades island of Schinoussa, so the only way to make the journey from Santorini to Schinoussa is by using the ferry network.
Even during the height of the tourist season, there are no direct ferries between Santorini and Schinoussa.
Just as if you wanted to travel from Santorini to Iraklia, you would first need to go from Santorini to the island of Naxos, and then take another ferry from Naxos to Schinoussa.
Santorini Naxos Ferries
There are plenty of ferries between the Greek islands of Santorini and Naxos – 6 or more a day! As it would be best to make a ferry connection on the same day, you'll want to get the earliest boat that sails.
You can check timetables and available services for all the Greek ferries at Ferryhopper. I use this myself when planning trips around the Cycladic Islands.
Ferries to Schinoussa from Naxos
There are 1 or 2 ferries per day crossing from Naxos to Schinoussa. Now, whether or not these will link up nicely with your ferry from Santorini to Naxos is another matter!
If you do end up having to stay a night in Naxos, you can find accommodation in the port area. I recommend Booking for looking at hotels in Naxos.
The local boat that runs from Naxos to Schinoussa is the Express Skopelitis. This doesn't run on Sundays, when a Blue Star Ferries vessel makes the connection instead.
If you want to check schedules and book tickets for the ferry online, check out Ferryhopper.
Schinoussa Island Travel Tips
A few travel tips for visiting the Cyclades island of Schinoussa:
---
Ferryhopper is the best online platform to look at ferry timetables and to buy tickets for ferries in Greece. I use this myself, and the price is the same as if you book directly with the ferry companies.
---
I can't honestly remember if there was an ATM in Schinoussa or not. I'd suggest taking over some Euros notes with you just in case. Most tavernas and stores now accept card payments, but the islands can be subject to power cuts from time to time. Read my full guide to Money in Greece for more tips.
---
Welcome is a good choice if you want to pre-book a taxi from your hotel in Santorini to the port. Very reasonable rates, and reliable.
---
What to see in Schinoussa Greece
Schinoussa is a quiet Greek island getaway. It's the sort of island you visit because there isn't a lot to do rather than because you love running around ticking things off a list.
That's not to say there's nothing to do at all though! When you're there, you'll definitely want to check out all the beaches, use the hiking trails, and enjoy some incredible food.
Check out my full guide here: Schinoussa Island Travel Guide
You might even make friends with a donkey or two. I'll leave you to decide which one is the donkey in the photo below! (I hope Vanessa never reads this post – she'll kill me!).
How to get from Santorini to Schinoussa FAQ
Some commonly asked questions about traveling to Schinoussa from Santorini include:
How do you get to Schinoussa from Santorini?
If you want to travel from Santorini to Schinoussa the only way is to use the ferry network. There are no direct ferries between Santorini and Schinoussa, so you would first need to to go to Naxos. From there, you would then take another ferry to Schinoussa.
Is there an airport on Schinoussa?
As there isn't an airport in Schinoussa, the only way to take a trip from Santorini to Schinoussa is by ferry. The closest airport to Schinoussa is on Naxos.
How long is the ferry crossing from Santorini to Schinoussa?
The ferries to Schinoussa island from Santorini involve a swap over on another island such as Naxos. The total travel time will depend on how close together your connections are. Typically, the ferry from Santorini to Naxos takes around 2 hours. The ferry from Naxos to Schinoussa takes around a further 2 hours.
How can I buy tickets for the ferry to Schinoussa?
I find that the Ferryhopper website is the best place to book ferry tickets online. Although I think it's better to book your Santorini to Schinoussa ferry tickets in advance, you could also use a local travel agency in Greece.
More Santorini Island Hopping Guides
Here's some more guides on islands to visit after Santorini and how to get to them:
I hope you have a relaxing vacation when you visit Schinoussa! Have you got any tips on the best way to reach Schinoussa from Santorini or insights into sightseeing in the Small Cyclades? Leave a comment below!
---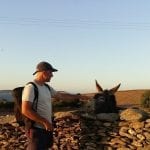 – Dave Briggs
Dave is a travel writer who's been living in Greece since 2015. He's been traveling to and writing about the destinations he loves most in Greece, and Schinoussa is one of his favourites!
Follow Dave on social media for travel inspiration from Greece and beyond: Facebook, Twitter, Pinterest, Instagram, YouTube.