As there are no direct ferries from Naxos to Antiparos island in Greece, you'll need to go from Naxos to Paros first, swap ferries, and continue to Antiparos. It's pretty easy, and this guide has all the travel information you need to know.
Antiparos island in Greece
The Greek island of Antiparos is located in the Cyclades group, and has a population of about 1200 people. Although it's become a popular tourist destination, you can still experience plenty of peace and quiet here.
It also offers several activities for visitors to enjoy during their holiday on the island, especially for beach lovers!
Typically, people tend to end up in Antiparos after having spent some time on the large neighbouring island of Paros. If you want to skip Paros, and get to Antiparos directly from Naxos, here's how.
How to get from Naxos to Antiparos
Although the Greek islands of Naxos and Antiparos are quite close together, you can not take a direct ferry between them. Instead, you'll need to go via the island of Paros first.
The first stage of the journey is easy, as there are between 5 and 7 ferries from Naxos to Paros each day, with the journey time taking as little as half an hour. Find out more here – Naxos to Paros by ferry.
Once in Paros, you'll then need to take another ferry on to Antiparos. Things get a little more complicated at this point, so I suggest you read my guide here – Paros to Antiparos by ferry.
Bottom line – Start the trip from Naxos as early as you can, and then you'll have a better choice of onward ferries to Antiparos from Paros.
I recommend Ferryhopper to look at booking Greek ferry tickets online, although this is a trip you might want to organise in a local ticket agency in Naxos in order to get more complete and up to date instructions.
Antiparos Island Travel Tips
A few travel tips for visiting the island of Antiparos:
---
---
---
---
How to take a trip from Naxos to Antiparos FAQ
A few common reader questions about traveling to Antiparos from Naxos include:
How can you get to Antiparos from Naxos?
To make the journey from Naxos to Antiparos you would need to go via another island first such as Paros. There are no direct ferries sailing to Antiparos from Naxos.
Is there an airport on Antiparos?
The Greek island of Antiparos does not have an airport. The closest island to Antiparos with an airport is Paros which has flight connections with Athens.
How many hours is the ferry from Naxos to Antiparos?
With no direct ferries going to the Greek island of Antiparos from Naxos, it is hard to calculate the exact travel time. If connections line up perfectly, it could be 4 hours or less. In the worst case, you may need to stay over night on Paros.
---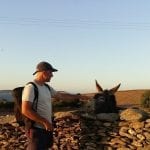 –
Dave Briggs
Dave is a
travel writer
currently based in Greece In addition to writing this travel blog guide ferries from Naxos to Antiparos, he's written many more guides to Greece and the islands. Follow Dave on social media for travel inspiration from Greece and beyond: