Agnontas, located on the southwest coast of Skopelos island in Greece, is known for its excellent seafood tavernas, good swimming, and relaxing sunsets.
Agnontas Village Skopelos
If you enjoy quiet, out of the way places when looking at where to stay in Skopelos, Agnontas might be worth considering.
Agnontas, a picturesque fishing village located in the Greek island of Skopelos, is the perfect destination for those looking to get away from it all. Nestled in a sheltered bay surrounded by lush vegetation and crystal clear waters, Agnontas provides visitors with a tranquil escape from their everyday lives.
Agnontas, sometimes written Agnondas, beach in Skopelos is a beautiful pebble beach. The village is surrounded by green vegetation and fronted by a clear sea. Shades of green bounce around, and it is a relaxing place for a swim.
The beach is located in a sheltered bay, which makes the sea relatively calm even on days of bad weather. The area is popular for people who love seafood restaurants, and there are also places to stay for those that want to spend longer than a few hours here.
Agnondas is a fishing port from where fishermen set out to catch fish, lobsters, squid, and shrimp, all of which you can enjoy at the local tavernas. The sunset is also unique, and best enjoyed with a glass of ouzo!
In case you didn't know: The beach is named after the Olympic runner Agnonta, who won a race at the Olympic Games in 568 BC. To have a place still named after you some 2500 years later is quite something even by Greek standards!
Agnontas is also sometimes used as a third port on days where ferries can't dock in Glossa or Skopelos town because of strong winds.
Read:
Restaurants Near Agnondas Beach
In Agnontas, there are several restaurants and cafes to choose from.
Visit Agnontas for some of the best-rated restaurants in Skopelos, including Korali restaurant, a favorite among locals and tourists.
The restaurant offers a beautiful seafront location and outdoor seating with stunning views of the bay. Customers rave about the freshness and quality of the seafood, particularly the octopus and grilled fish dishes. The restaurant also serves delicious Greek meze, salads, and other traditional dishes, and the staff are known for their friendly and attentive service. Overall, Korali restaurant is a great choice for seafood lovers visiting Skopelos.
For a quick bite, try M Coffeehouse, and for a beautiful sunset and a quintessentially Greek ambiance, head to Mouria fish taverna for seafood, meat, and vegetarian options. Don't forget to try the iced ouzo or tsipouro.
Read more about: Food in Greece
Staying in Agnontas
While Agnontas is pretty much away from all the other places of interest and things to do in Skopelos, people who enjoy peace and quiet might want to consider staying here.
The only thing to keep in mind, is you will either need to rent a car in Skopelos (I recommend Discover Cars) or use the public transport bus services to get around. There is a bus stop just outside this small port hamlet.
Also read: Mamma Mia Church in Skopelos
Hotels Near Agnontas Skopelos
---
---
---
---
---
---
---
---
---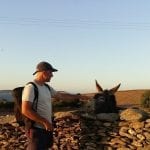 –
Dave Briggs
Dave is a
travel writer
originally from the UK, and now lives in Greece. In addition to this guide to Agnontas bay in Skopelos, he's written hundreds of other travel blog posts about Skopelos and other destinations in Greece. Get inspired to travel more by taking a look at his social media posts: