Is a car rental in Skopelos worth it? While Skopelos has good bus services, a car rental is essential for really exploring the island and seeing its main attractions as well as hidden gems.
Getting around Skopelos
If you're planning a trip to Skopelos in Greece, one of the most important decisions you'll make is how to get around the island. Should you rent a car or ATV, rely on public transportation, or explore on foot or by bike?
When I last visited the island, I had the benefit of taking my own car from Athens. I tend to find that having my own transport makes my itinerary more flexible, and I can spend as long or as little as I want at places without relying on tours or public transport.
In Skopleos, you can rent both cars and ATVs to get around. While on many islands like Milos ATVs offer big advantages for getting off the beaten path, in Skopelos the advantage is more minimal.
So for the purposes of this post, I'll concentrate on car rentals on Skopelos, although you can apply the insights to either form of transport.
You can find car rentals in Skopelos at great prices using: Discover Cars
Here's a look at the pros and cons of renting a car in Skopelos, along with some practical information to help you make an informed decision.
Advantages of Renting a Car in Skopelos
Renting a car on the Greek island of Skopelos can offer several advantages.
Firstly, it gives you the flexibility to explore the island at your own pace and on your own schedule. You won't have to worry about the limitations of bus schedules or the cost of hiring a taxi.
Additionally, having your own car can allow you to reach some of the more remote and secluded beaches or scenic spots that are not easily accessible by public transportation. This can make for a more unique and adventurous experience.
Having a car also means you can take beach gear with you along with anything else you need for the day. This means you can combine things like seeing the Mamma Mia church in Skopelos with a day at the beach, and not have to worry about carrying everything with you.
Find prices for Skopelos rental cars at: Discover Cars
Challenges and Drawbacks to car rental in Skopelos
Despite the advantages of renting a car in Skopelos, there are some potential drawbacks and challenges to consider.
Firstly, driving on the island can be challenging due to the narrow and winding roads, steep hills, and lack of guardrails in some areas.
Additionally, parking can be difficult in some parts of the island, especially during the peak tourist season. This might include at your hotel, so perhaps you want to check that there is parking before you go ahead an hire a car when on holiday.
Finally, renting a car can be expensive, especially if you're on a tight budget. Expect August to have the most expensive car rental prices, and also don't expect fuel to be very cheap either!
Related: Where to stay in Skopelos
Safety Tips for Driving in Skopelos
While renting a car in Skopelos can be a great way to explore the island at your own pace, it's important to drive safely and be aware of any potential hazards. Here are some tips to keep in mind:
Drive defensively: Be aware of other drivers and anticipate their movements. Greek drivers can be quite inconsiderate, so be prepared to yield or pull over to let others pass.
Be cautious on steep hills: Skopelos is a mountainous island, and some of the roads can be steep and winding. Take your time and use low gear when driving uphill or downhill.
Avoid driving at night: Many of the roads on Skopelos are narrow and winding, and visibility can be poor at night as there's no street lighting outside of the main towns. It's best to stick to driving during daylight hours.
Watch out for wildlife: Goats, sheep and dogs can sometimes wander onto the road.
Wear your seatbelt: It's mandatory to wear seatbelts in Greece, and it's a good idea to buckle up even if you're only driving a short distance.
Look at what types of cars there are to rent in Skopelos at: Discover Cars
Alternative Skopelos Transportation Options
While renting a car or ATV can be a convenient way to get around Skopelos, they are not the only options. Here are some other transportation options to consider:
Buses: Skopelos has a reliable bus system that connects many of the island's main towns and beaches. The buses are affordable and easy to use, and they run regularly throughout the day.
Taxis: Taxis are available in Skopelos, but they can be more expensive than other forms of transportation. However, if you're traveling with a group, it may be more cost-effective to take a taxi than to rent a car.
Bicycles and scooters: If you're looking for a more eco-friendly way to get around, consider renting a bicycle or scooter. There are many rental shops on the island, and you can explore Skopelos at a slower pace while enjoying the fresh air and beautiful scenery.
Specific Locations In Skopelos Worth Visiting by Car
While there are many beautiful places to see on Skopelos, some are easier to access by car than others. Here are some locations that are worth visiting if you decide to rent a car:
Panormos Beach: This stunning beach is located on the west coast of Skopelos and is known for its crystal-clear waters and beautiful scenery. There is a small parking lot nearby where you can park your car.
Glossa: Glossa is a charming hillside village located on the northwest side of the island. It's worth the drive to see the traditional architecture and beautiful views of the sea.
Kastani Beach: Kastani Beach was made famous by the movie "Mamma Mia!" and is located on the east coast of the island. While it can be crowded during peak season, it's worth a visit for its soft sand and turquoise waters.
Agios Ioannis Chapel: This is the official name of the Mamma Mia church! It's a beautiful white-washed chapel is perched on top of a hill and offers stunning views of the sea and surrounding countryside. It's a bit of a drive to get there, but the views are worth it. Also spend some time at the beach nearby and have a swim!
Agnontas Beach: While the beach isn't anything to write home about, the seafood here is amazing. Even Skopelitans (if that's a word!) travel from all over the island to eat here.
Practical Information For Vehicle Hire In Skopelos
If you do decide to rent a car in Skopelos, here are some practical tips to keep in mind:
Rental cars are available at Skopelos Port, as well as in some of the island's larger towns.
Prices can vary depending on the type of car and the rental period. Expect to pay around €30-€50 per day for a small car during the peak season.
You can pre-book your rental car online at Discover Cars
You'll need a valid driver's license from your home country or an international driving permit.
Remember to drive on the right-hand side of the road in Greece.
Some of the more remote beaches and villages may require a 4-wheel drive vehicle.
Related: Everything you need to know about renting a car in Greece
Conclusion
So, do you need to rent a car in Skopelos? The answer depends on your personal preferences and travel style.
If you value flexibility, independence, and adventure, renting a car may be the right choice for you. However, if you prefer a more relaxed and budget-friendly approach, public transportation or alternative modes of transportation may be a better option.
Whatever you decide, I hope this post has provided you with the information you need to help make you vacation in Skopelos go smoother!
You might also like to read:
---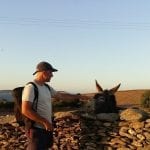 –
Dave Briggs
Dave is a
travel writer
from the UK, living in Greece since 2015. In addition to this information on if you need to rent a car in Skopelos, he's written hundreds of other travel blog posts about destinations all over Greece. Get inspired for your next holiday to Greece by taking a look at his social media posts: