The church used as the wedding film location in the movie Mamma Mia is Agios Ioannis Kastri in Skopelos island, Greece.
Mamma Mia Wedding Church
Ever since the movie Mamma Mia came out in 2008, the church of Agios Ioannis Kastri in Skopelos, Greece has become world-famous.
Its picturesque location makes this small church on a rocky outcrop one of the most photographed places in Skopelos.
The spectacular panoramic views from the top of crystal clear water backed by bright green vegetation and dramatic cliffs make the climb up the narrow path to the church more than worthwhile.
In short, your trip to Skopelos island will not be complete without visiting the Mamma Mia Church – or Agios Ioannis Kastri to call it by its correct name.
In this guide, I'll write about the church from the film Mamma Mia in Skopelos Greece and what there is to see and do there. I've also included some photos of interesting things to look out for that you might miss otherwise, and different ways you can get to the Saint John chapel in Skopelos.
First though…
Why is the church of Agios Ioannis in Skopelos famous?
Sophie's wedding scene from the movie Mamma Mia was filmed at the church of Agios Ioannis Kastri on the Greek island of Skopelos. The church is known for its beautiful setting and was selected as a filming location due to its stunning scenery.
Note: Scenes from inside the church were not filmed at Agios Ioannis Kastri. Instead, these were filmed in a studio set designed to look like a Greek Orthodox church.
Another famous scene from the movie was shot on the rocks beneath the church. This was 'The Winner Takes It All' segment, with Meryl Streep and Pierce Brosnan.
In all honesty, even if the Hollywood movie Mamma Mia hadn't been filmed in Skopelos, it would still be a pretty iconic chapel. This lovely church stands atop an impressive rock which is a supremely photogenic site, making it a standout landmark in Greece. But of course, the Mamma Mia factor does make it extra special!
Visiting the Mamma Mia Church of Agios Ioannis
Day tours of the church and other filming sites start from Skopelos Town. You can see them here: Mamma Mia Skopelos Tour
The majority of people visiting Agios Ioannis chapel do so using their own transport (car rental or ATV).
The church is located in northern Skopelos on the east coast. You can see where it is on Google maps here.
Within walking distance of Agios Ioannis church (which means Saint John), you will find a taverna, a small cosmetics kiosk selling mainly natural products, and also a beach. There is also a small parking area near the taverna.
Agios Ioannis beach is a great place to take a relaxing break and have a cooling swim after climbing up and down the steps to the Mamma Mia chapel! The beach has umbrellas for hire and drinks are provided by the taverna close by.
Climbing the steps to Mamma Mia Church
Allegedly, there are 110 stone steps leading from the sea level up to the top of the rock where the church is perched. As you can see from the photo, the only way is up!
I counted different numbers up and down. When you visit, let me know how many you think there are!
Nowadays, there is a metal handrail which makes the stone path to the church safer. Still, on a particularly windy day you might find it an adventurous climb!
Once you are at the top, you'll understand why local legend thinks that this might have been a castle in the past. Personally, I think it would have been too small, although it could have been a fortified outpost where people kept watch for enemy invasions. The views are certainly good enough!
Take your time at the Skopelos chapel
I visited the chapel on Skopelos in September – a month when there aren't too many other visitors. As a result, Vanessa and myself had the church almost to ourselves.
I suspect that in July and August it can get pretty crowded! Even so, you should take your time when at the top, as there are a few interesting curiosities to see. You might also appreciate the rest after climbing up the stone steps!
There is the church itself of course, and inside you will see some beautiful icons and old ecclesiastical items. You may also see some candles lit inside – Vanessa often lights a candle in churches for family members when we visit them.
Outside the chapel, you will notice a few olive trees.
Look carefully, and you will see that visitors to the church have left bracelets, ribbons and other trinkets on the trees. I've included some photos so you can see what to expect.
On the guardrail at the top of the rock, you will also see some padlocks left behind with people's names on.
And there's the views – don't forget to enjoy the sweeping panoramas and perfect your photography skills while at the Church of Saint John of the Castle in Skopelos! You'll also see the small beach from here where you can relax for a bit after the walk back down.
How to get to the Mamma Mia church Skopelos
In order to see this church, you'll have to first travel to the Greek island of Skopelos which is located in the Sporades Islands of Greece, and does not have its own airport.
The easiest way to travel to Skopelos, is by first flying into Skiathos airport and then taking a ferry over to Skopelos. Skopelos has two main ferry ports, and the best one to take a ferry to would be Glossa Port.
Another way is to fly into Athens International Airport and then take a domestic flight to Skiathos followed by the boat transfer.
There are also many other routes you can take. Check out my full guide on How to get to Skopelos
Driving to Agios Ioannis
Once you are on the Greek island of Skopelos, the easiest way to get to the church is by car or motorcycle. You can rent a vehicle in the Skopelos Town (Chora), Glossa or Loutraki.
More here: Do you need a car in Skopelos?
The road is now sealed all the way, and while tight in places is easy to drive. If you're staying in Skopelos Town, you'll first need to drive out to Glossa, and turn right at the Shell station. You can look at the route here on Google Maps.
There is parking near to the church. If it's busy, expect cars to be parked up the road approaching Agios Ioannis Kastri.
Read here about renting a car in Greece.
Skopelos Mamma Mia Day Trip
Another way to visit the church is by taking a Skopelos Mamma Mia Day Trip! This tour will take you to all of the filming locations from the movie, including the church.
Find out more about the Mamma Mia Skopelos Island Tour here: Mamma Mia Day Tour
Other ways to get to Agios Ioannis Kastri
If you don't want to drive or take a tour to the Mamma Mia church, there are some other options, although you should know that there are currently no bus services running directly there.
One way is to take a taxi from Glossa. A reader who took a ferry from Skiathos to Glossa in May 2023 arranged a price with a local taxi driver to take them to the church. The driver took them there with a few photo stops on the way, and then came back to collect them after a couple of hours for the price of 50 Euros.
Arrange with your taxi driver how long they will wait for you. Also bargain over the price! If you are not staying in Glossa, you can take a bus from Skopelos Town to Glossa first.
Another way to get to the Saint John chapel in Skopelos is to hike from Glossa. The walk is quite a long one though of two hours one way, and I'd personally not be doing this in the hottest month of August!
Also read: Agnontas Beach in Skopelos
FAQ About Visiting The Lovely Church From Mamma Mia
This guide to seeing the famous church from the movie Mamma Mia should have all the information you need when planning a trip to Skopelos island in Greece. Commonly asked questions you might still have include:
Where is the church in Mamma Mia located?
The Mamma Mia church is located towards the north and on the east coast of the Greek island of Skopelos. The real name of the church is Agios Ioannis Kastri.
Can you visit the church from Mamma Mia?
Yes, the church from Mamma Mia on Skopelos island is open to the public. If you have hired a vehicle in Skopelos, you can reach it by road, alternatively you can also take a tour which will include other Mamma Mia film locations.
How do you get to Mamma Mia church from Skopelos town?
To reach the small church of Agios Ioannis from Skopelos Town, you need to take the road up towards Glossa village and then take a turn near the Shell fuel station for the smaller road to Agios Ioannis church. Tours also leave daily from the main town in Skopelos that include stops at this and other film locations from the movie Mamma Mia.
Can you get married at the Mamma Mia church?
Several companies offer weddings and vow renewals at the Agios Ioannis chapel.
Is there an entry fee for the Mamma Mia church in Skopelos?
No, there is no entry fee to visit the Mamma Mia church in Skopelos. However, donations are appreciated especially if you light a candle in the small chapel.
What were the film locations in Skopelos for Mamma Mia?
Other locations in addition to Agios Ioannis church where the Mamma Mia film was shot in Skopelos include Kastani Beach and Glysteri beach.
Mamma Mia Chapel
If you're a fan of the movie Mamma Mia, then you'll definitely want to check out the iconic Agios Ioannis church on the Greek island of Skopelos. This lovely little chapel was used as the filming locations for Sophie's wedding and is open to visitors. Precariously perched on a clifftop, the church offers an amazing view out over the Aegean Sea.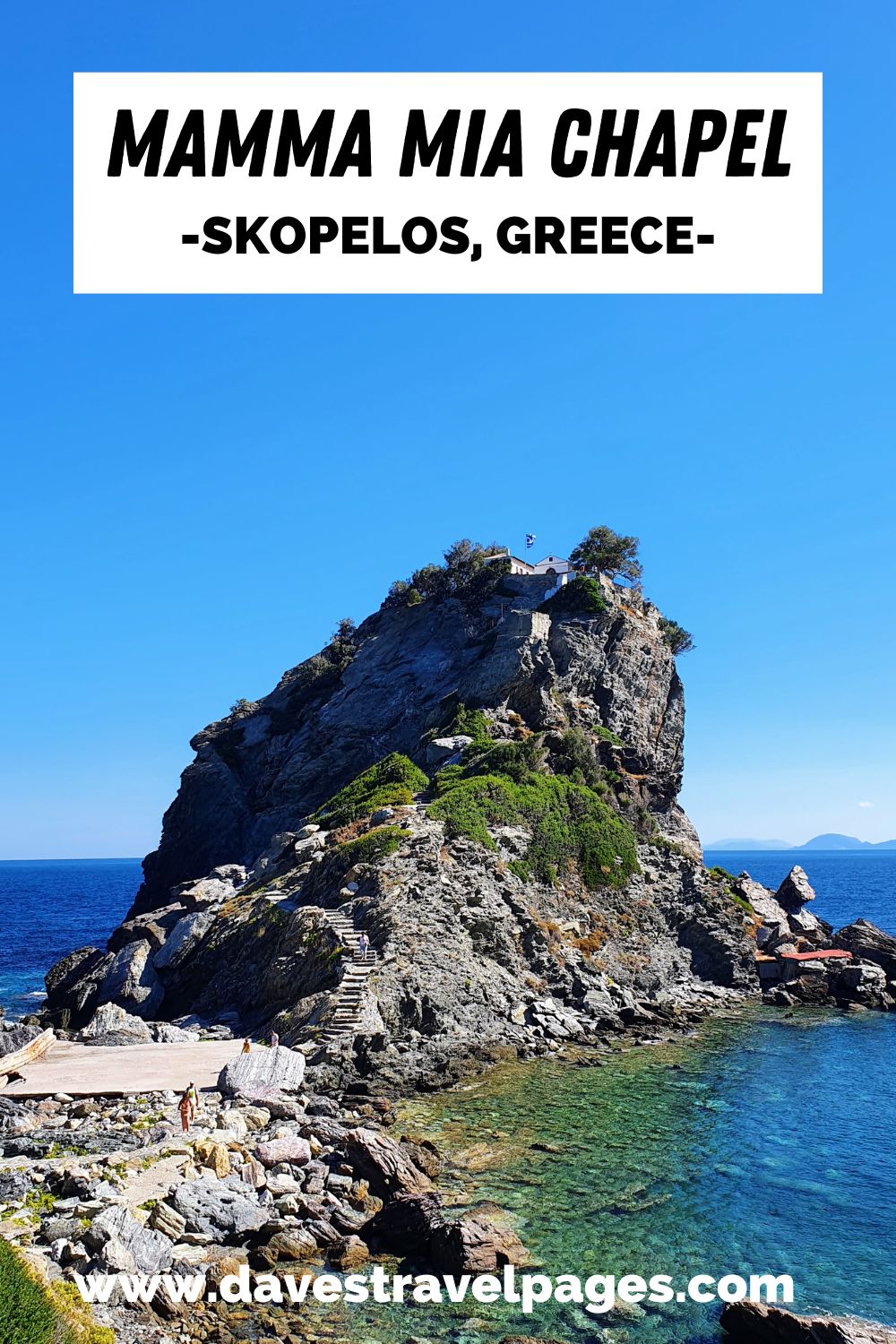 Have you visited any of the Mamma Mia film locations in Greece? Thinking of visiting Skopelos and have any questions? Let me know in the comments!
---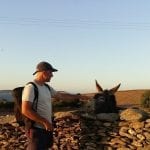 –
Dave Briggs
Dave is a
travel writer
and traveller from the UK who has been living in Athens, Greece since 2015. He created this Skopelos travel guide on how to visit the iconic Mamma Mia Church, also known as Agios Ioannis Kastri in Skopelos, as part of a series of guides to the Northern Sporades islands of Greece. Follow Dave on social media for insights into the Greek islands and other destinations in Greece: