Visiting Athens in March can be a rewarding experience. The sites and museums are quiet, the city is buzzing with events, and the weather is generally pleasant. Here are some of the things you can do in March in Athens.
Visiting Athens in March
March is a great time to visit Athens, the Greek capital. It's the first month of spring, with few tourists and relatively mild weather.
Visitors will enjoy sightseeing and exploring the historical sites and the lively neighborhoods. The ancient sites and archaeological museums aren't as busy when compared to summer, and the climate can be much more enjoyable for city sightseeing.
Here is what to expect in terms of weather in Athens in March.
March Athens weather
March is considered to be the shoulder season in Greece. The weather can be best described as variable: it is generally cool, with many sunny days, though rain is not uncommon.
The average temperature in Athens in March is around 10-12C (50-54F). Daytime and nighttime temperatures can vary a lot – the average high temperature is about 16C (61F), while the average low temperature is closer to 7C (45F).
The average sea temperature in March on the Athens Riviera is around 15C (59F). While most people will find it too cold to swim, it's a great opportunity to enjoy the Athens beaches without too many people.
March is a relatively rainy month by Athens standards. Average rainfall data suggests that it one in three days throughout March are rainy. Still, there are plenty of warm, sunny days when you can enjoy exploring what the Greek capital has to offer.
Related: Best time to visit Greece
Athens In March Things To Do
So, you want to go in March, but now wonder what is Athens famous for?
Let's take a look at some of the things you can do in this wonderful city in March, to appreciate its long history, sights, and culture.
Visit the archaeological sites and museums
One of the reasons to visit Athens in Greece is to explore the archaeological sites and museums – and Athens has a lot of them!
In my opinion, March is one of the best months to explore ancient Athens and visit the various museums.
Although the archaeological sites have shorter opening hours, there will typically be no queues, and you can enjoy the ancient monuments without the summer crowds. Similarly, the museums will be quieter during this season.
People who go to Athens in March will be able to take advantage of the reduced entrance fees to the ancient sites and public museums. In addition, entrance is free of charge on the first Sunday in March.
Here's some of the famous sites in Athens you'll enjoy best in March:
The Acropolis of Athens and the Parthenon
The ancient citadel of the Acropolis is the most visited site in Greece, but most people visit in the summer. Climb up the hill, and explore the magnificent temples of Parthenon, Erechtheion and Athena Nike.
Opening hours: 8.00-17.00, adult ticket: 10 euro. Closed on 25 March.
Read: Interesting facts about the Acropolis and Parthenon
The Ancient Agora of Athens
The Ancient Agora of Athens was the administrative, financial, commercial and social heart of the city. This was the main marketplace in Athens, and also where people met to discuss.
Today, visitors can stroll around the Agora, and see numerous ancient ruins, such as the temple of Hephaestus. Do not miss the interesting museum, hosted in the refurbished Stoa of Attalos, one of the first shopping malls of antiquity.
Opening hours: 8.00-17.00, adult ticket: 5 euro. Closed on 25 March.
Read: The Ancient Agora in Athens
The temple of Olympian Zeus
The largest temple ever built by any Greek city-state, the temple of Zeus will impress you with its sheer size. Walk around, and try to find the best angles to take photos including the Acropolis.
Opening hours: 8.00-17.00, adult ticket: 4 euro. Closed on 25 March.
The Acropolis Museum
The Acropolis Museum, which opened in 2009, houses a collection of artifacts found on the Acropolis. Visitors can see sculptures, vases, pottery items and jewelry from excavations which have been going on for many years.
If you visit in March, you can explore this iconic museum at an easy pace, without much interference from crowds of tourists.
Opening hours: 9.00-17.00, adult ticket: 5 euro. The museum offers free admission on 25 March.
Read: The Acropolis Museum
The National Archaeological Museum
A massive museum displaying an enormous collection of Greek art, the National Archaeological Museum is a must for archaeology fans and anyone visiting Athens. Allow at least 3-4 hours if you want to visit the whole museum.
Opening hours: Tue: 13.00–20:00, Wed-Mon: 8.30–15:30, adult ticket: 6 euro. Closed on 25 March.
Read: The National Archaeological Museum in Athens
The Benaki Museum
The privately run Benaki Museum offers an excellent introduction to Greece's long history, with hundreds of artifacts from all eras of Greece. If you have limited time in Athens, this is possibly the best museum to visit.
Opening hours: Mon, Wed, Fri, Sat: 10.00-18.00, Thu: 10.00-0.00, Sun: 10.00-16.00, adult ticket: 12 euro. The museum offers free entrance on Thursdays, 18.00-0.00. Closed on Tuesdays and 25 March.
Museum of Cycladic Art
A 5 minute walk from the Benaki, you will find the Museum of Cycladic Art, hosting a unique collection of the iconic Cycladic idols. Don't miss the excellent display of daily life in antiquity, and any temporary exhibitions.
Opening hours: Mon, Wed, Fri, Sat: 10.00-17.00, Thu: 10.00-20.00, Sun: 10.00-17.00, adult ticket: 8 euro. Closed on Tuesdays and 25 March.
Changing of the Guards at Syntagma Square
Right in the city centre, you will find Syntagma square. Here is where you will see one of the quaintest Athens experiences, the Changing of the Guards.
The Guards, or Evzones in Greek, are specially selected men doing their military service in Greece. They are guarding the Tomb of the Unknown Soldier, right in front of the Parliament – a tomb dedicated to all the people who have fought and died for Greece.
The Changing ceremony happens every hour, on the hour, and attracts tourists and locals. At 11 am on Sundays, there is a ceremonial, celebratory procession.
Celebrate Clean Monday
A special day not widely known outside Greece is Clean Monday. This is the first day of the Greek Lent, which is celebrated 48 days before Easter Sunday, and usually falls in March or February.
On this day, Greeks celebrate by flying kites and preparing special vegan and seafood dishes. These are also consumed throughout Lent, as a part of the fasting tradition.
In 2022, Clean Monday is on 7 March. Usually, traditional celebrations happen on Filopappou Hill, walking distance from the Acropolis. You can pass by and see if there's anything going on.
Here is some more information on Clean Monday.
Observe the ceremonies for the Greek Independence Day
You may have noticed that the monuments and most museums are closed on 25 March. This date is the Greek Independence Day, when Greeks celebrate the revolution against the Ottoman Empire in 1821.
This special day is a national holiday all around Greece. It is celebrated with big military and student parades through Syntagma square and the city centre, and many locals attend.
Fun fact: Fried cod fish with garlic sauce is a dish traditionally served on the 25th March, and you will find it in many tavernas.
Explore the street art in Athens
Athens is famous for its street art. Whether an expression of creativity or a political statement, street art is really everywhere in the city.
March is a great month to wander around the different neighbourhoods in Athens, like Psiri, Kerameikos and Metaxourgio, in search of the latest colourful murals and artworks. Pick one of the warmer days with sunny weather, and start exploring.
Related: Is Athens Safe?
Enjoy Greek food
No visit to the Greek capital is complete without enjoying the delicious Greek food.
While you can always find traditional staples such as souvlaki and mousaka, many restaurants prepare special Lent dishes which will appeal to vegetarians and vegans. Try the yellow split peas, or fava, and the black-eyed beans salad – fasolia mavromatika.
Experience Athens with a walking tour
March is an ideal month to take a walking tour of Athens. As there are fewer tourist crowds, you can experience the city with a local guide and have intimate talks about Athens.
Besides the guided tours of the ancient monuments and museums, you will also find guided tours that involve walking through the different neighbourhoods and finding out more about the city's long history.
What to pack for Athens in March
Given the Athens weather in March can be so variable, it's best to pack a few different clothes that you can wear in layers. While a t-shirt and light jacket might be enough on some days, most people would need a warmer coat at night.
As a rule, the later in March you visit, the warmer the weather is likely to be. Still, you should bring a combination of light and warm clothes, sunglasses, and an umbrella. Don't forget the sunblock either – the March weather in Athens can have some very sunny days, and if you haven't seen the sun for a while, you might catch it quite easily!
Frequently asked questions about March in Athens
People visiting Athens in March often ask questions like the following:
Is March a good time to visit Athens?
March is a fantastic time to visit Athens. There are fewer crowds, and entrance fees to the sites and public museums are reduced. The weather conditions are generally pleasant, without the extreme heat of the summer months, June, July and August. The average temperature for March in Athens is 17.0°C during the daytime.
Is Athens warm in March?
The weather in Athens in March is typically mild, with temperatures ranging from 5 to 16C (41-61F). However, it's important to note that March can be a very unpredictable month, with some rainy days and low temperatures possible. It's best to pack a variety of clothes to be prepared for any type of weather.
What is the weather in Greece in March?
The weather in Greece in March can vary a lot. Generally speaking, the climate of Athens is warmer than areas in north Greece in during early spring. Islands on the south, like Crete or Rhodes, are a few degrees warmer.
Can you swim in Greece in March?
Most people wouldn't enjoy swimming in Greece in March, as the water is too cold. Yet, it can be a great time to go to the beaches and appreciate the quiet landscapes on the Greek islands.
Is March the wettest month in Athens?
The wettest months in Athens and Greece are December, January and February. While March usually has some rainy days, you will typically experience lots of sunshine and some warm days.
---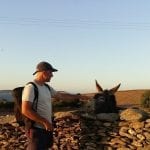 –
Dave Briggs
Dave is a
travel writer
living in and writing about Greece. As well as writing this travel blog post about the Athens March climate and what to expect when visiting the city in March, he's written many more travel blog posts about destinations all over Greece. Follow Dave on social media for travel inspiration from Greece and beyond: