Renting an ATV is one of the best ways to get around the beautiful island of Milos in Greece. Here's everything you need to know.
Discover Milos on an ATV
If you're looking for ATV rentals in Milos, Greece, then look no further. We have all the information that you need at your disposal to make this vacation memorable and enjoyable.
This guide will tell you everything about ATV rental in Milos: what services are available and at what prices; where is it possible to rent an ATV or a quad bike; how will be the process of renting one of these vehicles. Enjoy!
Best ATV Rental Companies in Milos
Hiring a Quad Bike to tour the beautiful Greek island of Milos is ideal since you can use your own transportation to get to more off the beaten path places. A quad bike, commonly known as an ATV (All Terrain Vehicle), is one of the greatest methods to see the island.
You can find plenty of rental companies in Adamas, the main port town of Milos, and in Pollonia which is another popular area to stay. You'll also find some in and around Plaka in Milos.
I've always found it helpful to check out reviews on Google and Tripadvisor before making a booking for cars, motorbikes, or other vehicles rentals.
During the quieter months, you probably don't need to reserve in advance. If you are planning on being on Milos island in July and August for your holidays, you might find it better to reserve one.
Here's some suggested companies that rent out ATVs in Milos:
---
Rent a Moto – Moto Christos
Triovasalos 84800, Milos
Mobile1: +30 6974241913 (WhatsApp)
Mobile2: +30 6942451793
Tel: +30 22870-22484
Website: www.motochristos.com
---
Apollonas Sunshine
Adamantas,Milos ΤΚ 84800
+302287023900 +306981630133
apollonassunshine@yahoo.gr
website: https://apollonassunshine.gr/
---
Auto Μoto Αdamas
Rent a Car Milos, Επαρχιακή οδός Αδάμαντα – Πλάκας,
Adamas 848 01
Website: https://automotoadamas.com/
---
Niko's Cars and Niko's Moto ATV
Adama-Zephyria,
Milos 848 01
Tel.: +30 2287024024
Website: https://milosrentacar.gr/
---
Milos Moto Rentals
Blue Hellenic Auto & Moto Rental in Adamas, Milos
Tel: +30 22870-22225
Mobile1: +30 6981115710 (English; WhatsApp)
Mobile2: +30 6977386347 (Greek)
Website: www.milosmotorental.com
---
Milos Greece Travel Information at a glance
Go island hopping: Use Ferryhopper to book your Greek ferry tickets.
Get around: Book a rental car at Rentalcars.com
Tours: Experience incredible day trips in Milos through Get Your Guide
Onward travel: These nearby islands can be visited next.
Milos ATV Rental Costs
If you're visiting Milos in high season, demand for vehicle rentals is at its highest, and so might be the cost! Don't be surprised if you approach a rental company who has 'prices from' and then discover the price is double if you happen to want a quad bike in August!
In general, prices for ATV rentals are around €30-40 for one day (24 hours) although you might pay as much as €50 during high season.
5 things you need when renting an ATV
Never rented an ATV before? Here's 5 things visitors to Milos should keep in mind to rent an ATV easily:
You will need a valid driver's license if you want to rent an ATV / Quad bike in Milos.
If you've never driven one before, take it easy; they're easy to roll over or lose control of if you don't pay enough attention.
Remember to apply sunscreen when you hire an ATV or motorbike, and don't forget about your legs – it's very easy to catch the sun here! Bring a hat, sunglasses, and a scarf with you as well.
Quad bikes come have different horsepower – You'll want a powerful one if you go on dirt roads with steep inclines!
Wear a helmet – some people don't, but it is law, and it will keep you protected!
Top 3 favorite spots to explore with rented ATVs in Milos
Some of my top choices of places to visit in Milos on an ATV include:
Thiorichia – for the fascinating setting with the old sulphur mines
Sarakiniko beach – A strong contender for being one of the most stunning beaches in Greece.
Firopotamos Beach Milos – A beautiful setting!
Planning a trip to Milos?
Looking for more information to make your vacation stress free and enjoyable? Check ou these guides: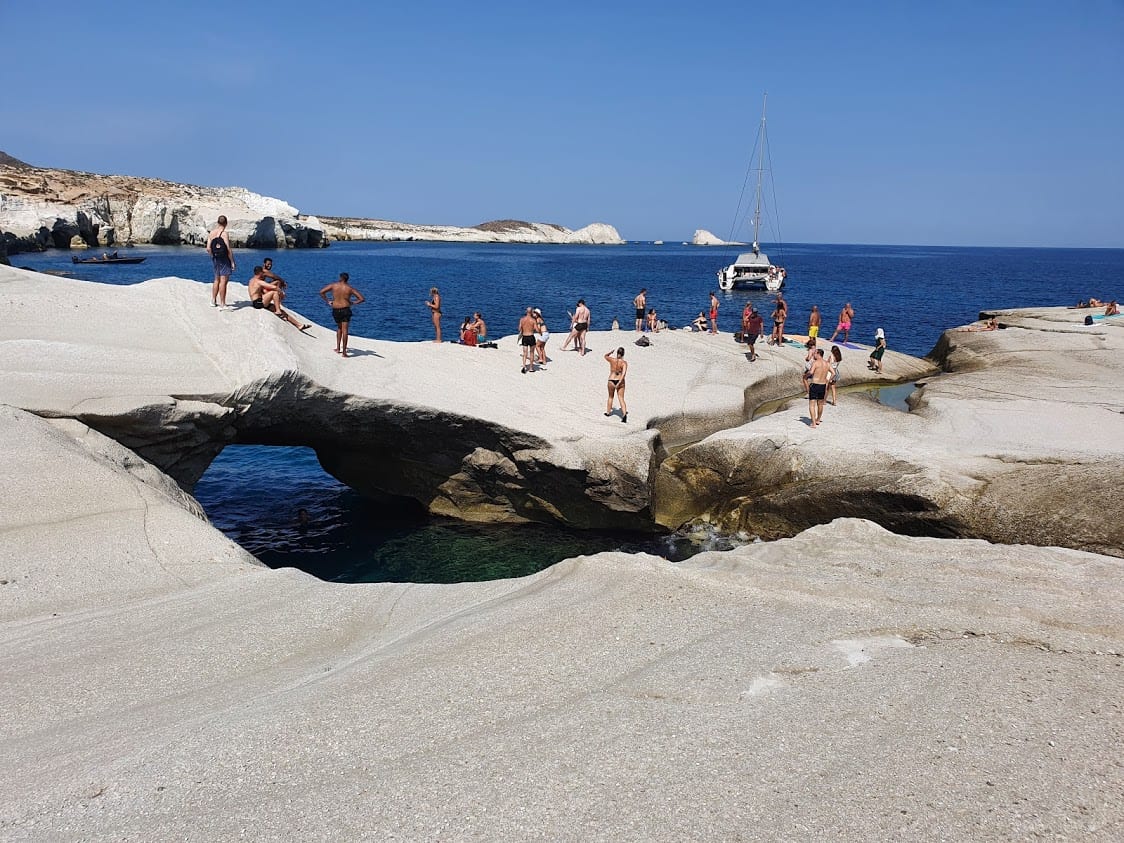 Quad Bike Rentals on the beautiful island of Milos FAQ
Readers looking to explore Milos island and are looking for a trustworthy company to rent a buggy or ATV often ask questions similar to:
Can you rent ATV on Milos?
Yes, you can find plenty of ATV, motorcycles, scooters and car rental companies in Milos island, Greece. Most are located in Adamas, but there are also places in Pollonia and Plaka.
Do you need a license to rent an ATV in Milos?
You will need a valid driver's license if you want to rent an ATV, scooter or car in Milos or anywhere else in Greece.
How much is it to rent an ATV in Milos?
Prices for ATV rentals are around €30-40 for one day (24 hours) although you might pay as much as €50 during high season.
---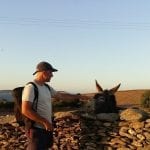 –
Dave Briggs
Dave is a
travel writer
who has been living in and writing about Greece since 2015. As well as writing this travel blog post about how to rent an ATV in Milos, Greece, he's written many more travel blog posts about destinations all over Greece. Follow Dave on social media for travel inspiration from Greece and beyond: