There's so many reasons to visit Athens in Greece – The Acropolis, history, culture make it one of the most exciting European capitals!
The Amazing City of Athens in Greece
Are you planning a trip to Greece, and are wondering whether to include Athens in your itinerary? Have you ever wondered what Athens is famous for? Perhaps I can help!
I've lived in the city for nearly 7 years now, and gotten to know its ancient ruins, interesting museums, contemporary vibe and even where the best rooftop bars in Athens are! (Someone has to research these things to do in Athens – a tough job I know!).
If you don't know much about Athens and its rich history, take a few minutes to read through this list of reasons to visit Athens that I hope will persuade you.
1. The Acropolis and Parthenon + even more monuments
Travelers from all over the world flock to Athens in Greece for a number of reasons. One is to see the Acropolis, an ancient site which is considered one of the most iconic tourist attractions in the entire world.
The Acropolis, located on a rocky outcrop in the city center of Athens, is one of the most famous ancient sites in the world. The word "acropolis" literally means "high city", and it was once home to some of the most important buildings in ancient Greece, including the Parthenon temple.
Today, visitors can explore the Acropolis hill and its many temples and monuments, including the Parthenon, the Temple of Athena Nike, and the Propylaia. It really is one of the most important landmarks in Europe.
While the Acropolis is a UNESCO World Heritage Site, it isn't the only ancient site in Athens. Other notable archaeological ruins you should see when visiting Athens include the Temple of Hephaestus in the Ancient Agora and the ancient Temple of the Olympian Zeus.
More here: Fact about the Acropolis and Parthenon
2. Greek Food – There's a great food scene in Athens
Greek cuisine is perhaps one of the most underrated in the world. Many of us know Greek food from our local take outs, which wasn't necessarily the best representation.
In Athens however – and in Greece generally – you get a much better sense of what Greek cuisine is all about. The freshest seafood from the Mediterranean, locally sourced meat and vegetables, plus tasty wines make for a hearty meal at any restaurant you visit.
Reflecting this is the fact that Greece was ranked as the world's leading restaurant destination in 2018!
Plenty of great restaurants in Athens ensure you won't be compromising on your dining experience by visiting here. From Michelin-starred restaurants to street food joints, you'll find it all in Athens.
Dishes to try when you are in Athens include:
– Saganaki (fried cheese) – it's popular and delicious!
– Greek salad (tomato, cucumber, lettuce, feta cheese, olives etc.)
– Moussaka (eggplant and minced meat dish)
– Tzatziki (a yogurt dip with cucumber and garlic) – It's a winner on all fronts.
– Souvlaki (Greek kebab, normally pork or chicken plus salad and lashings of Tzatziki!)And much more!
– Greek wine – You need something to go with all that great food!
There's also great desserts including Baklava – a rich pastry with walnuts and honey.
3. Cool Street Art
In the last decade or so, especially since the financial crisis, Athens has developed a flourishing street art scene.
Many graffiti artists from across Europe and elsewhere have come to Athens in the last few years, and they've displayed their unique style on buildings and walls around the city.
One of the fun things to do in Athens if you have time, is to explore areas like Psiri to track down the latest and greatest works, as well as some of the classic street art pieces
Yes, you will notice a lot of tagging (which I personally detest with a passion!), but stumbling across a genuine gem should be an enjoyable part of your trip to Athens, and a great reason to visit.
Related: Is Athens Safe?
4. Museums Galore
Many visitors know about the Acropolis Museum and the National Archaeological Museum in Athens, but there are many other great museums in the city to explore. I've made it something of a personal missions to visit all the museums in Athens, and have so far been to around 50!
The War Museum of Athens for example has an extensive collection of tanks and military vehicles. Other popular museums include the Byzantine and Christian Museum, the Numismatic Museum, and the Benaki Museum.
For those who are interested in art history, there's also the Museum of Cycladic Art, showcasing the history and culture of islands in the Aegean Sea.
On top of this, visitors will find plenty of great galleries to visit throughout Athens. They may not be as big or popular as some world-renowned museums in other cities but they're still interesting to go through if you have time.
5. Easy to do day trips from Athens to places in Greece
One of the best reasons to visit Athens and spend longer in the city, is to be able to visit other parts of Greece.
Athens make a good base from which to see parts of the Peloponnese as well as central Greece. You can also take a day trip to some nearby islands like Hydra or Spetses for example.
The most popular day tour you can take from Athens is to Delphi, which according to the Ancient Greeks was the center of the world. Other day trips you can make include trips to Mycenae, Epidaurus, Nafplio, and Meteora.
While public transportation in Greece is generally good, these day trips out of Athens are easier done by organized tours. You can find out more in this guide to the best day trips from Athens.
6. Relaxing into the Greek coffee culture
Few other European capitals have a coffee culture as strong as Athens in Greece.
You'll find a wide variety of cafés and bars throughout the city serving great coffee. There's so many of them that at times it seems every other places is a cafe!
The most popular type of coffee is an iced frappé, which you can get from almost any café or bar in Athens. Freddo Espresso is another popular choice.
Taking time out to watch the world go by will definitely help you get into the Greek culture!
7. To party all night in buzzing neighbourhoods like Psyri and Gazi
Few cities in the world are as party-orientated as Athens is at night, meaning it's one of the best reasons to visit Athens!
Athens has a vibrant nightlife with plenty of great clubs and bars spread throughout different neighborhoods
Psyri for example has many great bars that will give you a taste (or should that be shot!) of Greece's nightlife. Gazi is another party hot spot, especially if you like to dance all night.
Keep in mind that Greeks start to party late, so don't peak before the Athens nightlife gets going. It's not unusual to hit the first bar at midnight and return home at 6 in the morning!
8. Load up on souvenirs to take home
Athens is a great city to buy souvenirs from. There's a wide range of products available, including Greek wines and olive oil which along with being delicious are also considered high-quality items you can find in Athens.
Other Greek souvenirs you might consider buying include olive oil soaps, handmade Greek pottery, a statue of the Goddess Athena, and perhaps the blue matohantro symbol to keep away the Evil Eye!
Some of the most popular souvenir shopping areas include Monastiraki flea market, Plaka, Psyri, and Gazi.
9. Enjoy a sunset from the rooftop bars
Few European destinations have better rooftop terrace bars than Athens. After all, how can they compete with a sunset over the Acropolis? Surely that's reason enough to visit Athens?
The most well known roof bars in Athens with stunning views are in Monastiraki Square. You should note that during the summer, they are very popular, so it may be wise to make reservations a few days before hand, especially in the 360 Cocktail bar.
10. Anafiotika – Exploring a village in a city
One of the most relaxing reasons to visit Athens is to explore one of the cities beautiful neighborhoods. Anafiotika for example, is a tiny village in the heart of Athens which has many beautiful stone-made houses and narrow cobbled streets.
If you've just come back from the Cyclades islands you might find that it's a bit similar to the traditional architecture there. You also get amazing views of the Acropolis from the different narrow alleyways.
Anafiotiaka is within walking distance of Plaka, one of the most popular neighbourhoods in Athens, and many people choose to stay at a hotel in Plaka as it is close to the ancient city center.
FAQ About Athens – The Greek Capital
Reader planning a trip to Athens, Greece often have similar questions to ask, such as:
What is the most famous building in Athens?
The Parthenon, dedicated to the Greek Goddess Athena, is by far the most famous temple in Athens and Greece. The Parthenon can be found on the Acropolis Hill, which is an archeological site open to visitors.
How did Athens get its name?
According to Greek Mythology, a competition was held between Poseidon and Athens to determine who should be the patron of the city. Athena won, and this is how Athens got its name.
Where is Syntagma Square in Athens?
Syntagma Square is in the center of Athens, directly in front of the Greek Parliament (where you can see the Changing of the Guards). There is also a metro station at Syntagma, which is the main metro station in Athens.
What is the best thing about Athens?
The best thing about Athens is that it offers something for everyone. If you're interested in history, there are plenty of ancient ruins to explore. If you want to enjoy a lively nightlife, there are neighborhoods with plenty of bars and clubs. In addition, the food scene is excellent in Athens, with many traditional Greek dishes on offer. So whatever your interests, Athens is sure to please!
What is Athens famous for?
Athens is known as the birthplace of Western civilization and for the creation of the world's first democracy.
Related: 20 Reasons To Travel Around The World
Experience Greek Culture in Athens
Whether you plan on visiting Athens just to see the most famous site of the Acropolis before heading to the islands, or want to stay in the city centre for a few days, I hope you love Athens as much as I do and have a great time in the city!
Do you have any questions about the modern city of Athens or the country? Have you already been to Athens and would like to leave travel tips for others?
Write a comment below, and feel free to share this guide on why people should visit Athens Greece far and wide on social media!
Read next: Places to visit near Athens
---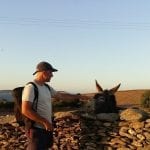 –
Dave Briggs
Dave is a
travel writer
based in Athens, Greece. As well as creating this travel guide on reasons to go to Athens, he's also written hundreds more travel guides to getting destinations all over Greece. Let's stay connected – Follow Dave on social media for travel inspiration from Greece and beyond: