When is the best time to go to Naxos? June and September are considered the best months. This guide should help you decide when to visit Naxos.
Naxos Island in Greece
The Greek island of Naxos is one of the largest islands in Greece, and the largest island in the Cyclades group. With a population of 20,000 people, it has an area size of 430 km2 (170 sq mi).
It's a popular holiday destination with Greek families, and while it might not have the same high profile as other Cyclades islands such as Santorini and Mykonos, it has just as much – if not more – to offer.
Long stretches of golden sand beaches, archaeological sites, quaint mountain villages, and amazing food – Naxos has it all. If you're looking for a Greek island getaway, Naxos should certainly be on your radar.
When to go to Naxos Greece
The best time to travel to Naxos depends on what you want to do when you're there. Generally speaking though, the best time to visit Naxos is between April-October. On average, the warmest months are June, July, August and September.
Of these, July and August are the very hottest, and August is considered the peak travel season or high season.
Personally, I think the months of June and September are the best for planning when to go to Naxos. Of these. September is my absolute favourite.
Also read: Best time to visit Greece
When is the best time to visit Naxos?
So, what does all that mean if you're planning a trip to Greece and want to visit Naxos? Let's take a look at which months are best for different activities and types of traveler.
Best time of year for hiking in Naxos
If you enjoy adventure and being active, late spring and early fall are excellent months to be out and about because they offer lovely days with just enough sunlight.
In addition, the heat isn't overwhelmingly hot either. The spring and autumn are perfect for hiking and cycling in Naxos.
Best time of year for the beach in Naxos
Make sure to visit between May and September if you adore the beach and cannot live without sunbathing and swimming.
During May and June the water temperatures may be on the cold side for some for extended swims, but July, August and September sea temperatures are so warm you'll never want to leave the water!
Check out my guide to the best beaches in Naxos.
Best time of year for watersports in Naxos
The infamous Meltemi high winds that blow through the Cycladic islands offer ideal windsurfing and kitesurfing conditions throughout the summer, with the most consistency from June to August.
The best beach to go windsurfing and kitesurfing in Naxos is Mikri Vigla beach, which is also considered to be the best spot in all of Greece. Agios Georgios, Laguna, Plaka, and Agios Prokopios beaches are also good places for wind and kitesurfing.
Best time of year for budget travel in Naxos
If you're planning a trip to Naxos and want to save money, avoid visiting during the middle of summer. August should be avoided in particular. In August, accommodation prices on the island rise significantly.
Budget travelers should consider going to Naxos in October instead when the weather is still warm, and all the other tourists have left!
Best time of year for sightseeing in Naxos
Naxos has some amazing places to see. The magnificent unfinished Apollo temple and Portara of Naxos is the symbol of the island, the Chora has Venetian houses and quaint alleyways, and all over the island there are authentic villages.
You can go sightseeing in Naxos at any time of year, but spring through until autumn will have the best light.
Best time of year for island hopping from Naxos to Greek islands
Naxos ferry port is a good place to continue your trip to other Greek islands. In particular, the Small Cyclades group (Schinoussa, Iraklia, Koufonisia, and Donoussa) are the easiest and best Greek islands to visit from Naxos.
You'll find plenty of ferries sailing from Naxos to other islands from May through until October. The best place to look at ferry trips is Ferryhopper, as many ferry options from different companies are show here all in one place.
Spring / March-May in Naxos
The Spring in Naxos is nice, and the island earns its reputation as the greenest island in the Cyclades. It is an exciting time to explore the island on bikes, trekking or horseback riding in spring. Easter is a favorite celebration of the locals, so If you visit for Greek Easter keep an eye out for local processions.
The International crowd is still relatively tiny until Easter but grows more towards the end of May. Explore the historic Town of Chora and its beach areas during the spring and visit the archaeological museum, shops and restaurants.
The Greek weather in March can be a bit temperamental. Take a look here for information on visiting Greece in March.
Summer / June-August in Naxos
Visitors from around the world visit Naxos in the summer to enjoy water sports, relax at the beach and party. July and August are filled with activities where you'll find many beach-parties and village-fests. Get up early and catch a sunrise at Portara Temple that is famous both for its sunrise and sunsets.
Fall/September-November in Naxos
The fall in Naxos is among the better times to visit the island. Up until late September it still feels like summer, and there's fewer families on vacation as the kids in Europe return to school. Even in late October, the temperature remains warm enough to enjoy some beach time. Some beach bars may be closed but if you like quiet beaches you'll love autumn.
Winter in Naxos
Naxos can be visited year-round, but keep in mind that many hotels and apartments on the island are closed for the winter season between November and March. If you're looking to do some serious partying and clubbing, summer is best. In winter, the island is a bit more sleepy.
FAQ About When To Go To Naxos
Readers planning when they should plan their trip to Naxos island in Greece often ask questions similar to the following:
Is Naxos warm in October?
In October, the average minimum temperature in Naxos is 16°C (60.8°F). During the day, you can anticipate pleasant temperatures. The average maximum daytime temperature is around 21°C (69.8°F). October is regarded as one of the finest months to visit Naxos.
How hot is Naxos in August?
The warmest month in Naxos is August, with average temperatures of 26.1°C (79°F) and a low temperature of 24.6°C (76.3°F). You can expect maximum day time temperatures to be in the high 30s.
Does it rain in Naxos?
Naxos has mild, rainy winters and warm, sunny summers. It almost never rains in Naxos during the summer months.
Is Naxos windy in September?
The Meltemi winds have normally died down in September, although there may still be winds.
How do I get from Naxos town to Plaka Beach and Agios Georgios beach?
You can drive or take a bus from Naxos old town to Plaka beach. It is only a short distance from Chora to Agios Georgios beach. It is walking distance for most people.
How many days should I spend in Naxos?
You should spend at least three days on the island. You'll have plenty of leisure time to enjoy the best beaches in Naxos, lovely villages and even take a boat tour around the island. Of course, you may enjoy your holiday for 4 days or longer!
Seasonal planning for Naxos travel
For many people, the best time to visit Naxos is in June or September. The island has a lot to offer in every season, but it all comes down to personal preferences.
In general, the best time to visit Naxos is April-October if you want warm weather. Spring and Fall is suitable for hiking adventures walking and exploring the nature of the island. Summer is the most busy time especially July and August when most visitors visit. Winter is quiet on the Island but you can enjoy getting away from a busy life and exploring archeological sites and museums with virtually no crowds.
I hope you found this article on when is the best time to go to Naxos and what to expect of the weather in Naxos helpful.
Do you have any suggestions to add to help anyone planning a Greek vacation, or would like to ask any questions? Please leave a comment below. I hope your stay on Naxos is a memorable one!
Related:
---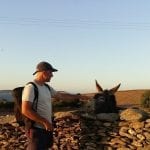 –
Dave Briggs
Dave is a
travel writer
living in and writing about Greece. As well as writing this travel blog post about Naxos weather and the best season to visit Naxos, he's written many more travel blog posts about destinations all over Greece. Follow Dave on social media for travel inspiration from Greece and beyond: