Are you thinking of traveling to Greece in March? This guide takes a look at what to expect with the weather, and things to do in March in Greece.
Visiting Greece in March
Have you just seen a fantastic deal for flights to Greece in March, and are wondering what the weather might be like? Are you considering visiting Greece in the spring shoulder season, and wonder what to expect? This article is for you!
I'm going to go into pretty good detail about what Greece is like in March, but before I do, I need to make something clear upfront – Don't plan a trip to Greece in March expecting a sun drenched beach holiday. The cooler weather and sometimes rainy days mean that you can't reliably plan on sitting beside the pool to drink cocktails and tan all day.
Instead, March is a good month for visiting Athens, checking out the ancient ruins and major archaeological sites without the crowds, and seeing what Greece is like with fewer tourists around. If you get warm weather and have the opportunity to hit the beach great, but don't plan your Greek vacation in March around it.
Bottom line: March can be an unpredictable month when it comes to the weather. One day might be bright and sunny, and the next might bring heavier rain than you thought was possible!
Greece in March Weather
As mentioned, the weather in Greece in March is variable. There are cold days with highs around 12 or 13°C (54 or 55°F), and warm spring days that push into the 18°C (65°F) range. On average, it starts out with a mix of gray rainy days at the beginning of the month, and by the end it's sunny blue skies almost every day.
Northern Greece does tend to be cooler than the rest of the country, but it's still rare that you'd see snow or frost in March – unless you're visiting very high elevations.
I personally find the sea temperatures to be too cold for relaxing swims, but for quick dips it's ok. That's around the Athens area though – in more southern locations like the south Peloponnese or Crete where it's a few degrees warmer, you can stay in the sea for longer.
Of course, there's always year around swimmers who take their daily swim no matter what the weather is like – that's a blog post for another day though!
Athens in March
March can be a good month to visit Athens. The city is pretty quiet, with fewest tourists around (this makes it a good time of year for seeing things like the Acropolis and the Changing of the Guard ceremony).
In early March, you'll see more locals than foreigners walking around so you get to feel like you're participating in real Greek life a little more. The cruise boats tend to arrive from mid March onward and that's when tourist crowds start to build up more.
While the weather in Athens can be overcast at times, i find it a good month for outdoor activities like hiking and cycling. The Athens Half Marathon is held on the 20th March for the same reason.
I've a more dedicated look at Athens in March and what you can do.
Mainland Greece
The Greek mainland covers a lot of different climates and regions. For example the Peloponnese might be having a nice warm day, but you might still be able to ski on the slopes at Parnassos near Delphi.
For chances of better weather, planning a road trip in the Peloponnese in March would be a great idea. If you're looking to get the last winter sports action, see what the weather at Parnassos or Pelion is looking like.
Santorini and Mykonos in March
Of the two islands, Santorini is the best suited to visiting in March, but leave it as late in the month as you can. Once the last of the spring rains are out of the way, there's more regular sunny days, but as mentioned a few times now, it's nowhere near the hot weather you can expect from a Greek summer.
There's plenty to see and do on the island, but if I'm honest, it looks much better with clear blue skies. I hope you get them!
As for Mykonos – this island is famed for its great beaches and nightlife. Due to it being the low season, both of these are off the table really. Nightclubs tend to slowly open after the Easter celebrations, and the beaches are best enjoyed in the summer season.
Visitors should note that the UNESCO site of Delos (which is a good day trip from Mykonos) does not open until mid March.
Crete Weather in March
If there's one Greek island in March where you stand a chance of good weather, it's going to be Crete. This is the largest island in Greece, and also its most southern.
The typical average high temperature in Crete is 17°C in March, but it can drop to 8°C at night. On the best days of fabulous spring weather it can seem like summer has arrived early, but in the higher regions of the island, the average temperature will feel much cooler.
You'll of course want to pack warm clothing for a March vacation in Crete as you'll need them in the evening. I'd feel a bit more confident with packing swimwear though, especially if visiting the south coast towards the end of the month.
Greek Islands in March
If you've read this far, I hope that by now I've emphasized that the weather is variable enough! It doesn't mean that you can't go Greek island hopping though – just that you have to alter your expectations.
During the shoulder seasons, including the month of March, the 'tourist' ferries do not yet sail. Still, there are plenty of options when it comes to traveling between the Greek isles by ferry. I've already talked about Santorini, but you could also consider Syros, Andros and Kythnos as Greek islands to visit in March.
If you're thinking about visiting some Greek islands in March, check out ferry timetables and book tickets online at: Ferryscanner
Related: Cheapest Islands In Greece To Go
Special Greek Celebrations in March
There are a number of special dates in March that you might want to keep in mind when planning your off season Greece tours. Some of these dates in the Greek calendar can be interesting to experience, others might affect your travel plans.
Carnival – The exact dates of the Carnival change every year, beginning ten weeks before Greek Easter Sunday, and lasting for three weeks. In 2022, the Greek Carnival will begin on February 13, and continue until March 7.
6 March Melina Mercouri day – This day is held in honor of the Greek actress and former Ministry of Culture, Melina Mercouri. The archaeological sites and public museums in Greece have free entrance on this day.
Clean Monday – On the first Monday after the Carnival season, Greeks celebrate a special day, called Kathara Deftera, or Clean Monday. On this day, which is also the first of Lent, the seven-week period leading up to Easter, Greece recognizes it as an official public holiday.
25 March Greek Independence Day – Another public holiday when Greece celebrates its independence from the Ottoman Empire. It's a national holiday where everything is closed including museums and ancient sites, but if you are in the big cities in Greece such as Athens you may see military parades which are interesting. Even in small towns like Nea Michaniona you will see local parades as shown in the photo below.
Places to visit in Greece in March
March can be a great month for getting good prices on car rentals in Greece and putting together an itinerary to see some of the most important historic sites in the world. Check out car rental prices for destinations in Greece at: Discover Cars
March can also be a good month for outdoor activities such as cycling and hiking.
Some of the ancient sites and other places of interest you could see in March when you visit Greece include:
The Acropolis, Athens
Ancient Olympia
The Archaeological Sites of Mycenae and Tiryns
The UNESCO World Heritage Site of Delphi
Meteora
What to pack
There's no point in me coming up with a complete packing list of clothes to take with you to Greece for a March holiday, as we're all different. A few things I would like to suggest you pack though, include:
Some sturdy but comfortable shoes – you'll want to walk around some of the more picturesque towns in Greece, and this might involve cobbled stone streets
A versatile lightweight jacket that can be worn in a range of temperatures.
Sun precautions – depending on where you're visiting, you might get a lot of sun, and for this reason I'd advise you pack sunscreen.
Cold Weather Clothing – If you're heading to the mountains where there may still be snow
If you're visiting any Greek islands in March that get particularly chilly at night (such as Crete), make sure you bring some warm clothing with you.
A packable umbrella – I hope you don't need it when in Greece on holiday, but you'll thank me if you do!
Choosing the best time to visit Greece
So, can you visit Greece during March and still have a good time? Yes you can. You'll have a different experience than those that travel during the main season, but you can find out yourself some great off-season deals.
If you're looking for the absolute best time to visit Greece though, I'd say mid September is about as perfect as it gets.
Visit Greece March FAQ
Readers considering traveling to Greece in the month of March often ask questions similar to:
How hot is it in Greece in March?
The Mediterranean country of Greece has warmer temperatures than Northern European countries in March, but it can be cooler and more overcast than many think. There will be some gorgeous sunny days, some chillier cloudy days, and a sprinkle of rain.
Which Greek island is the warmest in March?
Crete is the Greek island with the hottest temperatures in March, especially on the southern coast.
What is the best month to visit Greece?
Overall, the early autumn month of September is perhaps the best time to visit Greece. The holiday crowds of August have departed as the kids go back to school, the temperatures are still great with warm sunny weather, and many hotels reduce their peak season prices.
How warm is Greece in March?
In March, the average temperatures are 12°C (54°F), with an average low of 8°C (46°F) and a average high of 16°C (61°F).
Is it worth going to Santorini in March?
The shoulders seasons can be a good time to visit Santorini without the tourists crowds. While the mild weather may be chilly at times, on bright sunny days in March you'll get much clearer photos than in the summer months as there is less haze.
Is it a good time to visit Greece in March?
March can be a great time to visit Greece to see the historical sites without many other visitors, and to enjoy outdoor activities like hiking. March is outside the tourist season, but you'll experience pleasant weather – it just won't be beach weather.
Wrapping up
March is a great month to visit Greece if you're looking for good deals on car rentals and want to see some of the most important historic sites in the world. It can also be a good month for outdoor activities, depending on where you're visiting in Greece. Make sure to pack sunscreen, a versatile lightweight jacket, and sturdy but comfortable shoes if you're planning on doing any walking.
Whenever you decide to travel to Greece, I hope you have an amazing trip!
---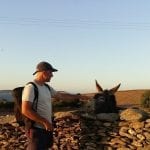 –
Dave Briggs
Dave is a
travel writer
based in Greece. In addition to writing this guide about the weather in Greece in March and if it is a good time to travel, he's written many more guides to Greece and the islands. Follow Dave on social media for travel inspiration from Greece and beyond: