This guide to the best neighborhoods in Athens includes the colorful, interesting, and sometimes edgy. Put your urban explorer's hat on, and dive in!
Guide To Athens Neighbourhoods
Although central Athens is quite small, it is divided into several distinct neighborhoods. Each one has its own vibe, ranging from the edgy alternative, to the upmarket elite.
Whether you are after ancient sites, markets, shops or good food, this best Athens neighborhood guide will help you plan your itinerary in Athens.
Combine what you learn from this blog post with my guide on where to stay in Athens, and you'll be well prepped before your trip.
Note sure how long to spend in Athens? Check this guide out first: How many days in Athens is enough?
The Best Neighborhoods in Athens
You can mostly walk around between neighborhoods in Athens, and explore the city at your own pace. This Athens travel guide features all the best neighborhoods in Athens Greece. These include:
Athens Neighborhoods
1. Acropolis / Koukaki / Makriyianni Neighbourhood
The Koukaki neighbourhood in Athens city center stretches from Acropolis metro station to Fix metro station, both on the red metro line. This area is very popular with visitors, especially people visiting Athens for the first time.
For most tourists, the area is defined by two of the most important sights in Athens, the Acropolis and the Acropolis museum, and is therefore referred to as "close to the Acropolis". Greeks mostly refer to this neighborhood as Koukaki or Makriyianni.
Where to stay near the Acropolis
This part of Athens has the greatest selection of hotels and places to stay. It is also the best neighbourhood in Athens to stay if you want to maximise your time in the city.
** You can find a good selections of Athens hotels near the Acropolis here – Hotels near the Acropolis. **
What to do in Koukaki neighbourhood
Koukaki area is home to quite a few sights in Athens. The obvious ones are the Acropolis and the Acropolis museum, but you can also see Hadrian's Arch, visit the temple of Olympian Zeus and pop in the fascinating Lalaounis Jewelry Museum.
The National Museum of Contemporary Art is also nearby, however check their website before you visit as there are often no exhibitions.
There are plenty of restaurants in Koukaki area, many of them being closer to Fix metro station rather than Acropolis metro station. Walk up and down Falirou Street, and you will definitely find something you like.
2. Plaka Neighbourhood Athens
Possibly the most famous neighborhood in Athens, Plaka is a small area between Acropolis, Syntagma and Monastiraki metro stations. It offers a unique mix of sights, Byzantine churches and plenty of restaurants and souvenir shops.
Where to stay in Athens in Plaka
The Plaka neighbourhood of Athens also has a wide selection of places to stay. Many of these come in the form of cool boutique hotels.
** You can find a good selections of hotels in Plaka here – Hotels in Plaka. **
What to do in Plaka area
Strictly speaking, the Plaka neighbourhood in Athens doesn't really have any ancient sites, as these are located in the adjacent Koukaki and Monastiraki areas. However, Plaka has quite a few museums, none of which seem to feature in most people's itineraries.
The Athens University History Museum, the Frissiras collection and the Museum of Greek Children's Art are some of them.
Most people, however, won't go to Plaka to check out the museums. The main attractions of Plaka are the numerous restaurants, bars and cafés, the souvenir shops, and the area's unique vibe.
Although it's quite touristy, Plaka is nevertheless charming all year round. Just prepare yourself mentally to see more tourists and climb quite a few stairs.
Anafiotika
One place you shouldn't miss in Plaka is the Anafiotika area, where you can see some of the oldest houses in Athens that are still in use.
Perched up on the hill just underneath the Acropolis, those houses were built mostly in the 1830s onwards by construction workers who came from the Cyclades islands, especially Anafi.
They are all whitewashed, and as you walk around the small streets you will think you have left Athens behind. Be respectful of the residents, but don't hesitate to have a chat with them.

3. Monastiraki in Athens
Adjacent to Plaka, Monastiraki area right on Monastiraki metro station is home to a few ancient sites. It also offers an abundance of restaurants and quite a few rooftop bars. Visit any time of the day or night, and you will find something to do.
Where to stay in Monastiraki
The Monastiraki neighbourhood of Athens has a number of places to stay. These include small boutique hotels, as well as a few recently constructed larger hotels. There are also one or two hostels in the area for backpackers.
** You can find a good selections of hotels in Monastiraki here – Hotels in Monastiraki. **
What to do in Monastiraki neighbourhood
In terms of ancient sites, by far the most important one in Monastiraki is the Ancient Agora, the main financial, social and political centre of Ancient Greece.
Walk down Adrianou Street, and you will find the entrance. The Ancient Agora is a fascinating site that needs at least a couple of hours to be properly explored. Stroll around, and definitely visit the Agora Museum, hosted in the renovated Stoa of Attalos.
Not to be confused with the Ancient Agora, the nearby Roman Agora is another ancient site, which won't take nearly as long to visit. Check out the recently restored Tower of the Winds. The remains of Hadrian's library are also worth a look.
Museums and Markets in Monastiraki, Athens
Nearby, you will find the excellent Museum of Greek Folk Musical Instruments, where you can listen to quite a few instruments that are popular in Greece and the nearby countries. This museum is really a great choice, is ideal for families, and it's free.
Right outside Monastiraki metro, on Ifestou Street and all the way down to Ermou Street, there is a flea market, which expands on Sundays. There are also many cool souvenir shops on Pandrossou Street and around. If you are looking for Greek souvenirs, check it out, are prices might be cheaper that prices in Plaka.
In terms of restaurants and rooftop bars, Monastiraki area has plenty. This is an area where many Greeks live, work and visit, so although the area might seem touristy, you can rest assured that the quality is high. Go up the 360 café / bar for great views of the Acropolis.

4. Psirri area and Central Market in Athens
Another area very close to Monastiraki metro is Psirri or Psyrri area. Possibly the most "authentic" area in central Athens, Psirri is home to cafés, bars, restaurants, but also a vibrant food and household goods market.
Where to stay in Psirri, Athens
The Psirri neighbourhood of Athens doesn't have a massive amount of choice when it comes to accommodation. There are one or two though.
** You can find a hotel in Psirri here – Hotels in Psirri. **
What to do in Psirri area
If you want to catch a glimpse of the local life, you should definitely visit the Central Varvakios Market on Athinas street.
This sprawling market is divided in several areas and has tons of stuff – meat, fish, fruit + veg, nuts, spices, cheese, bread, cookies, olives and olive oil. This is a great place to buy fruit or stuff to bring back home.
Many shops open at 7.00 and close just after 15.00, so go early. It is also a good idea to go with a local, who can explain you more about the Greek food culture – if you are interested, let me know and I can get you in touch with the right people.
If you are visiting with children, you might want to avoid the streets behind the central market, such as Menandrou, where you are likely to be offered drugs and perhaps come across homeless people.
Street art in Psirri, Athens
Just a five minute walk from the central market, is the centre of the bustling Psirri area. Here, you will find many cafés and restaurants, as well as stores selling random household goods.
If you are interested in street art, this is a great area to explore – stroll around Aristofanous, Sarri, Riga Palamidou, Ag. Anargiron and Louka Nika streets, and just look around for your favourite artwork. One of the most recent works in the area is a big one on Agatharhou street.
As you are getting out of Psirri towards Monastiraki metro, you can stop for a coffee or drink at A for Athens hotel / rooftop bar, offering great views of the area.

5. Syntagma, Ermou street, Agias Eirinis Square, Mavili Square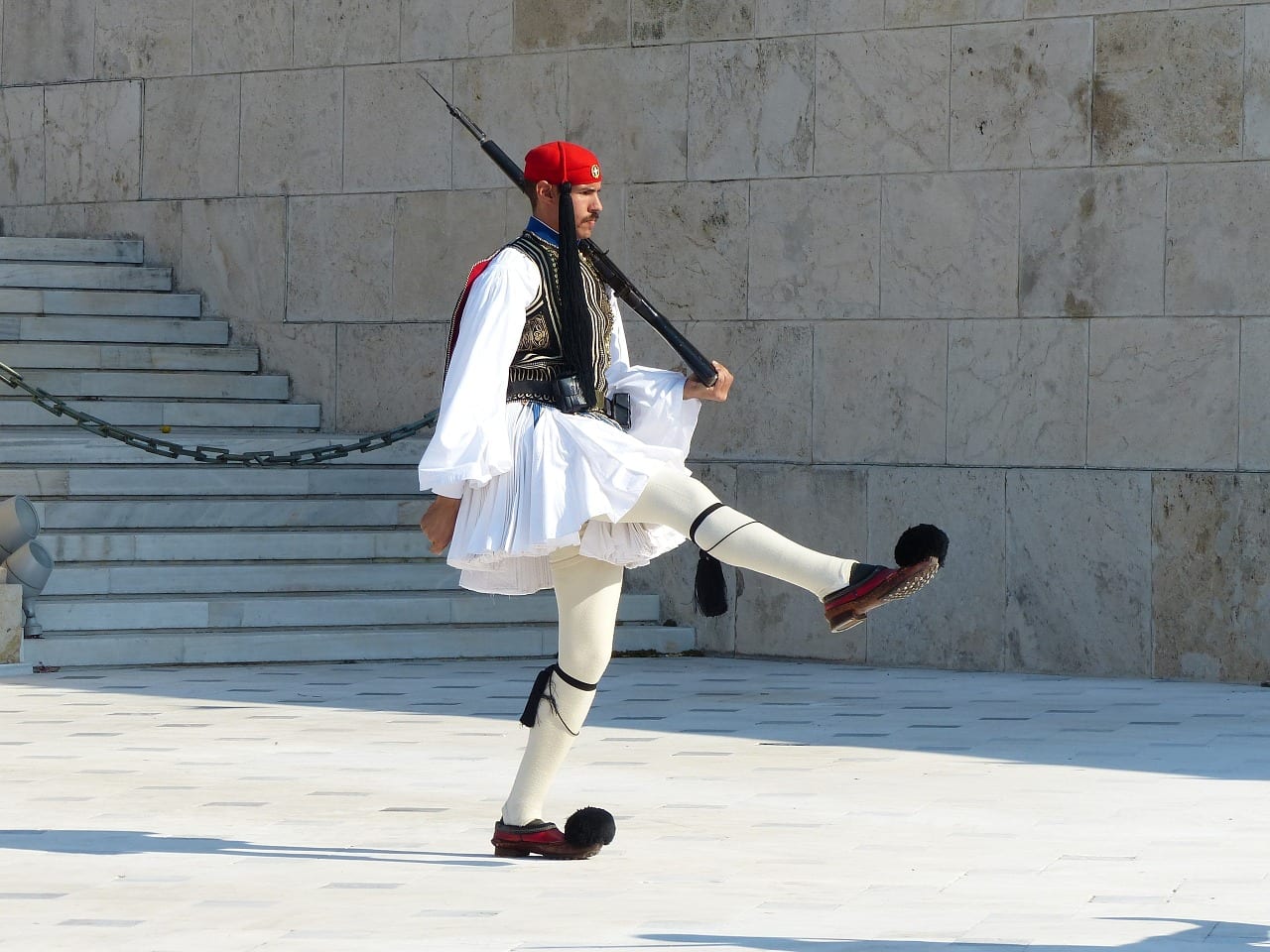 Named after the Greek word for "constitution", Syntagma square is the heart of Athens. Right on Syntagma metro, it is easy to get to from wherever you are staying.
Where to stay in Syntagma Square
Syntagma Square has some of the best hotels in Athens. These include the Hotel Grande Bretagne, the Electra Hotel, and King George. Staying in Syntagma Square is a good choice is it is the most central location. Your visit might also coincide with an event or demonstration on the square, which can be great viewing from a hotel rooftop!
** You can find a hotels on Syntagma Square here – Hotels on Syntagma Square, Athens. **
What to do in Syntagma area
The main attraction in Syntagma is the Parliament, a grand neoclassical building which used to be the Palace of King Otto.
In front of the Parliament, you can see the tomb of the Unknown Soldier, guarded by the Greek Guards called the Evzones.
The change of the Guards takes place every hour, on the hour. There is also a ceremonial change of Guards every Sunday at 11am, with many Evzones participating – if you are interested, go early to reserve a good spot, as it's quite a popular attraction.
For those who are interested in Athens' most recent history, the National Historical Museum of Greece will definitely be a highlight. It covers the period between 1453, when the Ottomans conquered Greece, up to the Second World War
If you are a fan of even more recent history, visit the nearby Museum of the City of Athens. Finally, those with a special interest in money and coins should definitely not miss the Numismatic Museum. If you are here in summer, check out for evening gigs in the lovely cool garden, that are mostly free.
Shopping in Syntagma
Those interested in shopping around Syntagma, might want to visit the Attica shopping complex. This is one of the most upmarket establishments and pretty much the only shopping mall in Syntagma area.
For more mainstream shopping, walk down Ermou Street and its side streets. Here you can find cheap clothes and shoes, fabrics, household items and many other knickknacks.
If you want a coffee, drink or snack in the wider area, the best places to head to are Mavili Square, or Agias Eirinis Square, that are fairly popular at every time of the day and night.

6. Thissio, Dionissiou Areopagitou Street and Filopappou Hill
If you walk from the Acropolis Museum towards Thissio metro station, on the pedestrianized Areopagitou Street, you can explore the area of Filopappou and Thissio.
This is one of the most pleasant areas in Central Athens, and it's worth including it in your itinerary even if you are in Athens only for one day.
What to do in Thissio / Filopappou area
Stroll around Dionissiou Areopagitou street at any time of day or night, and you are likely to see street musicians, handicraft stalls, and several locals and tourists hanging around. Take in the views, and if you are feeling active, hike up Filopappou Hill – best to avoid it at night, as a few incidents of theft have been reported.
You can also climb up the few steps to Areios Pagos hill, Ancient Athens' Supreme Court, with a fantastic view of the Acropolis.
In the summer, check out the outdoors cinema on Areopagitou Street. Viewings begin at around 21.00 and 23.00, and you can enjoy the movie under the starry sky with a beer and some popcorn.
If you are in Thissio area, it's also worth checking out Herakleidon Museum, hosting new exhibitions every few months. Check out their website to find out more.

7. Kerameikos / Gazi
Close to Kerameikos metro, the area of Kerameikos / Gazi is home to one of the most interesting archaeological sites in Athens, a few museums, and also the area to go for vibrant nightlife.
What to do in Kerameikos / Gazi area
The main tourist attraction in the wider area of Kerameikos, is the Kerameikos ancient cemetery and museum. The site helps to explain the funerary rituals and practices in Ancient Greece.
A few minutes' walk from the Kerameikos site, on Agion Asomaton Street, you can also find the Benaki Museum of Islamic Art in Athens. One of the few museums in Greece that showcases Islamic Art, it's worth visiting.
If you are into modern and contemporary art, your best bet in Athens is Benaki Pireos Museum, on 138 Pireos Street. Exhibitions change every 3-6 months, but there is always something great going on. Check out the website before you visit, and note that there are often several exhibitions going on, to which the combined ticket offers much better value.
Last but not least, the area of Technopolis, very close to Kerameikos metro, often hosts exhibitions, concerts and other events that make it a worthwhile stop. It is also home to the Industrial Gas Museum in Athens.
Apart from these attractions, Gazi area is among the most vibrant for nightlife in central Athens. Popular with the young (and younger) crowds, it nevertheless offers quality options for drinks and music for all ages. Remember that nightlife in Athens starts late, and goes on until late, or rather early in the morning.

8. Kolonaki
Close to Evangelismos and Syntagma metro stations, Kolonaki area is one of the most upmarket areas in central Athens, great if you are into quality shopping. At the same time, it is full of museums, and is also home to the popular Lycabettus Hill.
What to do in Kolonaki area
If you are interested in museums and other indoor attractions, Kolonaki area is one of the best areas to visit. Alongside the numerous private galleries, you can find four of the most important museums in Athens.
Museum of Cycladic Art – If you are interested in this particular era of Ancient Greece's long history, this should be your first choice. It brings the Cycladic civilization to life, showcasing with numerous ancient Cycladic Greek statues and other artefacts. There is also a whole section dedicated to life in Ancient Greece.
Benaki Museum – The main building of the private Benaki Museum collection gives an overview of Greece's long history through carefully selected items. It's perhaps your best bet if you are only in Athens for a day, or if you are not too interested in history museums.
Byzantine and Christian Museum – Most people have heard about Ancient Greece, but the Byzantine Empire is not known to many visitors. Allow 2-3 hours in this museum if you want to make the most of it. There are often free music events on summer evenings.
War Museum – If you have a special interest in the most recent wars that Greece has participated in, this is the place to visit.
Apart from the museums, Kolonaki offers plenty of choices for shopping, people watching and just hanging out. The vibe in Kolonaki is more upmarket than in most other areas of central Athens, and therefore it's an area popular with visitors and expats.
If you have a couple of hours to spare, hike up Lycabettus Hill – you can also take the cable car or just a taxi.

9. Exarcheia Athens
The infamous area of Exarchia, which is walking distance from Panepistimio, Omonia and Victoria metro stations, has been described as the "riot area" of Athens, and for good reason.
In 1973, students of the Polytechnic University on Stournari Street rose against the dictators. In 2008, following the death of the 15-year-old Alexandros Grigoropoulos, a big riot started, which went on for weeks.
Most tourists will actually avoid Exarchia area, and perhaps only visit the nearby National Archaeological Museum and then move on to the next attraction. But if you are after street art and one of the most authentic areas in Athens, look no further.
What to do in Exarchia area
The main tourist attraction here is by far the National Archaeological Museum. It is the largest museum in Greece, and is full of artefacts with good descriptions. If you only have a couple of hours, you should be very well prepared, or perhaps have a guided tour so you can see the highlights. Otherwise, allow four hours to see it properly.
The other attraction of the area is the street art, but also the graffiti. Pretty much everywhere you walk in Exarchia, you will see some cool street art. For many people this is off-putting, but it's true that the area has a unique vibe.
There is definitely an underground vibe here, and some people might find Exarchia intimidating – it is not uncommon to come across drug users, who nevertheless mind their own business.
To be fair, Exarchia is a fascinating area, and is best visited with a local Athens guides who can explain its history and tell you more about the recent riots. If you decide to visit let me know and I will get you in touch with the right person to show you around!

10. Omonia
Right on Omonia metro station and around, Omonia area is a vibrant, yet controversial area of Athens. Once a highlight of the city, it has steadily deteriorated in quality, partly due to the crisis. There are a number of cheap hotels around the area, but also a few more upscale developments. You are likely see quite a few homeless people in Omonia, and the area around the metro will probably feel sketchy to some visitors.
What to do in Omonia area
Walking distance from Omonia metro, you can find the excellent Hellenic Motor Museum. Even if you are not into vintage cars, you will definitely appreciate it, especially if you are visiting with family.
Otherwise, the area itself doesn't offer much to visitors in terms of attractions, though it's very close to the Central Market, Psirri and Exarchia.
There are a few neoclassical buildings, some of which are slowly deteriorating. Solo female travelers have reported feeling uneasy in the area, especially after dark, so even though hotel prices can be very attractive, it might be best to avoid Omonia.

11. Metaxourgio
Another controversial area, Metaxourgio is home to some of the cheapest hotels in Athens, alongside which you will find plenty of bars and eateries, tons of street art, but also one of the red light districts in Athens. In fact the lights are not red, but white.
At the same time, since accommodation can still be quite cheap, the area is home to many creative people, and you will definitely feel the artsy vibe and probably come across several small galleries.
What to do in Metaxourgio area
Although this area is probably not suitable for families, it will definitely appeal if you are after new artistic trends and a more alternative vibe. The area is also budget friendly, as there are many small restaurants / mezedopolia with low prices and friendly people.
In terms of attractions, you can visit Athens Municipal Gallery – though perhaps the best attraction of Metaxourgio area is the street art and the random small galleries.

12. Off-centre – Glyfada area on the coast
If you want to escape the city centre, take the tram or a taxi to the coast and the seaside suburbs! There are many areas on the so-called "Athens Riviera", of which Glyfada is among the most popular.
The area used to be home to many expats working for the American military base, and you can still feel the expat vibe. There are several upmarket restaurants, bars and shops, many belonging to international chains, and prices are generally on the higher end.
What to do in Glyfada area
If you are spending a few days in Athens, Glyfada can be a nice break from the hustle and the bustle of the city. It is definitely possible to swim here, though beaches further down the coast are much nicer.
At the same time, if you are after a more orderly and more upscale environment on the coast, Glyfada is a great choice. There are also several elegant beach bars and a few exclusive restaurants in the wider area of Glyfada.
Areas of Athens to avoid
I am sometimes asked whether there are any areas to avoid in Athens. As European cities go, most visitors report that Athens feels very safe overall – and it's true. The areas that you are likely to visit as a tourist are safe on the whole, though as always you should be cautious of your belongings, especially in crowded places.
I've got a full post here on is Athens safe to visit.
That said, there are some areas in Athens that might be best avoided after dark, as there have been reports of theft. As mentioned above, Filopappou area is one of them. Though the views at night are simply magnificent, avoid going up the hill after dark, unless you are with a big group of people.
The infamous area of Exarchia, as well as the nearby area around Omonia metro station and the streets around it, should also be visited with caution, especially after dark. I've personally never had any troubles, but solo women in particular might feel uncomfortable. As they say, better safe than sorry!
Interested in guided tours of Athens? Take a look here for the best private tours of Athens.
And trivia lovers will enjoy: Fun facts about Athens.
Athens Neighbourhood Guide FAQ
Some of the most commonly asked questions about modern day Athens neighborhoods and suburbs include:
What is the best neighborhood to live in Athens?
If you're planning to move to Greece and live in Athens, I'd suggest looking for an area outside of downtown Athens which has good metro access. Many people recommend the southern suburbs such as Glyfada however, the northern areas such as Cholargos are also worth considering.
What are the safest neighborhoods in Athens Greece?
The safest areas to stay in Athens are Plaka, Kolonaki, Koukaki, Monastiraki, and all of the surrounding districts (Thission, Petralona, Filopappou) due to their high levels of safety. Syntagma Square is not as safe as it is frequently the scene of demonstrations and disturbances.
Where do the rich live in Athens?
While many people consider the Glyfada and Voula areas to be upmarket, Palaio Psychico and Ekali are where the wealthy Athenians tend to have homes.
Where are the nice parts of Athens?
Plaka, Monastiraki, Koukaki, Syntagma, Kolonaki, and Psirri are all lovely parts of the city to go sightseeing or enjoy fantastic food.
Pin this Athens Neighborhoods guide for later
Do you use pinterest to collect travel ideas? Feel free to pin this Athens travel guide for later!