Greece is famous for its lovely beaches! Here are 7 tips for visiting the beaches in Greece to consider when planning your Greek summer vacation.
What are the Beaches in Greece like?
Greece has thousands of beaches that all look different to each other. Generally speaking, many of the beaches in Greece are a mix of sand and pebbles. While you will find long stretches of sand, you will also come across pebbly beaches and tiny rocky coves.
The water is usually crystal clear so you can see the bottom even when it's deep enough to swim. This makes for great snorkelling opportunities!
I've got some guides here you might want to read about specific beaches in Greece:
You may be thinking, a beach is a beach, anywhere in the world. But if you've never been to Greece before and have no idea what to expect, then this blog post is for you.
Here are 7 tips for visiting the beaches in Greece.
1. Don't Go to the Beach in Greece without Sunscreen
It's always important to bring sunblock to the beach. While Greece isn't like the tropics, you can still burn easily, even in spring. As I'm a Brit living in Greece, I know what I'm talking about!
A good tip is to use sunscreen with a high SPF, like 50+. A lot of people (myself included…) forget about their neck and ears when they're applying sunblock. Make sure you put some on those areas too!
You can easily buy sunscreen everywhere in Greece and the Greek islands. If you are not particular about the brand, you will find that supermarkets often have the best prices.
From my experience, keeping your T-shirt on while on the beach might be a good idea. This is also recommended for children. Light-coloured clothes work better – dark colours will attract the sun rays.
2. Don't Forget your Sunglasses and Hat
When you go to the beach in Greece, always wear a hat and sunglasses to protect your eyes and skin from the sun. I still remember the one time I forgot my hat. I ended up with a really bad sunburn on my face!
It's always important to wear sunglasses too, as they will help protect against eye damage from UV rays. I personally prefer polarized glasses, as they help block the sun glare. It's especially helpful on a sunny summer day.
If you have children, make sure they wear their hats at all times. Getting a sunstroke is no fun!
3. Check the Winds Before you Go to the Beach
Another thing you should know about the Greek islands in the Aegean, is that they can be windy. The meltemi winds are seasonal northern winds that blow in summer. They will affect the beaches on the Cyclades, the Dodecanese and other Aegean islands.
On meltemi days, it's best to avoid northern beaches. The sea can get quite rough, so even if you are a strong swimmer, it can be dangerous. Go to the south beaches instead, or spend your day visiting other attractions where you are.
All in all, it's best to stay close to the coast and avoid swimming out too far. Even when it's not windy, currents in Greece can be deceptively strong. And NEVER leave a child unattended, especially on a flotation device. This young girl was super lucky!
4. You Don't Have to Pay to Go to the Beach in Greece
The majority of beaches in Greece are free to visit. As a rule, you don't need to pay to go for a swim in Greece. Even the best known tourist destinations in Greece have several beaches where you can go for free.
Occasionally, you will find some beaches in Greece where there is an entrance fee. This will typically include the use of some facilities, like changing rooms and showers.
I've never paid to enter a beach in Greece, and don't intend to start doing so! Not when there's so many incredible, empty stretches of sand to be on instead, such as the beach pictured above in Naxos!
5. Not all Beaches in Greece Have Facilities
Some beaches in Greece have facilities. These may include sun loungers and umbrellas for hire, canteens, tavernas or beach bars. In addition, you can often find water sports, like sea kayaks and pedalos, or diving schools.
My advice is to bring a few things with you, like water and snacks. If you have kids, you'll also want to bring some sand toys. In addition, if you are going to remote beaches, an umbrella or beach tent will come in handy.
Other things that you will find useful are a towel, and maybe snorkelling gear. If you prefer, you can easily buy those at your destination, so you don't need to bring them from home.
6. Watch out for Sea Urchins
I've been lucky so far myself, but I can't stress this enough! It's definitely one of my most important tips for visiting the beaches in Greece.
Sea urchins are small sea animals that are surrounded with hundreds of spiky needles. Stepping on one can really ruin your day. They are not poisonous, but they cause a lot of pain and the spikes are typically extremely difficult to remove. You might even end up in hospital.
As the water is crystal clear, you will generally be able to see them between the rocks and seaweed. You can see the urchins in the photo above as the dark shapes.
Keep an eye out for them, or consider buying special shoes that are ideal for a rocky seabed.
Generally speaking, this is pretty much the only annoying animal living in the Greek seas. As an example, I've only seen a couple of jellyfish in all my time in Greece.
All in all, the creatures in Greece are much less dangerous than those in the tropics. Like this duck we found on the beach one time shown below!
7. Take lots of Photos!
Pictures of your Greek vacation are the best memories! Make sure to take lots of photos on your trip to Greece. It's always exciting to look back on pictures from your Greek vacation and remember all the wonderful moments you had.
As the Greek beaches are all so different to each other, you have plenty of photo opportunities. I recommend taking lots of memorable photos by capturing the sunset. Even better, you could consider getting a professional photographer to snap some shots for you and your loved ones.
Travel Tips: How to keep valuables safe at the beach
FAQ About Greek Beaches
Some of the most frequently asked questions about the beaches of Greece include:
Which part of Greece has the best beaches?
You can find incredible beaches all over Greece, with the Cyclades islands and Crete being perhaps the most renowned areas. One region of Greece which is often overlooked is the western Peloponnese – There's a huge stretch of beach there which is absolutely gorgeous.
Where are the best sandy beaches in Greece?
There's a lot of competition for the best sandy beach in Greece! I love Plaka beach in Naxos, but there's also Myrtos beach in Kefalonia, Navagio Beach in Zakynthos and practically all the beaches in Mykonos to consider. So many choices!
Does Greece have white sand beaches?
Greece has beaches with sand of literally every colour! There are the black sand beaches of Santorini, pinks sands of Elafonissi in Crete, and yes the white sand beaches of Koukounaries in Skiathos. More typically, the sandy beaches of Greece can be described as golden.
Which is the nicest Greek island to visit?
Some of the larger Greek islands such as Naxos and Crete have more variety in terms of things to see and do. They offer both touristic facilities, but also authenticity as local life does not revolve entirely around tourism. Both Naxos and Crete also have fantastic beaches!
Are there jellyfish in Greece?
While jellyfish can be found in the waters around Greece, particularly during the summer months, they are not a big problem. I've been living in Greece for eight years and only seen jellyfish in Greece once or twice. While some species of jellyfish found in Greece are harmless, others such as the purple jellyfish can deliver painful stings that may require medical attention.
---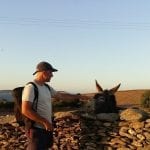 –
Dave Briggs
Dave is a
travel writer
who is based in Greece and spends his time traveling around and writing the country. As well as writing this post about the beaches in Greece, he's also created hundreds of other travel blogs about Greek destinations. Follow Dave on social media for travel inspiration from Greece and beyond: