Plan your last European city break of the year by choosing one of these best places to visit in Europe in November. Christmas markets, sightseeing, and festivals await!
Best European Destinations in November
November might not be an obvious month to take a city break in Europe, but don't totally dismiss the idea.
It's actually a great time to visit some of those perennially popular destinations such as Rome and Athens, as visitors are far fewer during this low season month.
Also, the crazy temperatures of the peak summer months make walking around a lot easier!
10 Awesome European Cities to Visit in November
I've chosen 10 of the best cities in Europe to visit in November to take your pick from. Obviously, I'm biased towards my adopted home of Athens, but don't let that put you off considering these other destination choices!
Here's some of the best places to visit in November in Europe.
1. Budapest, Hungary.
Budapest in November will offer you one of the most stunning autumn experiences in Europe. While the city is typically on the colder side this time of year, Budapest has more than enough to make the trip worth it.
From thermal baths to warm your bones, to the Budapest Christmas market to raise your holiday spirit, this European city offers one of the most stunning holiday experiences.
You can walk the old city with a traditional Hungarian Chimney Cake, and after that, a hearty bowl of goulash. Traditional Hungarian cuisine is amazing!
Better still, Budapest experiences a seasonal low in tourism around November. So visits to the parliament house, castle, and old city will be far less crowded.
Budapest also offers world class cafes, and coffee houses. There are few things better than sitting in the crisp autumn air, enjoying a hot coffee, and the old world feel.
Budapest has everything you need for a perfect visit to Europe in November.
Make the most of your time in this magnificent city by taking a walking tour: Budapest Vampires and Castle tour.
2. Rome, Italy
With its stunning architecture and historic sites, Rome needs little introduction, and offers a lot in the way of live entertainment for visitors in November.
You can go watch a thrilling football match from one of Rome's two teams, AS Roma or S.S Lazio. You could also go see a live concert at the world famous Teatro dell'Opera.
Rome is not a city that is short on sport and culture!
In addition, the world famous sights of Rome are beautiful to see year round.
With tourism numbers at a low during the month of November, crowded places like the Colosseum or the Borghese Gallery in the historic city centre will be much more pleasant to visit during November, than they would be in June.
November is the time where Rome begins to cool off quite rapidly. Temperatures in Rome during the month of November are usually around the 15c – 19c mark making it one of the best places to go in Europe in November for warm weather.
While you will get plenty of sunshine, make sure to pack an umbrella just in case! November does see a slight increase in rain for Rome.
But don't let the cooler weather deter you from seeing this ancient city in Italy. Rome will still offer you a once in a lifetime experience, and is one of the best destinations in Europe to see in autumn.
Read more: How to see Rome in a day
3. Gdansk, Poland
While most visitors to Poland would choose to visit Krakow or Warsaw, Gdansk offers plenty for the autumn tourist to enjoy.
Gdansk is a small, and cozy port city located in the north of Poland, on the Baltic sea. This city offers vibrant architecture, wonderful holiday markets, and plenty of Polish delicacies to leave you feeling stuffed to the gills!
You can enjoy beautiful sea side restaurants for a romantic evening, and a bustling nightlife in near by Sopot. While Gdansk may not be the first city that comes to mind for a Polish vacation, it certainly is a great one.
Gdansk is a tri-city area as well. So you will have plenty of things to explore between Gdansk, Sopot, and Gdynia. All three are just a quick train ride from each other!
Not to mention, giving traditional Polish vodka a try while you are there. It will surely be the medicine you need to keep the chill away in this Baltic coastal city in November.
Check out these day trips in Gdansk: City cruise and sightseeing
4. Prague, Czech Republic
Prague is truly one of the most stunning cities in all of Europe, year round. In Prague you will find rich culture, breathtaking views, and one of the best night life scenes you will find on this list.
The Czech Republic is known for its world class beers, it's top notch hospitality, and lively nightlife.
The month of November in Prague is chock full of festivals as well. Including the St. Martins's Day Festival on November 11th. This is the celebration of the first wines from the autumn harvest.
You will be able to visit the wineries across the city and taste their amazing selections of wine in the crisp autumn air.
In addition to these festivals, Prague will also offer you plenty in the way of exploration.
From the Gothic city of Kutna Hora to the east, to the world famous Charles Bridge. If architecture is what you wish to see, Prague will leave you breathless.
5. Munich, Germany
Munich isn't just known for it's famous Oktoberfest. There is plenty more to this Bavarian capital than just drinking beer!
Munich offers a rich and interesting history, with museums open year round for you to enjoy. In addition, Munich is host to some of the must dazzling circuses you will ever find in Europe, including the Circus Krone.
In addition to these stunning attractions, you can also unwind in world class Saunas. Munich is home to some of the most visited saunas and public baths in the world.
Trust me, experiencing the holiday wonder of Germany from a luxuriously sauna in November, is not something you want to miss.
Want an off the beaten path town to visit in Germany? Try Ulm.
6. Sofia, Bulgaria
This capital city of Bulgaria traces its roots back over 2,000 years, with influences from Greek, Roman, Ottoman, and even Soviet cultures.
While weather in Sofia can be quite unpredictable in November, the capital of Bulgaria and its buildings are wonderful to witness no matter what.
Whether with a thin layer of snow, or crisp autumn leaves, sights such as the Medieval Boyana Church, the bustling Vitosha Boulevard. and the National Palace of culture are stunning.
The average temperature in November for Sofia hovers around 10 c during the day. So a nice jacket, a scarf, and a cup of coffee will be all you need to enjoy the beautiful Bulgarian city of Sofia.
In terms of avoiding crowds, Sofia is one of the best destinations in Europe in November to travel to.
Further reading: How to get from Sofia airport to the city center, and Sofia one day itinerary.
7. Copenhagen, Denmark
While Scandinavia is known to be extremely cold, a trip to Copenhagen in November is more than worth it. Copenhagen does autumn celebrations as well, or better, than almost any place in the world.
The 175 year old Tivoli Gardens is a must see during a Europe visit in November. Opening in Mid-November, Tivoli is transformed into a Christmas wonderland unlike any you have ever seen.
With thousands and thousands of lights, rides, attractions, and a warm spiced wine, Tivoli makes a trip to Copenhagen worth it all by itself.
While Denmark is typically lacking in sunlight during the autumn-winter season, Copenhagen combats this marvelously with it's array of lights, markets, sights and smells to make sure the holiday season is alive and vibrant in Copenhagen.
If you're looking where to go in November in Europe, Copenhagen could be a good contrarian choice.
8. Lisbon, Portugal
Most people associate southern Europe with summer holidays, but the cool city of Lisbon is a pleasure to visit outside the traditional tourist season.
The Baixa district of Lisbon, Portugal, is one of the most wonderful places to visit in Europe, and Baixa in November is even more extravagant.
Alight with thousands of twinkling lights, and a giant Santa Clause, this vacation getaway becomes a true holiday wonderland seemingly over night.
Lisbon also offers a range of festivals to see and experience in the month of November, including the amazingly diverse Super Bock em Stock festival that offers any type of music you could ever want. Or the Lisbon & Sintra Film Festival that showcases films that will appeal to even the most experienced of film goers.
Lisbon is also famous for its delicious autumn street foods, including roasted chestnuts served in a newspaper. This city is also one of the few places in Europe to get some half-decent sun in November, so make the most of it!
You will never run out of treats to try as you explore this amazing city in Portugal.
You might also like: Things to do in Porto
9. Paris, France
Paris is considered by many to be one of the hubs of culture for Europe. If fine art, 5-star dining, and dazzling architecture are what you are seeking, Paris has it all in spades.
While on average, the city of Paris sees rainfall for about half of the month of November, don't let that stop you from going. A pair of rain boots, a jacket and an umbrella are all you need to comfortably experience this city in autumn.
A nice glass of Vin Chaud, (mulled wine) will do wonders to keep you warm and in good spirits.
You will want to visit the classic Butte Bergeyre vineyard, and enjoy the late autumn colors. As well as the Salon Du Chocolat in the beginning of November to satisfy your sweet tooth.
In November you will also see decreased lines at the more popular places such as the Louvre Museum, and the Palace of Versailles. So make sure to add Paris to your autumn European trip, as it's one of the best places in Europe to visit in November.
Check out these city experiences: Eiffel Tower Tickets and Tour
10. Athens, Greece
Last but not least, my home town of Athens! Athens is, arguably, one of the best places in the world to visit during the month of November. Well, I'm happy to argue it anyway.
The temperatures are still pleasant enough in early November, as the cold weather doesn't really kick in until December. This makes it probably one of the warmer cities in Europe in November.
As it's off season, the cruise ships have stopped arriving which means there are far fewer crowds in the historic city center. This means that the historic sites, such as the UNESCO World Geritage Site of the Acropolis are a pleasure to visit in November!
Athens is one of the most visited cities in Europe for tourists, so going in November could be just the right recipe for a less 'crowded' experience of the city.
You will also find the price of hotels in Athens to be a bit more reasonable in November, rather than in the more busy tourism months. Stay in the historic centre, and you'll find all the main attractions within walking distance.
I've got extensive guide to Athens you can access by starting here: Ultimate Guide to Athens.
Also read: Day trips from Athens
Best Christmas Markets in Europe
Starting at the end of November, European countries start hosting Christmas Markets. First time visitors to Europe love the experience! The best places to visit in Europe in November for Christmas Markets are:
Basel (Switzerland)
Budapest (Hungary)
Poznan (Poland)
Vienna (Austria)
Brussels (Belgium)
Trier (Germany)
Dresden (Germany)
Madeira (Portugal)
Manchester (United Kingdom)
From mid November on, the Christmas lights are normally lit in many cities in Europe. If you are visiting the UK during the winter months, you'll love the lights of this vibrant city in areas such as Carnaby Street, Kew, South Bank, and Regent Street. London can be a great winter getaway destination to experience the early Christmas spirit!
You might also want to read: Warmest Countries In Europe In December
FAQ about where to visit in Europe in November
Some commonly asked questions about the best destinations to visit in November in Europe are:
Is November a good time to visit Europe?
November can be quite a chilly month in Europe, but there is always something to see and do. November is a great month for city breaks in particular, as there are fewer tourists around and hotels are cheaper.
Where in Europe is warm in November?
The southern countries such as Cyprus and Greece are the warmest countries in Europe in November. The absolute warmest destinations in Europe would be the Canary islands.
What is the best European country to visit in November?
Overall, Cyprus may be the best country to travel to in November. There's plenty of sightseeing to do in Paphos and other areas, and the weather may be warm enough for some to sunbathe and swim.
What is there to do in Europe in November?
There's always plenty to do in Europe, and November would be an ideal month to visit for culture vultures. Consider museums, festivals, markets, and shows when planning your European vacation itinerary for November.
You might also be interested in: The best cities in Greece to visit and the best time to visit Europe.
What is the weather in Europe in November like?
November in Europe typically brings colder temperatures, shorter daylight hours, and occasional snowfall in northern and central regions. However, southern regions such as Tenerife, Spain's Canary Island, enjoy milder temperatures ranging from 20°C to 25°C (68°F to 77°F), making it a popular winter sun destination.
Where to go in Europe in November
If you enjoyed this guide on the best European cities to visit in November, please share it on social media You'll find sharing buttons in the bottom right hand corner of your screen.
---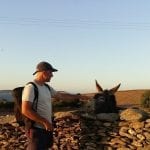 –
Dave Briggs
Dave is a
travel writer
currently based in Athens in Greece. In addition to creating this travel blog to the best European cities to visit in November, he's written hundreds more guides to other destinations in Greece and Europe. Follow Dave on social media for travel inspiration from Greece and beyond: