If you are spending Christmas in Athens, this guide will show you how to get into the holiday spirit! Here's how to have a Merry Christmas in Athens.
The Christmas holidays are a festive time in Athens, with Syntagma Square lit up, Christmas trees, and decorations along the streets. The Christmas mood is particularly evident at seasonally themed cafe Little Kook.
Check out some photos of Little Kook further down in the article!
Planning a Christmas Break in Athens?
Let's be honest. Athens may not come as the top destination when you think about a Christmas holiday, but you would be surprised at how you can still enjoy the most magical time of the year in the Greek capital.
And if you do not know where to start, here is a guide to help you make the most of your Athens Christmas break.
Things to know about Christmas holidays in Athens before you go:
Christmas in Athens has several advantages that may not come to mind at first.
For example, as a Mediterranean country, and being the southernmost European capital, Athens enjoys rather mild winters, which is perfect for those who prefer to escape snowier destinations.
Furthermore, since Athens is a top summer destination, a visit during the wintertime guarantees that you will get to enjoy the city without hordes of tourists. In addition, hotels and temporary accommodations are much cheaper during that period.
Check Christmas opening hours of sites and museums
That being said, there a few things to know concerning the opening hours of the archaeological sites and museums.
While the entrance prices may go as low as half the summer rates, the sites and museums also close earlier in the wintertime and on Christmas Day and Boxing day (December 26th).
We highly recommend you check the relevant websites prior to your visit. I've a guide here to all the museums in Athens.
Walking Around The Acropolis At Christmas
Of course you don't always need to go into the archaeological spaces to enjoy them at Christmas. On a pleasant evening, walking along the pedestrian streets which surround the Acropolis is a wonderful experience.
Buskers are out playing, handicrafts are being sold, and on some years there are also illuminated artworks like the ones below.
When in Athens at Christmas treat yourself
I'm a food first sort of person, so that's why I suggest you dive straight into some Christmas treats to try!
The holiday season means the annual apparition of delicious, yummy treats that are available at any bakery throughout the city, actually throughout the country.
Here are some of the best Christmas desserts you MUST try when spending Christmas in Athens:
Melomakarona
The most traditional Christmas treat of all, melomakarona cookies are baked throughout the Lent and Christmas season. These soft, syrupy cookies are covered with chopped walnuts and are perfect to pair with a good cup of coffee. Available in every bakery and even supermarkets, these are sold by the weight and make the perfect gift to bring home with you.
Kourabiedes
No Greek Christmas is complete until you find kourabiedes in bakeries, but boy, are you lucky if you ever have homemade ones. Similar to an almond shortbread cookie, these desserts are dusted with powdered sugar and can be consumed at any hour of the day. Seriously.
Diples (Fried Turnovers)
Originally from Peloponnese, diples are fried folded treats made from thin sheets of dough strips folded while being fried in hot oil. These sweets are then drizzled with honey syrup as they cool down, while cinnamon (and sometimes chopped nuts) is dusted on them. Coming in circular or triangle shapes, these can be easily found throughout the country.
What to do in Athens for Christmas
Now you've got a full stomach, it's time to check out some of the things to see and do in Athens during Christmas.
First of all stop off by Syntagma Square. The chances are there will be a tree in the middle. One year there was a Ferris wheel. In 2019, there was a 3D projection off the Parliament buildings. Next year?… You'll have to check for yourself!
Syntagma Square is right in the center of Athens, and is definitely worth visiting if you're looking to get into the Christmas spirit.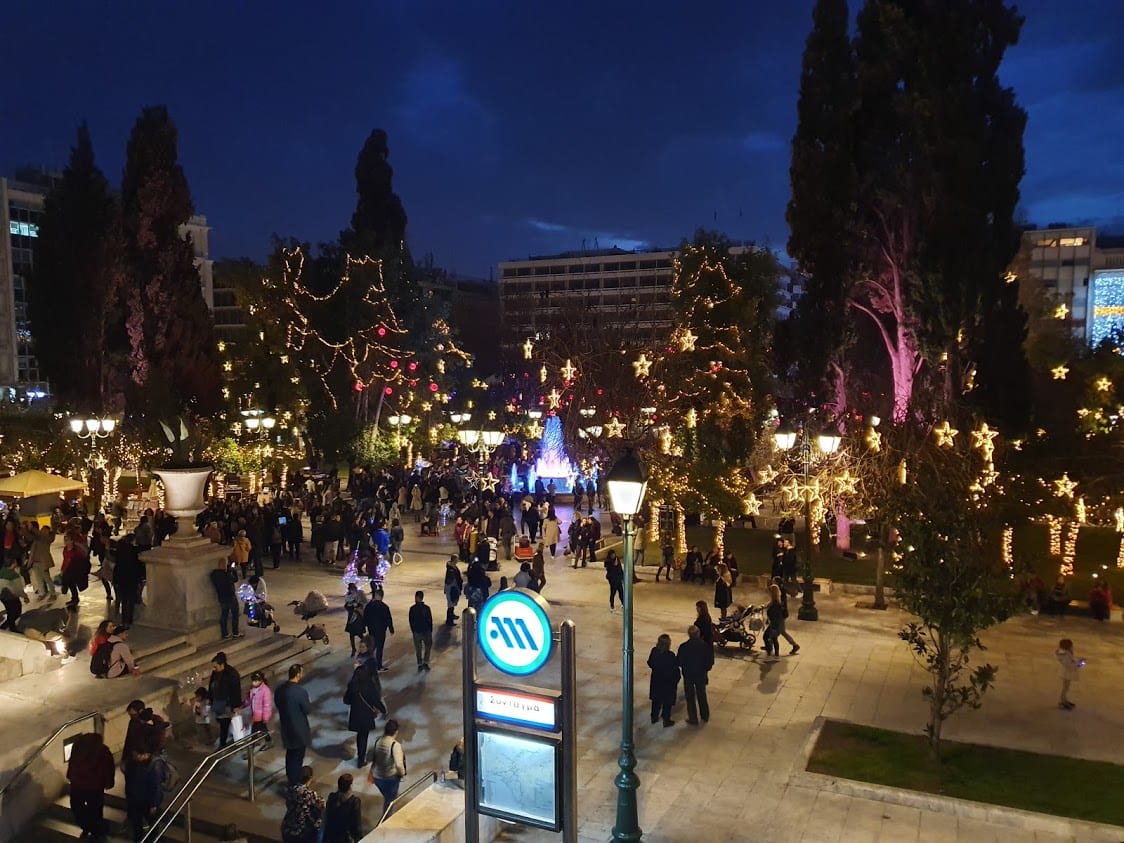 Do some Christmas shopping
While in Athens for Christmas, take advantage of the stores extended opening hours (including 3 Sundays for shopping) to make Christmas shopping easier during the month of December.
While this year's Christmas opening hours haven't been announced yet, you should know that stores will be closed on 25 and 26 of December. That being said, Athens is home to several shopping areas worth visiting.
Of course, Ermou street, off Syntagma square, is the easiest to find. The nearby Attica department store, on Panepistimiou avenue, is also a great central shopping point.
If you want to escape the crowds, the Mall in Marousi (Neratziotissa stop on the green line), the Golden Hall on Kifissias avenue and the Athens Heart, in Tavros, with its ice-skating rink, are all great places with the usual stores you will find across the world.
Experience the Christmas magic of Little Kook
Located in the central neighborhood of Psirri, Little Kook hardly needs an introduction for locals. This fun-filled café is known for its decadent desserts and hot chocolate but also for its Instagram-worthy, fairytale outdoor decorations that change seasonally.
You won't have a hard time finding it since there will be probably dozens of passers-by and customers snapping pictures of its magical displays in the street.
And as much as the outside is impressive, the inside will astonish you, as each room in Little Kook is designed after a specific theme inspired by the most popular fairy stories.
A truly magical spot that will charm adults and children alike! Find Little Kook in Athens at Karaiskaki 17, Athens. +30 21 0321 4144
Have a drink at Noel
Located in the heart of Athens, Noel, the Holiday Bar, is an all-day bar and restaurant where it is always Christmas! With its eye-popping décor and festive lights, this place is an ode to the most magical time of the year and is the perfect spot for brunch or drinks after hours.
With an extensive menu including cold dishes and salads, burgers, pasta dishes, and delicious pizzas, Noel is definitely an address you need to remember.
Word to the wise, the place gets busy pretty quickly on weekends so make sure to book a table in advance if you want to opt for the brunch or lunch. Youn can find it here: Kolokotroni 59B, Athens. +30 21 1215 9534
Watch the Santa Run in Athens
This annual event takes part on a Sunday in December (the date changes from year to year). It's organised by a local gym, and helps raise money for charity.
It looks a lot of fun to take part, and it's also good to watch. It's not often you get to see a hundred Santas running in front of the Parliament building in Athens! After they pass, you can hang around for the big Changing of the Guard ceremony that happens on Sundays at 11.00 as well.
Discover the magic of an Athenian Christmas at the Christmas Factory in Technopolis
Granted, the rather mild weather may not make you feel like it is Christmas but this is about to change once you set foot at the Christmas Factory, in the centrally located Technopolis, a major hybrid venue in downtown Athens.
The Christmas Factory has been established for over two years and has brought the magic of Christmas in the city of Athens, bringing a smile to the faces of thousands of young and less young.
This theme park opens its gate from late November until early January and includes a rich program of activities, shows, and educational workshops, as well as carousels and a Christmas market where to score yummy treats.
Santa Claus himself, alongside his assistants, makes an appearance, as well as other fairy-tale characters for a memorable moment with the family.
Tickets cost 5 euros and can be bought online or at Germanos stores. At a price so low, you may be tempted to visit this fantastic place more than once!
Go south for more Christmas fun!
Located in the residential area of Kallithea, right near the sea, the Stavros Niarchos Foundation Cultural Centre (SNFCC) shows how to make Christmas right, with stunning, picture-perfect Christmas light installations and an ice-skating rink open to all for free.
During the Christmas season, the SNFCC, which is known for its free program for all, also hosts a series of Christmas-themed events for all ages, including a DIY Christmas tree workshops, Christmas shows and performances and most notably a Christmas-themed opera performed by the National Opera.
Access to the SNFCC is easy thanks to the free shuttle available at Syntagma square (in front of the Public Store) or at Syggrou-fix metro stop.
Catch a Christmas show
Every year, several Christmas-themed shows and performances are held at several locations in Athens. The national concert hall, the Megaron Mousikis, in central Athens, hosts opera and ballet performances such as The Nutcracker, Swan Lake, etc.
Other options include Disney on ice at the Tae-Kwan Do arena in the southern suburb of Faliro.
As we suggested before, the SNFCC also hosts themed-plays and performances at the National Opera so make sure to check the respective websites for more information.
Celebrate like a king with a Christmas dinner in local hotels
One of the advantages of celebrating Christmas in Athens is the fact that there are no rules. You may quickly notice that Greeks do celebrate the holidays but certainly not to the extent of other European cities, meaning you can pretty much create your own kind of Christmas when in Athens.
As such, dining out on Christmas eve or even on Christmas day is definitely something you can do without compromising on quality time and delicious food.
You can certainly enjoy a delicious meal in the many restaurants in the city that remain open, but we recommend you step it up for the occasion and choose a Christmas dinner in one of the major hotels in Athens.
Christmas Dinner or Lunch in Athens
Think about the Grande Bretagne Hotel, NJV-Plazza hotel, the St. George Lycabettus Hotel or the Polis Grand Hotel, as they have a special festive menu with several options for the holidays, which may be an excellent way to celebrate this magical season.
If you are doing the planning for your Christmas period break in Athens months in advance, don't expect to be able to book an Xmas dinner much before the end of October!
Ski in Mount Parnassos
If you cannot imagine your Christmas break with a bit of snow, don't worry, you can ski in Athens. Actually, near Athens.
Located a 2-hour drive from the capital, Mount Parnassos is home to a ski center where you can enjoy some thrilling fun on the slopes at a fraction of the price you would in other mountain ranges in Europe.
The ski center of Parnassos is well organized and equipped and is also conveniently located near Arachova, a small picturesque mountainous village where you can end the day before returning to Athens. You might want to stay a night in the area, and link it with a trip to Delphi.
After all, who said, you couldn't have a little bit of snow for your Christmas in Athens?
Visit St Paul's Christmas Bazaar
While the Lent season marks the beginning of Christmas markets in Athens, there is one Christmas bazaar you do not want to miss if you are spending Christmas in Athens.
Hosted by the St Paul's Anglican Church, the St. Paul's Christmas Bazaar is an annual event that attracts thousands of visitors since its first edition in 1953.
Here, visitors will get to browse through Christmas decorations and gifts, as well as toys, Christmas cards, quality used clothes and second-hand accessories and jewelry but also homemade jams and marmalades, selection of tea, Christmas cookies and so much more.
Usually hosted on the last Sunday of November in the Zappeion, the St. Paul Christmas bazaar is definitely a fun event to attend and mingle with locals.
Attend a Christmas service at the St. Paul's Anglican Church
For those of us who cannot imagine Christmas without a Christmas mass, you will be happy to know that the St Paul's Anglican Church always hosts a Christmas midnight mass in English on Christmas Eve.
Just make sure you come early as the event is quite popular. Additional side events are also organized such as Christmas caroling, and so on.
With this list of things to do during Christmas in Athens, we hope we manage to convince you to give the Greek capital a go for your next holiday destination.
Buy some unique Christmas gifts
Feel free to browse some of the Christmas bazaars for traditional Greek products to take back home as presents? Olive oil, Greek coffee makers, herbal tees, and sugar cookies all make great gifts for family and friends!
Related: Warmest places in Europe in December
FAQ About Christmas Holiday Season in Athens
Readers planning to travel to Athens during December often ask questions similar to:
What is Athens like at Christmas?
You can enjoy the festivities at Syntagma Square, see the fireworks over the Acropolis, and have a wonderful time enjoying Greek sweet treats!
How do they celebrate Christmas in Greece?
Kids go door to door carol singing in Christmas Eve, trees are decorated and huge family meals are shared on Christmas Day. In addition, each region has their own specific traditions.
Is December a good time to visit Athens?
The weather is much colder in Athens during the winter months, but the festive season can be a good time to visit as not only are the historical sites tourist-free, you also get to see the Christmas lights and decorations in the city.
What is New Year's Eve like in Athens?
Many Greeks see in New Year's Eve with their families, but as you might expect there are also big events held with plenty of fireworks. If you're in the city for New Year, it's a great idea to head down to Syntagma and anywhere within viewing distance of the Acropolis!
Are Athens museums open Christmas Day?
All of the museums in Athens as well as the archaeological sites are closed on Christmas Day (25th December), and Boxing Day (26th December).
Useful Athens Travel Guides
You may also find these Athens travel blogs useful reading:
---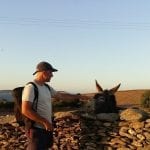 –
Dave Briggs
Dave is a
travel writer
who has been living in Athens since 2015. In addition to creating this travel blog about Christmas celebrations in Athens, he's written hundreds more guides to other destinations in Greece. Follow Dave on social media for travel inspiration from Greece and beyond: