Norway has been on my radar for a long time. I originally wanted to include it on a North Cape to Cape Town bicycle tour – which may still happen one day, you never know! Here is a look at the best time to visit Norway for outdoor adventure activities.
Best Time To Visit Norway
Let's start with the best time to visit Norway. The answer is – any time! It all depends what you want to see and do.
If your aim is to see the northern lights, the best time to visit Norway is between October and March.
If you want to experience the midnight sun (as I did in Alaska when cycling the Pan Am Highway), then the best time to visit Norway would be between June and August.
For fewer tourists, potentially cheaper prices (if you are lucky!), and changing plant and tree colours, May and September would be the best time to visit Norway.
If you are reading this travel blog, the chances are, you like outdoor adventure activities. These are best enjoyed between May and September for 'regular' activities. The other months are most suitable for winter sport activities.
Things To Do in Norway – Outdoor Adventures
It has to be said, that Norway is a paradise for outdoor adventure activities! The backdrop of fjords, glaciers, and lakes presents the perfect playground for anyone that likes cycling, hiking, skiing, and kayaking.
Whether you aim to spend time in the UNESCO-protected Geirangerfjord area, want to try dog-sledding or downhill skiing in the winter, or simply want to ride your bike and wild camp in the countryside, there is an endless amount of choice.
I've mentioned some outdoor adventure activities below, and you can take a look here for a more complete Norway travel guide.
Cycling in Norway
There are a number of cycling routes in Norway to choose from, whether you are looking at a short 2 day tour, or an epic journey across the country.
When I was planning my currently shelved cycle ride from North Cape to Cape Town, I looked at incorporating the Eurovelo Route 1 into my trip. This pretty much follows the Atlantic coastline, and covers 2500kms from North Cape to Bergen.
For other ideas of cycling routes in Norway, this article might be useful – Top 5 cycling routes in Norway.
Hiking in Norway
Hiking is one of the best ways to see Norway's greatest asset – the beautiful countryside. In the same way as the cycling options, there are short day hikes, and much longer, long-distance hiking routes that people can choose.
An 'unofficial' long distance hiking path (E1 EUROPEAN LONG-DISTANCE PATH) has been designated by the European Ramblers society. It is nearly 5000km in length, and goes through Norway, Sweden, Denmark, Germany, Switzerland, Italy.
The Norwegian section of the route (some 2100 kms) was officially opened by the Norwegian Trekking Association in 2013. Apparently, no one has yet completed the full hiking route. Maybe this is a challenge I could set myself in the future!
Winter Outdoor Activities in Norway
Norway may be cold in the winter. It might be darker (shorter amount of daylight hours), but this is no excuse to be lazy! Norwegians love their winter sports, such as Nordic skiing, ice-hockey, bob-sleigh, skating, dog-sledding, and alpine skiing.
Whilst cycling might be off the agenda for most people (although I have heard of some crazy people putting snow tyres on their bikes), winter is the best time to visit Norway for a range of outdoor activities out in the snow.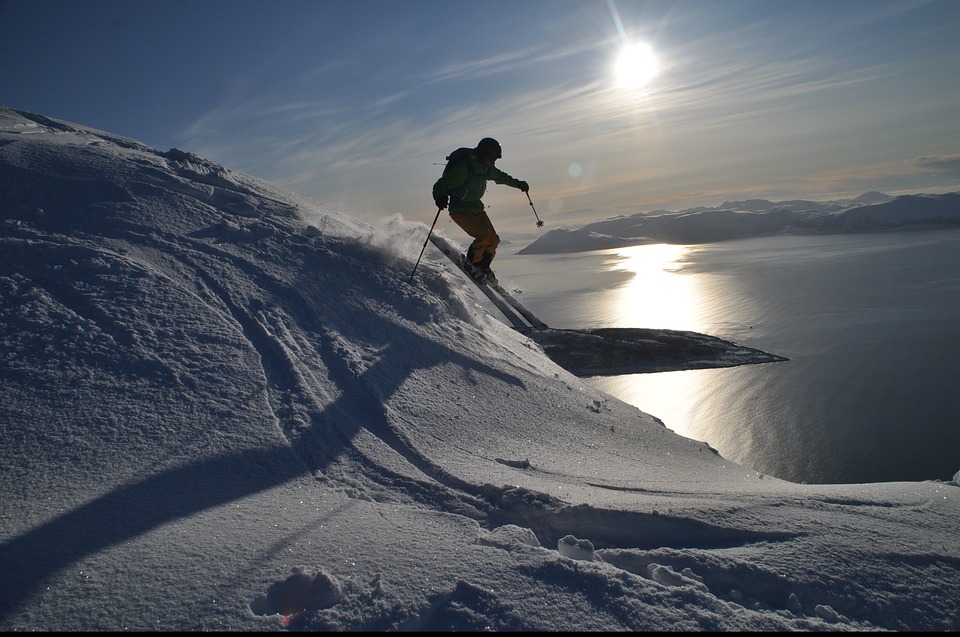 Have you visited Norway, and if so, at what time of year? We would love to hear when you think is the best time to visit Norway for outdoor adventure activities. Please leave a comment below!
Looking to visit other destinations? These other guides on the best time of year to go places might be a useful read: