This travel guide to the best time to visit Mykonos will help you pick the right season and month for your vacation in Mykonos island, Greece.
When to go to Mykonos
Ask a few Greeks about the best time to visit Mykonos, and you will likely get several different answers.
Some people who have been going there for years, would answer "anytime".
There are people who have never been to Mykonos, as what they've heard about it doesn't appeal to them, that would answer "never".
There are people who would say that the best time to visit Mykonos is "outside the tourist season".
And there are people who would advise you to "go to Mykonos in August". Confusing, isn't it!
To be fair, you can visit Mykonos island at any time of year as it has a longer tourist season than some other islands. That said, there won't be much to do in the winter – no crazy parties and the average sea temperature would be too cold to swim for most people.
It all depends on what you want to get out of your holiday, and also on your budget.
Before we get into details, here's a few recommendations that will make your travel planning easier.
Ferryhopper – If you need to book a ferry between Greek islands, this is the best place to check schedules and book e-tickets online.
Booking – Looking for accommodation in Mykonos? Booking helps you easily find, compare, and book hotels and villas online.
Get Your Guide – Sometimes, the best way to see a destination is in the company of a local guide. Get Your Guide have a range of tours and activities you can check out.
Revolut – Say goodbye to terrible exchange rates, and get yourself a Revolut travel card!
And a few more specific travel guides:
So let's look at the best time of year to go to Mykonos!
---
Is summer the best time to visit Mykonos?
With thousands of people travelling to Greece during summer, and with Mykonos being one of the most popular destinations, many visitors inevitably go to Mykonos in summer.
July has the hottest weather, and along with August, you'll find huge beach parties, be able to enjoy lots of swimming and watersports, and feel that high season vibe.
But are the summer months the best time to travel to Mykonos?
The answer really depends on your preferences and what you like doing during your holiday.
Mykonos Town in particular gets busy and crowded in summer with cruise ships arriving daily, and people spending several days on vacation.
As a result it might be a challenge to walk around Mykonos Town and actually enjoy it, and let's not even start about finding decent and affordable accommodation unless you book months in advance!
At the same time, this is when all the clubs are open, and this is when the biggest parties happen.
Also read: Best time to visit Greece
Summer Nightlife in Mykonos
During July and August, the nightlife in Mykonos tends to peak at 3-4 am, while some clubs stay open until 8-9 in the morning.
If this is not your cup of tea, there is not much point in going to one of the most expensive Greek islands at this time of year
August is the very peak season, with people visiting from Greece and nearby countries, such as Italy. If wall to wall umbrellas and loud music is not your thing, perhaps choose a different time of year to visit Mykonos, or even a different island.
You might like Milos or even Naxos instead for example.
Mykonos Summer Weather
Overall, the weather is great and the water temperature perfect for swimming, There's a low chance of rain (more like zero actually!), and the climate is generally idyllic… apart from one thing.
Most visitors don't realize is that the Cyclades islands can get quite windy in summer, especially around July and August. You might sometimes hear Mykonos referred to as the Island of the Wind.
This is because it is subject to north winds called Meltemi, which typically happen during the summer months. Although you may have clear skies and sun, the wind speed in the Cyclades can be very strong!
When visiting Mykonos in summer make sure you stay on the south beaches, or at least plan to be able to get to those more protected beaches depending on the wind direction. If you really can't stand strong winds, it might be better to visit Mykonos later in the year.
If your aim when travelling to Greece is to relax, it might be best to choose another Greek island for your summer vacation, or visit Mykonos outside summer.
The same applies if you are on a budget, or if you want to get away from the tourist trail.
Also read: Do you need a car in Mykonos?
---
Is then winter the best time to visit Mykonos?
While Greece gets very warm in summer, it can get surprisingly cold in winter. In addition, as with all summer destinations, Mykonos shuts down in winter, and there won't be much going on outside the tourist season.
If you really only want peace and quiet, winter off-season might be an interesting time of the year to go to Mykonos.
Just note that, unless you are a winter swimmer, you will probably find that the sea temperature is too cold for you – average temperature for January is 9-13 degrees celsius!
You'll also get a little rain. Not too much compared to northern Europe, but enough rainfall to make you want to pack a jacket!
Many restaurants and bars will be closed during the low season, the people who work in tourism will be gone, and you will pretty much only meet the locals, who will wonder why on earth you are visiting Mykonos in winter.
On another note, the archaeological site of Delos, an island near Mykonos, is closed in winter. If you had in mind to visit Delos and perhaps the uninhabited island of Rhenia on a day tour from Mykonos, make sure you don't go in winter.
---
Should I visit Mykonos in spring?
Spring might be the best season to go to Mykonos. The temperature will usually be mild, it will be sunny with a clear sky (don't blame me if it isn't and it's a little rainy!), and you will get to see a lot of green nature, that generally disappears in the summer.
Overall, April or May may be sunny and have good weather, but you might still find it too cold to swim in the sea for long.
Check the dates for Orthodox Easter, which is normally in April or May. Mykonos is a popular destination among Greeks at that time. Advance booking of ferry tickets and hotels in Mykonos is recommended.
Like the other Cycladic isles, the Mykonos weather gets much warmer in June, and as such the island slowly becomes more popular, but it's nowhere near as busy as in mid-July or August.
More here: Greece in June
---
How about visiting Mykonos in autumn?
For people who have been visiting Mykonos for years and travel there often, the best month to visit Mykonos is early September.
The peak of the high-season crowds are gone, but there are still enough people to make it work, as most tourist businesses are still open.
At the same time, the Mykonos weather is not too hot, the strong winds are gone, and the sea is warmer than in spring, so swimming is very pleasant. You might need to wear a light jacket for eating outside in the evenings.
Furthermore, accommodation prices drop significantly especially during late season, and it's easier to find a place to stay even if you haven't prebooked.
If you want to appreciate the place when the tourist numbers are lower, try early September to early October.
Check my guide to the weather in Greece in October.
---
My Time on Mykonos Island
I visited Mikonos in early June, and enjoyed great weather. The sun was shining every day, the sea was warm enough to swim in, and we had a moderate breeze as opposed to the crazy high wind speed you might get at peak Meltemi time!
When is the best time to go to Mykonos? Verdict…
If you are going to Mykonos mostly to party, it makes sense to go in July or August. Although this isn't everyone's preference, the island is world famous for its wild beach parties and clubs, where the more is the merrier.
If you want to enjoy the beautiful beaches at their quietest, appreciate the nature in Mikonos, and also visit the archaeological site of Delos, try to go in May, June or September, or even early October. The weather will mostly be pleasant with lots of sunshine, and you won't have to compete with other visitors for a lounger or a table in a restaurant.
On reflection, I think that September is the best month overall.
Whatever you do, just make the most of the island!
Related: Greece currency, money and ATMs
FAQ About the Greek Island of Mykonos
Readers planning to combine a trip to Mykonos with a little island hopping often ask questions similar to:
What is the hottest month in Mykonos?
July has the warmest weather, and day time temperatures average 29 C. While the hot weather continues into August, it is tempered somewhat by the Meltemi winds which cool things down a little.
How many days do I need in Mykonos?
Unless you want to spend your entire vacation on the island, I would recommend visiting Mykonos for three days. This is enough time to see all the major highlights including a side trip to Delos.
Is Santorini or Mykonos better?
All the Greek islands are different, and this is certainly the case with Santorini and Mykonos. For example, Mykonos has fantastic beaches whereas Santorini does not, however, Santorini has much better views and sunsets and is more photogenic.
Is it better to go to Santorini or Mykonos first?
It doesn't really make any difference which order you visit these two islands. If you want to finish your time in Greece on the beach, perhaps visit Mykonos last.
What other Greek islands are close to Mykonos?
While many people combine a visit to Mykonos with Santorini, Santorini is actually one of the furthest Cycladic islands from Mykonos. The nearby islands to Mykonos are Tinos, Syros, Naxos and Paros.
Free Travel Guides to Greece
If you're planning a holiday in Mykonos, you might find my free travel guides to be useful.
Pin this guide on when to visit Mykonos
Still not sure when the best time to go to Mykonos is for you? Save this pin for later on one of your boards. This way, you'll easily be able to find it for future reference.
You might also like to read these other guides to Greek islands and travel:
---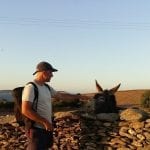 –
Dave Briggs
Dave is a
travel writer
based in Greece since 2015. In addition to writing this guide on the best time of year to visit Mykonos, he's written hundreds of other travel guides to Greece and the islands. Follow Dave on social media for travel inspiration from Greece and beyond: