June is one of the best months to visit Greece. With nice weather, long daylight hours and not too many tourists, here's what you need to know about Greece in June.
For many people, a trip to Greece is a lifetime experience. The beautiful Mediterranean country is well known for its ancient sites, pristine beaches, iconic villages and delicious food.
But what is the best time to visit Greece? Generally speaking, the best season for visiting Greece is considered to be from April until late October.
Visitors often assume that the high season months, July and August, are the best. However, those two months can be too warm, and exceptionally crowded.
Visit Greece in June
As I've been living in Greece for several years, I would say that June is one of the best times to travel around Greece.
Not only is the weather more pleasant, but you won't get the crazy summer crowds or high accommodation prices.
Whether you are going to Athens, some of the Greek islands or mainland Greece, here is what to expect if you are visiting Greece in June.
June Weather In Greece
Let's start with one of the most important questions – what is the weather like on the first month of Greek summer?
June weather in Greece is pleasantly sunny and warm. Average temperatures around most of the country range between 23-27 C (73-80 F). On some days in late June, they tend to rise to just over 30 C (86 F).
By comparison, average July – August temperatures are significantly higher, often averaging at around 35 C (95 F) during the day. Maximum temperatures over 40 C (104 F) are not unheard of.
I've experienced a few heatwaves in Athens, two of which were in 2021. I'm ever so glad I didn't have to climb up the Acropolis hill on those days!
Rain in June is quite uncommon. Areas like Crete, the Cyclades and Athens typically get one or two days of rain throughout June. You are more likely to get some rain if you visit the Ionian islands or western Greece.
Swimming in June
Sea temperatures in Greece vary a lot throughout the year. Many people find the spring months of April and May too cold to swim.
June, and especially the period from mid June onwards, is great for swimming and spending time on the beach.
Overall, sea temperature is typically lower on islands with deep waters or open seas, like for example Amorgos or Crete.
Sheltered beaches with shallow waters, like those in Paros, Naxos or Koufonisia, are generally warmer, and they may suit you better if you are travelling with family.
Still, most people will find swimming in June pleasant and refreshing.
Sea temperatures rise further during July, August and September. If your main aim is to go swimming, you will find that mid September will be better than June.
Sightseeing in June
June is a good month for sightseeing in Greece without the summer crowds.
Popular attractions like the Acropolis of Athens, Delphi, Meteora and Knossos in Crete won't be as crowded as they are in high season.
When you visit any of the archaeological sites in Greece, remember that the sun can get very hot. Don't forget to bring a hat, sunscreen and a big bottle of water.
Museums in Greece are a great year round activity. June is a good time to visit, as you can benefit from the air-conditioned rooms on the warmest hours of the day.
Hiking in June
Early June is a great time to go hiking in Greece. Towards the end of the month, you will find that temperatures get higher. It might be best to avoid the warmest hours of the day, from 11am to 4pm.
The best season in Greece to hike is the shoulder season, either April or May, or late September and October. Though you might get a few rainy days, the temperatures will be more suitable for hiking.
If one of your main aims is to hike, you can consider visiting on the days around Greek Orthodox Easter, which is in April or May.
This way, you will see Greek nature at its best, with all the colourful spring flowers. Moreover, you will experience the unique Greek traditions of Good Friday, Good Saturday and Easter Sunday.
Partying and nightlife in June
June is an overall good month for nightlife in Greece. Bars, clubs, and similar businesses will be fully open by the second or third week of the month. This includes those on the less popular or more remote islands.
Having said that, the wildest summer parties often happen in late July or August. If you are after parties and large crowds, that's the best time to visit destinations which are famous for their nightlife.
These include islands like Mykonos, Ios, Paros or Zakynthos. Just make sure you book your accommodation well in advance by using Booking.
Athens in June
Athens, the Greek capital, is a year round destination. While you won't get warm weather in winter, you can still enjoy the numerous ancient sites, museums, and lively vibe of the city.
June is a beautiful time of the year to visit Athens. You can fully explore the city on foot without the extreme temperatures of July and August. As the days are long, there is plenty of time for sightseeing.
Nature around the Acropolis and Philopappou hills is still verdant, especially if you visit early in the month.
Festivals in Athens
June is one of the liveliest summer months in Athens. Look out for popular music and performance events.
Two of the best known festivals in Athens are the Athens and Epidaurus Festival or the Athens Technopolis Jazz Festival.
The Greek islands in June
June is a popular time to visit the Greek islands. Whether you are going to the Cyclades, the Ionian islands, Crete or any other islands in Greece, you will typically find good weather and fewer crowds than in high season.
Depending on which island you are visiting, you might get a few hours of rain – but it's very unlikely that it will spoil your trip to Greece.
All in all, June is a great time for Greek island hopping if you want some peace and quiet, but also a good choice of tavernas, cafes and bars.
While the ferries are less likely to be sold out in June, I always suggest booking your ferry tickets in advance, especially if you are travelling on weekends.
To easily compare ferry routes and prices I recommend Ferryhopper, a search engine for all ferry travel in Greece.
Which are the best Greek islands to visit in June?
I find that early June is a good time to visit the popular islands, like Mykonos and Santorini. This way you will get to see them without the insane August crowds.
Towards the end of June, you could consider other islands like Naxos, Tinos, Lefkada, Ithaca, Rhodes or Patmos. But in all fairness, June is a fantastic time to visit any Greek island.
Santorini in June
A side note for Santorini: the popular island has a much longer tourist season than any of the other Cyclades. Things start picking up in late March, and the season goes well into November.
The weather in Santorini Greece in June is typical of the other Cyclades islands – You can expect warm to hot weather, little rain, and the sea is just warm enough to swim comfortably in.
Overall, the winter months, December, January and February, are the quietest. I personally enjoyed visiting in late November, but some people would find it too quiet.
Greek mainland in June
Greece may be famous for its islands, but the mainland will reward you with fantastic landscapes, tons of history, and lovely coastal towns.
Delphi and Meteora
Two of the most popular destinations in mainland Greece include Delphi and Meteora. Visitors will enjoy the mild June temperatures and the long, sunny days.
If you happen to stay overnight in Arachova, a mountain village close to Delphi, make sure you bring some warmer clothes. Evenings can be best described as cool!
The Peloponnese
An area well known for its numerous towns and ancient sites is the Peloponnese, the southernmost region in mainland Greece.
Temperatures here are a little warmer than the rest of the country. Still, June is a fantastic time to see the popular town of Nafplio, as well as Gythio and Kalamata.
When visiting archaeological sites like Ancient Mycenae, Ancient Olympia or Epidaurus, start your sightseeing early in the day. The midday sun gets quite hot!
Accommodation in June
If your budget is limited and accommodation prices can make or break your holiday, then late May and early June are ideal for Greece travel.
Most hotels will have opened, and you will have much more choice on places to stay. Moreover, you won't need to book your accommodation months in advance.
In my experience, hotel prices in June are much lower than in July and August. Here is a breakdown of our costs travelling around many islands in early summer 2021. No, Greece doesn't need to be expensive!
Is June the best time to visit Greece?
Generally speaking, the two best months to visit Greece are June and September. This applies for the majority of visitors, who are typically interested in a combination of activities.
June is ideal for sightseeing, touring, swimming, and tasting the lovely Greek food, without the high temperatures that will make most people feel uncomfortable.
If swimming and beach time are not a priority, you should consider visiting during the shoulder seasons, especially in May. You will experience mild weather and blooming nature, even on the driest of islands, like the Cyclades.
Apart from June, is there another good time of year for Greece?
Of course! In fact, I would argue that Greece is a year round destination. There is a lot to see and do, and it's not all about the islands.
Visitors may not realize it, but Greece has four seasons, and there are many opportunities for mountain activities, including skiing.
Arguably, it's always better to visit a country when the weather is good. Which is why May, June and September are ideal.
So why do so many people visit Greece in August?
The main reason why August is so popular is that it's the only month when many people, including Greeks, can take time off work or school.
If you are one of those lucky people who can choose when to take time off, skip August. You will definitely enjoy your time in Greece a lot more.
FAQ about visiting Greece June
Readers planning to travel to Greece in the month of June often ask questions similar to:
Is June a good time to go to Greece?
June is one of the best months to visit Greece. The weather is warm but not overly hot, and the sea temperature is great, especially towards the end of the month. In addition, you get 14.5 – 15 hours of daylight per day.
How hot is Greece in June?
June in Greece is pleasantly warm. Average daily temperatures on Athens and most islands are around 23-27 C (73-80 F). Maximum temperatures can reach 30-32 C (86-90 F)
Is Greece crowded in June?
Generally speaking, Greece isn't too crowded in June. The peak months are July and August.
Which is the best Greek island to visit in June?
Any Greek island is good to visit in June. If you want to go to Greece's most popular islands, like Mykonos and Santorini, early June is a good month to avoid the summer crowds.
---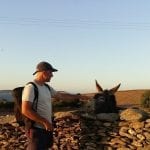 –
Dave Briggs
Dave is a
travel writer
from the UK but living in Greece since 2015. As well as creating this travel blog post about ferries from Paros to Ios, he's also written many more travel blogs about destinations in Greece. Follow Dave on social media for travel inspiration from Greece and beyond: