So you want to take an autumn holiday, and want to find out which is the best Greek island in October. I've got five awesome choices of Greek islands to visit in October for you below.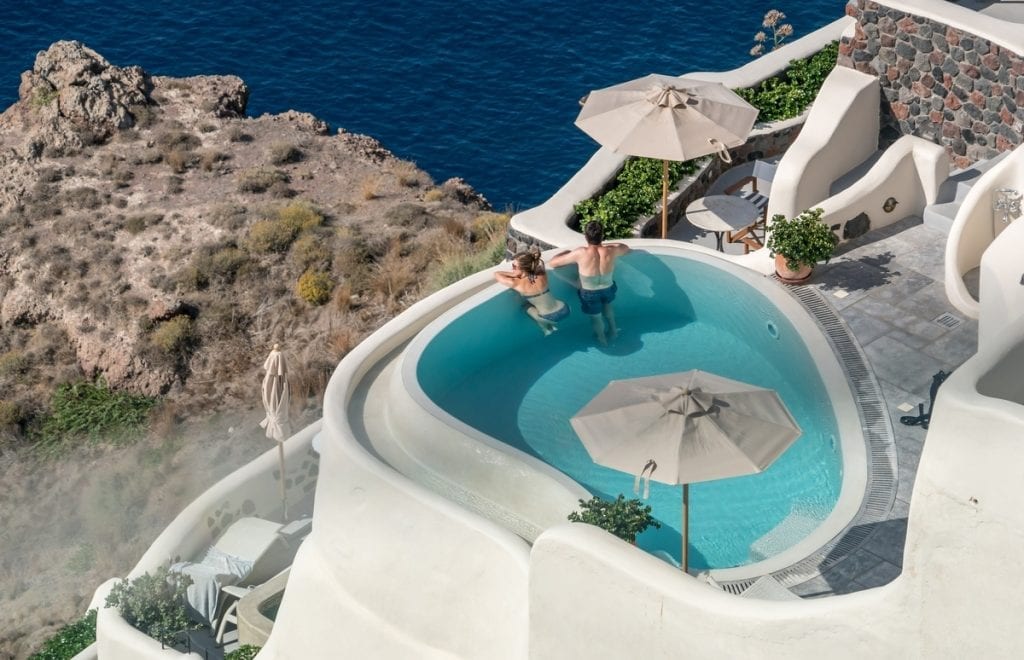 Visiting Greek Islands in October
While the majority of tourists visit Greece in the summer, in recent years there is a trend for people to visit during the shoulder seasons, spring and autumn.
October, in particular, seems to be a popular month for people to visit Greece, as the weather is much warmer than most other places in Europe, and as such it can be a good off-season break.
Best Greek Islands to Visit in October
In this article, we've put together some information about 10 of the best Greek islands in October:
Crete – Best weather in October

Santorini – Great month for sunsets

Rhodes – Warm and pleasant

Mykonos – Quieter beaches

Naxos – A taste of authentic island life

Hydra – Short trip from Athens

Corfu – Good time for walking around castles

Andros – Hiking and outdoor activities

Kefalonia – Last warm sun of the year

Syros – Local nightlife
Weather in Greece in October
The weather in Greece in October can be quite variable. There will generally be some sunny days, but there will also be some rainy days.
It also depends where in Greece you are. For example the Ionian islands will have more mild temperatures than islands in the south of the country like Crete.
During the day, you can expect warm weather for the most part, so pack summer wear and plan for a few beach days! In the evenings, temperatures start to drop, and you will probably need a jacket, unless you come from countries with really cold weather and are used to it!
As a rough rule of thumb, the hottest Greek islands in October tend to be in the south of the country – think Crete, the Dodecanese islands and Cycladic islands.
If your main aim when visiting Greece is to stay on the beach and go swimming, September is overall a better option, as the days are still fairly long and sea temperature is relatively high.
At the same time, if you want to go sightseeing in the cities, or if you want to go hiking on the islands, October is a perfectly fine choice.
Check out my full guide: Weather in Greece in October
Travelling in Greece in October
If you are planning to visit some of the Greek islands in October, check Ferryhopper for updated ferry schedules. You can also reach most of the islands by a short flight from Athens airport, as well as some European airports.
If you are planning to Greek island hop, my travel tips and guides to Greek island hopping are essential reading!
Below are some of the best Greek islands to visit in October.
---
Crete in October
If we could only visit one Greek island in October, and had enough time to explore, it would be Crete.
With some of the mildest temperatures, some of the most diverse landscapes and some of the best food in Greece, Crete is an ideal destination all year round.
It's often thought of as the warmest Greek island in October, and there's plenty to see and do. The sea temperatures are also still warm enough for swimming, making it a good choice of destination for autumn sun holidays.
Check out this extensive article: Visiting Crete in October
There are regular ferries from Athens to Chania and other destinations in Crete, but you can also consider a short flight from Athens airport. There are also direct flights to Chania or Heraklion from several European cities.
Related posts: Top things to do in Heraklion, Best time to visit Crete, and my Crete Travel Blog.
---
Santorini in October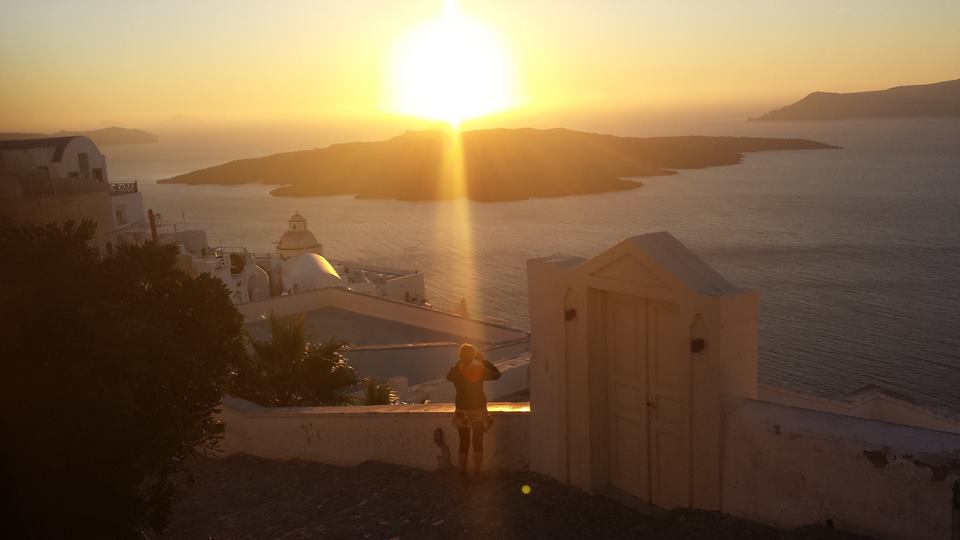 In our opinion, October is one of the best months to visit Santorini.
Even though cruise boats still visit the island on pretty much a daily basis, the island is considerably less crowded than in the summer peak season.
As a result, accommodation prices are lower. Most restaurants, cafés and bars are open, and the island is still lively, but not overly busy.
Swimming-wise, given that Santorini is not as south as Crete and Rhodes, the water might be a little cold, but most people should be fine to swim on a sunny day.
While on the island, it's worth taking one of the popular day tours in Santorini, especially the volcano tour, or perhaps a wine tour of Santorini.
If you want to travel from Athens to Santorini in October, my suggestion is to fly, though you can also take a high-speed ferry if you prefer. This article explains in detail how to get from Athens to Santorini.
More here: Reasons to visit Santorini Greece in October
---
Rhodes in October
For anyone who wants to have a beach holiday in Greece, but doesn't have enough time to explore Crete, Rhodes is the other best Greek island to visit in October.
With mild sunny weather, an amazing medieval town, the stunning Lindos castle, and a bunch of beautiful beaches, Rhodes is a fantastic place to visit in October.
You can expect average temperatures to be 24 degrees during the day, and 17 degrees at night.
It's best to arrange your accommodation in Rhodes town, as there is a lot to see there. You can easily spend two days just walking around the town, and visiting the superb museums.
Tip – on some days, you can walk on the Walls of the city as well.
When it comes to beaches, Rhodes has plenty to offer, and it's best to rent a car if you want to explore them. From the famous Anthony Quinn beach, which is a paradise for snorkelers, to the faraway Prasonissi beach on the south, ideal for windsurfers and freecampers, you will definitely love the beaches in Rhodes.
Combine one of your beach-hopping days with a visit at Lindos Castle.
If you prefer not to drive yourself, you can take a guided bus tour of the island. There are many different ones available, some of which including Lindos. If you want to get off the beaten track, this is one of the best options: Rhodes Safari Tour.
Finally, you can also consider a day trip from Rhodes to Marmaris, in Turkey!
As ferries from Pireaus to Rhodes take at least 13 hours, the best way to get from Athens to Rhodes is by a short flight. There are several direct flights from European cities to Rhodes as well.
Related: Best time to visit Greece and Best time to visit Rhodes
---
Mykonos in October
The cosmopolitan island of Mykonos is most well known as a summer party island destination for people who want to see and be seen. October though can be a good time to visit.
While the party scene isn't rocking quite as hard as it does in July and August, it is still there, but it's the beaches that are the main reason to visit Mykonos during October.
Of all the Greek islands, Mykonos does have some of the most incredible beaches, and with fewer people crowding on them, October may be just the best time of year to see them.
Early October would be better, as the sea will be warmer to swim in, and there will be less chance of rain. After mid October, it might start to get a little cool to swim as the average sea temperatures drop.
Read: The best time to go to Mykonos
---
Naxos in October
You might be surprised to see Naxos in the list of best Greek islands in October. However, Naxos has it all – history, mountain villages, pretty landscapes, and stunning beaches, so it's really an ideal destination in Greece.
It should be warm enough be able to spend some time on the beaches in Naxos, especially if you visit early in October.
Related: Best Greek Islands For Beaches
Naxos has one of the most unique main towns in the Cyclades group of islands, with the white-washed town houses having merged with the Naxos Castle.
Allow a few hours to wander around, and allow enough time to get lost in the maze of tiny streets. Apart from Naxos town, make sure you visit some of the mountain villages, such as Apiranthos, Filoti, Koronos and Halki.
In terms of food, Naxos has several unique meat dishes and many distinct types of local cheese, such as graviera and arseniko. Make sure you taste the local kitro, a distilled alcoholic drink, and consider visiting one of the local distilleries, such as Distillery M. G. Vallindras in Halki village.
Special events in Naxos in October include the Naxathlon, a special triathlon event, and the celebration of the "Ohi" day, when you will see parades out on the streets. Take a look here for some of the best things to do in Naxos.
You can get to Naxos either by ferry from the Athens ports, or via flight from Athens or other European cities. Naxos is one of the best islands to go for off season travelers who want to see a bit more of the genuine Greece.
---
Hydra in October
The cosmopolitan island of Hydra is popular among locals as well as tourists. Hydra's role during the Revolution against the Ottoman Empire in 1821 was very important, something that locals take considerable pride in.
A small island closed to traffic, Hydra keeps an authentic charm in terms of architecture, with many 18th-19th century mansions built in unique style.
At the same time, Hydra has a network of trails that expand to over 80kms all around the island, and as such is an ideal hiking destination close to Athens. Apart from the beautiful nature, you will also see many monasteries around Hydra.
The island also has its fair share of nice beaches, some very close to the main town, and some others a long hike or a short boat ride away. As in October you probably wouldn't be planning a beach vacation in Hydra anyway, the beaches are good enough for refreshing swims.
The island can be visited either on a day trip from Athens to Hydra, or for multiple days. Sea dolphins and ferries depart from Pireaus to Hydra port several times a day, taking anywhere from one to 3,5 hours to get to Hydra.
Note that if you are going to Hydra in late October, especially around St Dimitrios day (26 October) or the "Ohi" day (28 October), it's best to reserve your accommodation and tickets in advance.
There are festivals and special events on the island, so it's a popular time to visit among Greeks. You might also see the "Hydra" sailing race, taking place around the 28 October.
---
Corfu in October
A visit to Corfu in the Autumn months is a time of year that many travellers choose for its atmosphere and peace. You can enjoy this very special Ionian island more than at other times of year, when you are spoilt for choice with activities on offer.
While October may be considered a shoulder season month to visit Corfu, it's a great time for more authentic experiences. The sunny days are not too hot, and walking around the castles, fortresses and hiking trails is a lot more pleasant.
October is a good month for trips up into the mountain villages, and tasty local food in the tavernas that cater to year round clients and not just tourists. Many of the beach bars will be closing down in October, especially towards the end of the month.
---
Andros in October
Andros island in the Cyclades is often overlooked by people planning a summer island hopping trip, but it's one to be considered for autumn travel in Greece.
Outdoor enthusiasts in particular will find that October is the best time to go to Andros, especially if hiking is a priority. There is a network of trekking trails all over the island, connecting villages and places of cultural significance.
If you haven't heard much about Andros island before, why not buy yourself a copy of our Andros travel guide on Amazon!
---
Kefalonia in October
The tourist season in Kefalonia may be drawing to an end in October, but the first two weeks still provide enough sun and warmth to keep swimming. Well, just about!
With no crowds, and the seasons turning, October can be a good time to see local harvest where grape picking and wine making start to transition into olive picking.
---
Syros in October
Famed for its neo-classical architecture, Syros is the capital of the Greek Cyclades islands. While the summer months are the most popular time to visit, October can be quite interesting.
With a lively student population, you can find bars and tavernas, live music venues and gatherings that have more of a local touch than you'll find at other times of year. You probably won't want to spend more than a few days, but you could combine a visit to Syros with a stay in Mykonos with a little island hopping!
---
Which is the best Greek island to visit in October?
All things considered, Crete is the best Greek island to visit in October due to the good weather, warm sea, and abundance of things to see and do.
Which Greek island is hottest in October?
Crete is the hottest island in Greece in October. The day time weather can still have temperatures in the mid 20s and the sea is warm enough to swim in.
Is October a good time to go to Greek islands?
October is a good shoulder season month to go to the Greek islands, and also a popular choice with budget conscious travelers as well as people who want to catch the last of the European sun for the year.
Is it still warm in Greece in October?
Greece is still warm in October, with day time temperatures in the mid 20s. The evenings can get a little chillier, but it is still pleasant enough to sit outside and enjoy an evening meal if wearing a light top.
Have you visited any of the Greek islands in October? Which was your favourite? Let us know in the comments!
You might also be interested in:
---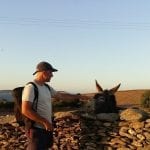 –
Dave Briggs
Dave is a
travel writer
originally from the UK, and now living in Greece. In addition to creating this travel blog post about which popular Greek islands are a good choice for an October holiday, he's also written hundreds more travel guides to Greek destinations all over the country. Follow Dave on social media for travel inspiration from Greece and beyond: