This guide to the best beaches in Naxos will help you pick the perfect spot, whether you want to relax, see the sunset, or go snorkeling in Naxos Greece.
Best Beaches Naxos
Naxos is the largest island in the Cyclades of Greece, which means that it has more than its fair share of incredible beaches!
In my opinion, Naxos is home to some of the most beautiful sandy beaches in all of Greece. From long stretches of sand to quiet secluded bays, busy organized beaches to hidden gems where you'll need your own umbrella, the beaches on Naxos will not disappoint.
Whether you're looking for a beach to relax on, snorkel, or watch the sunset, there's a perfect beach for you on Naxos.
Naxos Best Beaches
Best snorkeling Naxos: Mikro Aliko Beach, Panormos beach, Ligaridia Beach, Kampos Grotta beach. Also try Naxos Rina Cave Cruise (with snorkeling)
---
Best sunset Naxos: Plaka Beach, Abram Beach, Mikra Bay
---
Best for families: Agios Georgios Beach, Kastraki Beach, Agios Prokopios
---
Best organised beach: Plaka Beach (Maragas Beach end)
---
Best unorganized beach: Plaka Beach (Away from the sun loungers and umbrellas!)
---
Most unusual beach: Aliko Beach for the graffiti and street art
Beaches in Naxos
Greece is famous for its long coastline. And for good reason! Many of the beaches I've seen on the Greek islands and the mainland are pretty amazing.
Thinking about the best beaches in Greece, the ones in Naxos island rate very highly. Unlike the beaches in Santorini, many of them have soft, white sand, stretching for several kilometres.
In addition, there are several small coves that are ideal for snorkelling and spending some quiet time.
Best Naxos Beaches
We've written this guide to the best beaches in Naxos for travelers who are staying a few days on the island and want to get out and explore. Here's a map of Naxos so you can connect names to places and work out which coastal areas you might want to visit.
The areas around the western beaches of Naxos can be best described as resort towns. Most visitors choose to stay in beach hotels in those areas. Staying on the western side means that it is easier to get into Chora (the main town) at night for drinks or meals.
At the resort villages, and particularly Agios Prokopios where we stayed, you'll find all the facilities a tourist would need. There's plenty of tavernas, places to drink, cafes, supermarkets and laundry. There's a strong mobile phone signal for data, and most places to eat and drink offer free wifi.
Many of the other beach areas around the island also have accommodation. It's just that their tourist infrastructure is more limited. Throughout this guide, we'll describe not only the beaches, but also if there are places that sell food and drink as well as if you can find hotels there.
How to get to Naxos beaches
There are several local bus routes, connecting Naxos Town with many areas of the island. The main bus station is just opposite the port.
Generally speaking, the route running down the western coast all the way down to Plaka beach is very frequent. Most of the other areas are less well connected.
For updated bus routes, check the very responsive Naxos Bus Facebook page.
If you don't want to rely on buses, you will need to have your own transportation. Bear in mind that this is the biggest island in the Cyclades. If you want to explore everywhere, you will have to drive a lot!
You can find places to hire cars, quad bikes and scooters in Chora as well as resort areas. In our experience, the quality of roads (and the local driver attitude) are not the best in Greece, though people who visit often might disagree.
No matter how you get there, here are the best beaches in Naxos, beginning from Naxos town and going anti-clockwise.
Which beach in Naxos to visit first?
There's an overwhelming amount of choice! My absolute favourite was Plaka, so I'd suggest to go there first if you like.
I thought that Plaka was the best beach Naxos had to offer simply because of it's size, and I loved the colour and waters!
One word of advice though: Naxos, like the other Greek islands of the Cyclades, experiences the strong Meltemi winds which can occur between late July and the end of August.
If you are there on a heavily windy day, try to work out the predominate wind direction, and then choose a beach on the opposite side of the island that should be sheltered.
Related: How to keep valuables safe at the beach
Beaches in Chora Naxos
Let's start our guide in Naxos Town. Also known as Chora, it is the port town, and if the word sounds familiar, you are right. Most of the main towns on the Greek islands are known by the same name – Chora or Hora.
The beaches are definitely not the most important reason to come here. What you must explore, however, are the whitewashed alleyways inside the amazing castle. You should allow for at least one evening to walk around the pretty, quaint town.
Apollo's temple, best known as Portara, is the best-known Naxian landmark. It is a very popular attraction with visitors, especially during sunset.
Just underneath, you will see the man-made Vintsi beach, where you can go for a quick swim. Depending on the direction of the wind, the one side will typically be wavier than the other.
If you just want a cooling swim in the afternoon or evening, join the locals here for a quick dip!
Chora (Naxos Town) is a good place to stay for people visiting the island for just a couple of days and who don't have their own transport.
Check out my guide on where to stay in Naxos for more.
Agios Georgios Beach
Agios Georgios is the closest sandy beach to Naxos Town, and it's popular with locals and visitors alike. It is mostly organised with umbrellas and sunbeds, and you can find plenty of tavernas and cafes nearby.
Agios Georgios beach is ideal for families, as the water is shallow and it is relatively sheltered, even on windy days. Water sports are also available.
This is the best area to stay to have the best of both worlds – a few minute walk to the town, but also close to a beautiful beach. There is a range of hotels and rooms. If luxury and a swimming pool are important to you, the 5-star Nissaki beach hotel is definitely worth considering.
Nissaki have their own on-site restaurant with excellent reviews. If you are looking for traditional Greek food nearby, I absolutely recommend the nearby Maro's taverna. They offer hearty portions of fantastic Naxian dishes at great prices.
Alkyoni Beach Hotel and Hotel Naxos Beach, a little further out of the town, are also worth considering.
Cine Naxos, the popular outdoors cinema, is very close to St George beach. Have a look at their website, and watch a movie under the stars.
Agios Prokopios
Further down the coast, Agios Prokopios beach is fully organized. At the time we were there, most of the beach was occupied by sunbeds and umbrellas.
You will find several cafes, restaurants and beach hotels all around the beachfront resort. In fact, Agios Prokopios is one of the most popular areas to stay in Naxos. This is where we stayed ourselves, and we would definitely stay here when we return.
We absolutely recommend the outstandingly friendly, family-run Aggelos Studios. Our studio was air-conditioned, spacious, very well thought out and super clean.
Our little balcony was great to sit both in the morning and in the evening. Bonus – we were also offered several kilos of fresh vegetables during our stay there by the wonderful Mrs Andriani!
Agia Anna
Agia Anna is right after Agios Prokopios beach, and is also organized. If you don't want to be on a lounger, you can stay under the cedar trees. There is a variety of beachfront hotels and other types of accommodation to choose from.
In addition to the usual café-bars and restaurants, there's also a small fishing port here. Make sure you sit at one of the coastal restaurants to have some fresh fish.
If you are staying in Agia Anna beach, you can easily walk to Agios Prokopios. The famous Plaka beach is only a couple of kilometres further south.
The closest inland village to the two resort towns is Agios Arsenios. This is one of the areas where the famous Naxian potato grows.
Did you know that Naxos holds the Guinness record for the biggest amount of potatoes ever fried? You live and learn!
Plaka beach
Plaka was one of our favourite Naxos beaches. As it was an easy drive from Agios Prokopios where we were staying, we went there a few times. We loved the peaceful sunsets with the sun setting right in the Aegean!
This beautiful beach can be accessed through a very dusty dirt road, which runs by the coast. There are several entrances to Plaka beach, and you will see rooms to rent and beach bars all along the coast.
While certain areas of Plaka beach are organized, the beach is natural for the most part. If you don't have your own shade, you might find it too hot during the warmest part of the day.
You will probably discover that Plaka is popular with naturists, who typically sit by the numerous sand dunes very close to the road. Just a thing to bear in mind if this is not your cup of tea.
The local KTEL bus goes all the way to Plaka beach before it returns to Chora. We found its speed amusing, if not scary, especially on the dusty part of the road.
If you want quiet accommodation right by the sea, the numerous beachfront Plaka hotels will not disappoint. Some of them also have swimming pools, for those windy days –Valena seems to be a popular choice.
If you want something simpler, you might like the nearby Acti Plaka, offering studios and larger apartments, ideal for families.
If budget is a concern, Maragas Beach camping is great. The on-site minimarket stocks pretty much everything you will need, and there are several tavernas nearby. There is also Plaka camping a little further down, but it wouldn't be our first choice.
Plaka is reasonably close to the popular inland villages of Apeiranthos and Filoti. Even closer, you can find the lively but less famous village of Vivlos with its characteristic windmills. You have to visit Plaka beach at least once during your vacations"
Orkos beach
This is another great beach, south of Plaka. It feels wilder, perhaps because it's more open to the winds. Orkos is ideal for water sports such as wind surfing and kite surfing. The colourful sails can get very picturesque if you are here on a windy day.
On a quiet day, you can snorkel around the small, quiet bays all around the area. Granted, a quiet day on Orkos beach may be rare!
Mikri Vigla (Parthenos) – Limanaki
Further down from Orkos, Mikri Vigla beach (Parthenos) is also a hotspot for windsurfers and kitesurfers. Due to the northwest-looking orientation of the beach, you can be certain that you will get some windy summer days.
Fun fact – in Greek, "Mikri" means "Small" and "Vigla" means "Lookout". In the past, the small cape was home to about 80 lookout points for pirates. The pirate spotters would then send smoke signals, so that the rest of the islanders knew that danger is coming.
The smaller, south-looking bay is called Limanaki, which means "Little Port". It is more sheltered from the winds, and has nice golden sand and shallow, crystal-clear water, which makes it ideal for families. Horseriding and cycling are also available in the area.
If you don't have your own transportation you can get here in a public bus, but make sure you check their timetable first.
There are all sorts of amenities all around the cape. If you wanted to be away from the popular Agios Prokopios and Agia Anna beach, this is a great location to stay. Choose from simple double rooms to beachfront villas with sea view and private terraces, and explore this beautiful, diverse area.
Kastraki Beach
The "Little Castle" is not that little at all – in fact, it's one of the longest Naxos beaches. It is mostly unspoilt, with cedar trees growing among the sand dunes.
The shallow water makes it ideal for families, especially if you are after a quiet holiday. At the same time, watersports facilities are available. Naturism is not uncommon either.
In the nearby Kastraki village, you will find a range of tavernas, cafes, beach bars and minimarkets, as well as hotels. People who don't have their own transportation can get here by bus.
Very close to Kastraki beach, you will find a taverna called Axiotissa. Though we enjoyed more a couple of meals in Chora, we had a nice, filling lunch in this taverna.
If you think you may have heard "Kastraki" before, you are right – it's one of the best places to stay near the Meteora Monasteries in North Greece.
Glyfada
Yet another exotic-looking sandy beach, Glyfada is south of Kastraki. It's far less organized than the most popular beaches, with beautiful white sand and blue-green waters.
On a windy day, it's ideal for beach sports, such as windsurfing and kitesurfing. There are a few rooms to rent along the beach.
Hawaii, Mikro Alyko, Aliko
This whole area, which is 18 km south of the Town, was one of our favourites. There is a combination of a longer sandy beach, Alyko or Aliko, and several smaller coves hiding between rocks and cedar trees. Walk around the cape, go up and down the various paths, and you will find your own favourite spot.
There is not much in terms of facilities in the area, so bring everything you need with you, including some shade.
We spent a few hours on Mikro Aliko Beach, and it was our semi-private spot for the day. The turquoise water was absolutely crystal-clear, and the whole area makes it ideal for snorkelling if you're looking for Naxos snorkeling spots.
Bonus – When you arrive here, you can't fail to notice a series of abandoned buildings, that belonged to a hotel. Many of them are decorated with some pretty impressive street art. Two of the most famous street artists in Greece, Skitsofrenis and the Indonesian WD, have been here.
If you like street art, here are some photos of street art in Athens. Some of these works don't exist anymore.
Pyrgaki – Pirgaki
Similarly to Mikri Vigla, Pyrgaki used to be a pirate lookout in the past. Its name means "Small Tower". It's another long sandy beach, with cedar trees all around. As it's fairly remote, not too many people venture out here.
We would have happily spent a few hours in Pyrgaki, if it wasn't for the strong north wind when we arrived. I think that this is the first time I realized that the thinner the sand, the more it hurts when the wind blows it all over your face and body!
Further down the coast, on the way to Ayiassos beach, you will find Roos, which has a similar orientation but might be more sheltered.
Agiassos
If you are driving the west coast of Naxos island to the south, Agiassos will be your last stop. It's a long, wide, sandy beach, with very shallow waters. The whole area around Agiasos is wild and photogenic.
Unfortunately, when it gets windy though, the powdery white sand will get in your eyes (and probably on your nerves). As a result, we only spent about an hour on this lovely beach, but we'd love to visit again on a calmer day.
This would be a great location to stay if you wanted to be away from the busier resorts, but still have access to a family-friendly area. There are quite a few hotels and self-catering properties in the area, as well as a few tavernas.
Our choice would have been either Ammoudia or Vrahia Studios, on the far side of the coast.
Kalados beach and Rina Cave
Kalados (known also as Kalantos or Kalandos) is one of the most remote Naxos beaches. If you wanted to drive here from Chora, it would take you over an hour on a not-so-great road. Unfortunately, we ran out of time to come here, but it's there for next time!
It's also possible to reach Kalados by boat or catamaran, on a cruise around Naxos island. In fact this might be the best way, as you can also explore Rina cave, one of the landmarks of the beautiful Cycladic island.
If you want to self-isolate, this might be the best area to stay in Naxos! Kalados Naxos Beach Hotel offers double rooms and studios with terraces and sea views, just a few steps from the coast.
Panermos or Panormos
Welcome to the most remote beach in Naxos! It's 55 km south of Naxos town, and it would take you around an hour and a half to drive here without stops.
Driving from Agios Prokopios here and back ended up being a proper full-day activity. We drove 140 kms in a day, stopping at various spots on the way.
I'm not sure I would suggest driving all the way here if all you want is a relaxing day on the beach. There are some exotic-looking palm trees, but there is no sand, so unless you have a beach chair you won't find it very comfortable.
Snorkelling, on the other hand, was very cool. Apart from literally thousands of sea urchins, there were many seashells and the water was really crystal-clear.
The sheltered bay is popular with private yachts. A small boat called Gialitissa departs from the tiny port to take you to other beaches and coves in south-east Naxos, like Rina and Spedos.
At the time we visited, no one seemed to be there – possibly because of the lack of tourists. Vanessa would have loved to try that, as this whole area seemed to be one of the best places in Naxos for snorkelling.
You'll be pleased to know there is a small canteen – snack-bar for all the essentials, including ice cream.
Beach aside, the drive to Panormos rewarded us with some beautiful, wild views of the whole island. As I wasn't the driver, I had them all to myself!
Klidos beach
This is a long, natural bay with grey-beige sand. The whole south-east coast around Klidos is very quiet. There are several interesting rock formations on the coastline, while the landscape is wild and rugged.
Psili Ammos
This beautiful, long sandy beach was quite deserted when we drove by. There are many cedar trees all around, and the sand is really soft and fine, like its Greek name indicates. The beach is one of the shallowest in Naxos, which would make it ideal for families on a calm day.
We couldn't help noticing Theonis Villas apartments, which is unusually close to the beach. Vanessa fell in love with this location, so when we go back to Naxos we will probably have to spend a couple of nights there. I imagine the starry night sky and sunrises will be incredible.
Ligaridia
This relatively small, pebbly beach will not appeal to people who want to relax on the beach. However, if you like snorkelling or diving, you will love it, as the water is deep.
Close to the beach, you will see the picturesque chapel of Agios Ioannis.
Moutsouna
This is the main settlement on the east coast of Naxos, about an hour's drive from Naxos Town. There is a small bay, which is popular with locals and people from the inland villages. Compared to most other Naxos beaches, we found the beach itself uninteresting, but the setting is unique.
Until the mid-20th century, one of the main goods that Naxos exported was a glitzy mineral called emery. Yes, the one originally used on emery boards. Moutsouna served as an export port.
In the 1920s, a funicular was built to carry emery from the mines down to the port. It was one of the most modern technological feats of the times, and was received with great pride.
Today you can see some of its remains and a few carriages. In the main square of the small settlement, you will also see a recently installed statue of a workman pushing a wagon.
Visiting the emery mines up on the mountains was quite fascinating. Hopefully, a museum will eventually be built to highlight the history of emery mining in Naxos.
There are a few nice seaside tavernas serving huge portions of food. If you are heading to Panermos, this will be your last chance to buy water, coffee or snacks. There are several hotels in the wider area, ideal for those looking for relaxed holidays.
Chochlakas
A short hike north of Moutsouna, you will find several beautiful coves. The wider area is called Chochlakas, and it is wild and isolated.
In my experience, not many people venture out here, so if you are looking for somewhere quiet it's ideal. Proper walking shoes are recommended, as there are several thorny plants.
Azalas
Azalas is a quiet, pebbly beach, not too far from Moutsouna. If you are staying on this side of Naxos, you should definitely come here for a few hours. Just take anything you'd need for the day.
Note – when the winds blow from the north, the whole north-east coast of Naxos won't be ideal for swimming. If you want to try these beaches, by all means do it on a calm day.
Lionas
We ran out of time to visit Lionas, but were told that the beach is full of colourful pebbles. As it faces northeast, it wouldn't be ideal on a windy day.
Similarly to Moutsouna, Lionas once served as a port for the export of emery. Today, there are a couple of tavernas, and a few rooms to rent in the area. If you are staying here, make sure you get up for the sunrise.
Agios Georgios Voridis
I am only mentioning this beach, as a local person told us it's one of the few spots on this side of the coast that is sheltered from the winds. It could be a good choice for people staying in Apollonas, but it would still be a 40-minute drive up some crazy mountain roads.
This small beach will only come up on googlemaps if you type its name in Greek – Άγιος Γεώργιος Βορίδης. If you go there, I'd love to know your opinion.
Apollonas Beach Naxos
Apollonas is the biggest settlement on the north side of Naxos. The huge Kouros of Apollo statue, a ten minute walk from the town, is one of the most popular attractions in Naxos.
The local beach is quite nice and relaxed, and there are several spots where you could be on your own. We were lucky to have no wind on the day we visited.
The town is quite picturesque, with a number of beachfront tavernas, cafes and bars. People looking for accommodation here shouldn't worry, as there are plenty of hotels.
Itonas
This pretty, natural beach marked as Itonas Bay / Koronida Naxos on GoogleMaps is on the northwest coast of the island.
If you are driving from Apollo to Naxos Town, keep your eyes on the GPS, and have your eyes open for a sign saying Monus / Μονους. Then turn right and follow the dirt road all the way to the secluded beach. If you are determined to get here with a rented car, a 4×4 or quad might be better.
Abram
Abram is another natural beach on the northwest side of Naxos. There are few facilities in the area, including some accommodation and a taverna where you can watch the sunset from.
Kampos
Kampos is a long stretch of grey, coarse sand and pebbles. We found it rather uninviting, but it was very windy when we were there. On a calm day it would probably be interesting for snorkelling.
The small Agios Mamas church celebrates on the 1st September every year. If you are here during that date, it might be worth a special trip to check out the local festivities.
Very close to Kampos, there are a few more coves, like Mikra Bay and Hilia. These are quite secluded, and they are great sunset spots.
Amitis
Amitis is pretty much the first long, wild beach north of Chora. It is popular with people staying in the nearby Eggares or Galini. Due to its orientation, it's normally wavy, and there are strong currents. This makes it good for water sports like windsurfing.
Grotta
The small, pebbly beach called Grotta is close to the main town in Naxos. This location was important in ancient times, as the main city of the island was built here.
Grotta has a unique view of the Portara, and we've read that you may find some ancient ruins if you go diving in the area.
This could be a good destination for a Naxos snorkeling day, as although the beach itself is none too special, on a clear water day with little wind, you may see the remains of Mycenean buildings!
Beaches in Naxos
The above is by no means a complete list of all Naxos beaches. As the island is so big, there are dozens small coves and bays. Many of them won't be marked on the map, and they won't have a name.
However, if you are only spending a few days or a week in Naxos, even visiting the above will be a challenge!
If you've been to Naxos, I'd love to know your favourite beach. Please let me know in the comments!
Naxos Beach Vacations FAQ
Readers planning a Greek island holiday to this beautiful destination often have similar questions to ask about the Naxos, Greece beaches as well as other places:
Does Naxos have good beaches?
Naxos has some of the best beaches of all the Greek islands, and is a great place to visit if beaches are likely to be a focal point of your vacation in Greece.
Does Naxos have golden sand beaches?
Naxos island has a good selection of soft and fine sand beaches to choose from. With a huge coastline, you can enjoy the crystal blue waters at a secluded location or a popular beach like Plaka.
Is Naxos or Paros better?
Paros is the more well known neighbouring island to Naxos, but in recent years mass tourism seems to have run unchecked and its appeal as a quiet beach destination is no longer there. In my opinion, and on balance, Naxos is a better island than Paros in most regards.
Is Naxos good for families?
Naxos is a great destination for families! With lots of soft sand beautiful beaches its easy to get in and out the water, there are no crazy nightlife scenes as there are in other islands, and Greek families love to spend their vacations in Naxos – which is always a good sign!
What to do in Naxos
You might also want to check out these blog posts:
Greek Islands Travel Planning
I've some more travel blog posts about Greece that may help you plan your holidays and Greek island hopping adventures. These travel tips and suggestions are a good place to start:
Naxos Beach Guide
Please feel free to share this post on Pinterest and other social media! Use the image below.
---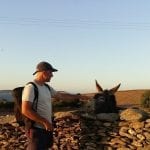 – Dave Briggs
Dave is a travel writer who's been living in Greece since 2015. In addition to writing this guide on finding beaches for the best snorkeling Naxos, sunsets, and topping up your tan, he's created hundreds of travel itineraries and blog posts about Greece which you can find here on Dave's Travel Pages.
Follow Dave on social media for travel inspiration from Greece and beyond: