From mid June to the end of October, there is one ferry a day sailing from Santorini to Tinos island in Greece.
Tinos island in Greece
If you take a look at the map, you'll notice that Tinos is situated some way from Santorini. It's also set apart from the more popular clusters of Cyclades islands people tend to visit.
This means, that to a certain extent, tourists from other countries barely give Tinos much consideration when it comes to choosing which Greek islands to visit.
This is both a shame and a a good thing. It's a shame because they are missing out, but a good thing that tourism has not changed the island to the extent it has on some of the others.
I absolutely love Tinos – so much I helped write a book about it which you can get on Kindle! (Shameless plug – Andros and Tinos Guide Book).
I've also got some travel blogs here that might help you plan how to spend your time in Tinos, Greece:
Santorini Tinos Ferry Route
There is no airport in Tinos island, so the only way to make a trip from Santorini to Tinos is by ferry.
During the high season (mid June to the end of October), there is one daily ferry operated by Golden Star Ferries. The travel times vary from 3 hours 5 minutes to 4 hours 15 minutes depending on the month.
You can expect ticket prices to have a cost of around 58 Euros for passengers.
If you wanted to get to Tinos another way from Santorini, you could take an indirect ferry. This would involve sailing to another island such as Mykonos from Santorini, and then swapping ferries to sail from Mykonos to Tinos.
You can plan Greek island hopping routes such as this at Ferryhopper.
Tinos Island Travel Tips
A few travel tips for visiting Tinos island:
Booking is my preferred site when it comes to finding accommodation when I travel. You'll easily be able to narrow down the accommodation you're after and find hotels in Tinos to stay at. If traveling in the summer, be sure to book your Tinos hotels a month in advance, particularly during August!
---
Ferryhopper is by far the easiest website to use when it comes to booking ferries in Greece. You can easily see ferry schedules for popular destinations and get tickets for your trips before you leave. It's always best to have your Santorini to Tinos ferry tickets booked a month or so in advance if possible.
---
I always suggest being at departure ferry ports in Greece and hour before the boat is due to sail. There are a couple of places where you can get a coffee and sit in the shade as you wait for your ferry from Santorini island to Tinos to arrive.
---
Welcome taxis are easily booked in advance, and are the most reliable way to get from your hotel in Santorini to the port. This way, you can be sure to be on time for your ferry to Tinos!
---
What to see in Tinos Greece
Take a look here for some things to do in Tinos:
How to get from Santorini to Tinos FAQ
Questions that people often ask about traveling to Tinos from Santorini include:
How do we get to Tinos from Santorini?
The best way to take a trip from Santorini to Tinos is by taking a ferry. There are up to 2 direct ferries per week sailing to Tinos from Santorini during the summer season. Another alternative would be to take a ferry from Santorini to another island such as Mykonos, swap ferries and then continue on to Tinos from there.
Is there an airport on Tinos?
As there isn't an airport in the island of Tinos, the only way to take the journey from Santorini to Tinos is to take a ferry. The closest airport to Tinos is in Athens, the Greek capital.
How long is the ferry ride from Santorini to Tinos?
The ferries to the Cyclades island of Tinos from Santorini take between 5 hours and 3 hours. Ferry operators on the Santorini Tinos route may include Minoan Lines and Golden Star Ferries.
How can I buy tickets for the ferry to Tinos?
I find that the Ferryhopper website is the best place to book Santorini Tinos ferry tickets online. Although I suggest you book your Santorini to Tinos ferry tickets in advance, you could also wait until you are in Greece, and use a travel agency.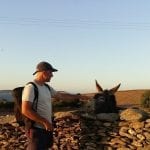 – Dave Briggs
Dave is a travel writer who's been living in Greece since 2015. In addition to travel guides such as this one about how to get from Santorini to Tinos, he's also contributed to the Real Greek Experiences guide books on Greece. Check out the Andros and Tinos travel guide on Amazon!
Follow Dave on social media for travel inspiration from Greece and beyond: Facebook, Twitter, Pinterest, Instagram, YouTube.